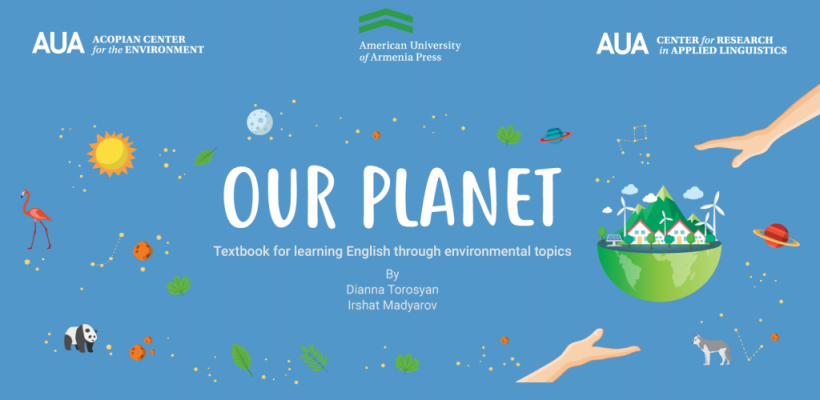 Launching 'Our Planet' Textbook for Learners of English
3
min read
YEREVAN, Armenia — The American University of Armenia (AUA) Press is pleased to announce the publication of Our Planet, a textbook for learning English through environmental issues. The book, co-authored by AUA alumna Dianna Torosyan (MA TEFL '16) and chair of the Master of Arts in Teaching English as a Foreign Language (MA TEFL) program Dr. Irshat Madyarov, was produced collaboratively by the AUA Center for Research in Applied Linguistics and the AUA Acopian Center for the Environment. It has been designed for middle-school children who have a preliminary understanding of environmental topics and have an elementary level of English.
Given the current circumstances with the COVID-19 outbreak, the official launch of Our Planet took place online via a live webinar on June 4, 2020. During the first half of the webinar, the authors together with Alen Amirkhanian, director of the AUA Acopian Center for the Environment, and Dr. Shushan Avagyan, director of the AUA Press, introduced the textbook to the general audience. The second half was a workshop on the practical uses of Our Planet aimed at TEFL teachers and specialists. The webinar was moderated by Addeh Hovassapian (MA TEFL '11), English and education projects manager at the British Council Armenia.
The idea of the book came from Dianna Torosyan, then a second-year student in the MA TEFL program. "When Dianna talked to me about developing and piloting an English course for schoolchildren around environmental topics, I thought this was a brilliant idea," Dr. Madyarov recollects. "It had a community service component and an interdisciplinary approach — an ideal capstone project in our program!"
"During my first year at MA TEFL program, I learned a lot about teaching skills, different methods, and approaches. I was very interested in Content and Language Integrated Learning (CLIL) and I wondered if it was easy to develop a textbook with such an approach. Later, the "Natural Environment and Humans" course conducted by Alen Amirkhanian impressed me and I decided to develop a CLIL course for my capstone project that would focus on teaching English and educating schoolchildren on the environment. Dr. Madyarov was my supervisor. He guided, advised, and motivated me to work on the book. His investment in making this book possible is invaluable," notes Torosyan.
The authors started writing the textbook in 2015. When the preliminary version of the book was ready, they participated in the "Let's Go Green and Learn English" project of the Environmental Education Micro Project Competition and won a small grant. Due to this grant, three teachers had the opportunity to pilot the book in Hatsik and Karakert villages.
"We're always looking for opportunities to integrate environmental education into various curricula, be it math, biology, geography, or languages. The English-language textbook that Dianna and Irshat were developing was a very good chance to pursue this integrated approach," says Amirkhanian. The Acopian Center supported the initiative by engaging environmental experts to review the textbook, as well as by providing funding for its publication through donations made by benefactors Linda Shahinian and Herb Schiff who visited AUA in 2019 for the presentation of the forthcoming book.
"As the publishing arm of the university, AUA Press is not only an independent publisher of distinguished books but also a partner for University faculty, staff, centers, and departments, driven to disseminate the results of their research and otherwise advance learning, critical thinking, originality, and diversity," says Dr. Avagyan. "We are especially committed to acting as a platform for a greater level of engagement between students, faculty, and researchers who test innovative ideas in the real world, connecting teaching and scholarship directly to the communities they serve."
Individuals and institutions interested in acquiring a free hard copy of Our Planet should complete a distribution form. The textbook, lesson videos, and teacher's resources are also available online and can be downloaded from the AUA Acopian Center's webpage.
Founded in 1991, the American University of Armenia (AUA) is a private, independent university located in Yerevan, Armenia, affiliated with the University of California, and accredited by the WASC Senior College and University Commission in the United States. AUA provides local and international students with Western-style education through top-quality undergraduate, graduate, and certificate programs, promotes research and innovation, encourages civic engagement and community service, and fosters democratic values.