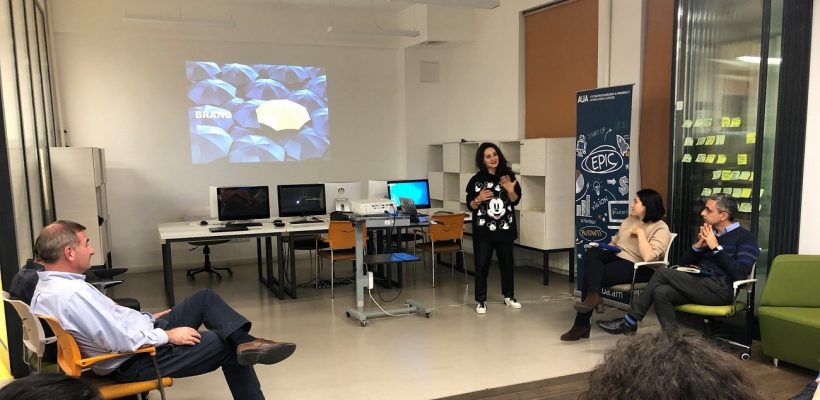 EPIC Workshop: Nika Yepiskoposyan Provides Insight into Branding
2
min read
YEREVAN, Armenia – On November 21, 2019, the Entrepreneurship and Product Innovation Center (EPIC) of the American University of Armenia (AUA) held a workshop on brand building and management. During the workshop, Nika Yepiskoposyan, brand strategist for the World Congress on Information and Technology (WCIT) 2019, shared her knowledge and experience with EPIC startup teams. The startupers had the opportunity to discuss brand building and communication strategies as a means to shape their ventures in the market.
Yepiskoposyan has a rich experience in developing brand strategies for various companies. She is the founder and creative director of Dada&Co's creative platform. She also worked as a brand strategist at Maeutica Branding Agency and was the head of the service quality monitoring group at VTB Bank.
In her talk, Yepiskoposyan introduced key criteria that support the development and success of a brand. She specifically highlighted the need to "precisely define who you are, develop a unique verbal and visual identity, and maintain brand consistency in communication." She then described the seven stages of brand development, the linkages among these stages, and the correlation between brand, consumer behavior, and product development.
"Developing an impactful brand is critical for startups. Usually, startup founders don't have a proper understanding of building a brand when taking the first steps of creating their ventures. The aim of this workshop was to introduce the basics of brand building to EPIC residents to help them reconsider the methods they use to provide brand awareness," noted Nejdeh Hovanessian, EPIC's new entrepreneur-in-residence.
At the end of the workshop, EPIC startup teams presented their venture models and, together with Yepiskoposyan, they worked on defining their brand identities. She also helped the young entrepreneurs place themselves among the "Twelve Brand Archetypes" created by Margaret Mark and Carol S. Pearson and recognize their uniqueness.
The Entrepreneurship and Product Innovation Center (EPIC) is a platform of the American University of Armenia (AUA) for promoting entrepreneurial education, cross-disciplinary collaboration, and startup venture incubation. EPIC provides an ecosystem for emerging entrepreneurs consisting of first-class facilities and collaborative workspace, programs and events, and a network of mentors, advisors, and investors. EPIC fosters the understanding and application of entrepreneurship in students and faculty at AUA to craft high-impact multidisciplinary ventures.