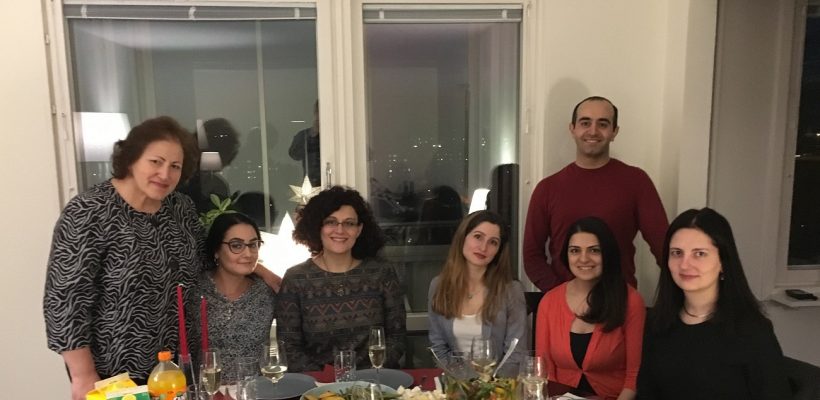 Meeting AUA Alumni in Stockholm, Sweden
2
min read
During a busy business trip within the framework of the Erasmus+  BOOST project, a team of American University of Armenia (AUA) representatives, led by AUA Assistant Vice President Anahit Ordyan, spent two evenings with AUA alumni living and working in Stockholm, Sweden.
The AUA team, comprising Gayane Barseghyan, Assistant Professor at the Manoogian Simone College of Business & Economics (CBE), Tatevik Vardanyan, Grants and Projects Manager at the Acopian Center for the Environment, and Astghik Atanyan, Recruitment Coordinator at the Turpanjian School of Public Health (SPH), updated AUA Alumni on the University's recent developments and encouraged them to stay engaged with their alma mater.
Lilit Makaryan (MBA '11), Product Manager at Nordnet Digital Investment bank, and her husband Erik Ghonyan, programmer at Spotify, hosted the AUA team for this small alumni reunion. Makaryan noted, "Choosing AUA was one of the best decisions I've made in my life. It gave me the knowledge, the skills, great friends and the inspiration that changed my life. Meeting the AUA visiting team made us so happy and reminded me of AUA's welcoming, warm, and supportive environment."
Arus Shahinyan (MA TEFL '14), employed at the Swedish Public Employment Agency, stated, "It was my sister Mane Margaryan who was applying for admission to the College of Science and Engineering and encouraged me not to miss my chance of studying at AUA. We applied together in the same year and graduated together. In the course of learning, I especially valued that at AUA thinking out of box was much encouraged and appreciated."
As a continuation of the Stockholm alumni meeting, Alina Hambaryan (MS CIS '06), who is currently working as an iOS Developer at 0+X technology consultant company in Stockholm, visited AUA on her trip to Armenia, which allowed her to also participate in the AUA 2018 Distinguished Alumna Mane Tandilyan's (MBA '02) meeting with students and the greater AUA community. During the discussion at AUA, Hambaryan shared her experiences and expressed her gratitude reflecting on how AUA had prepared her for a successful career in the IT industry. Among other things she mentioned:
"I was the youngest in the family with four children and I would be taken care of all times. It is at AUA that I developed my sense of self-reliance and understood that I am the Master of my life," noted Hambaryan.
When Hambaryan returns to Stockholm, she will meet with the other four alumni in Sweden to form a small AUA Alumni chapter there.
Founded in 1991, the American University of Armenia (AUA) is a private, independent university located in Yerevan, Armenia, and affiliated with the University of California. AUA provides a global education in Armenia and the region, offering high-quality graduate and undergraduate studies, encouraging civic engagement, and promoting public service and democratic values.