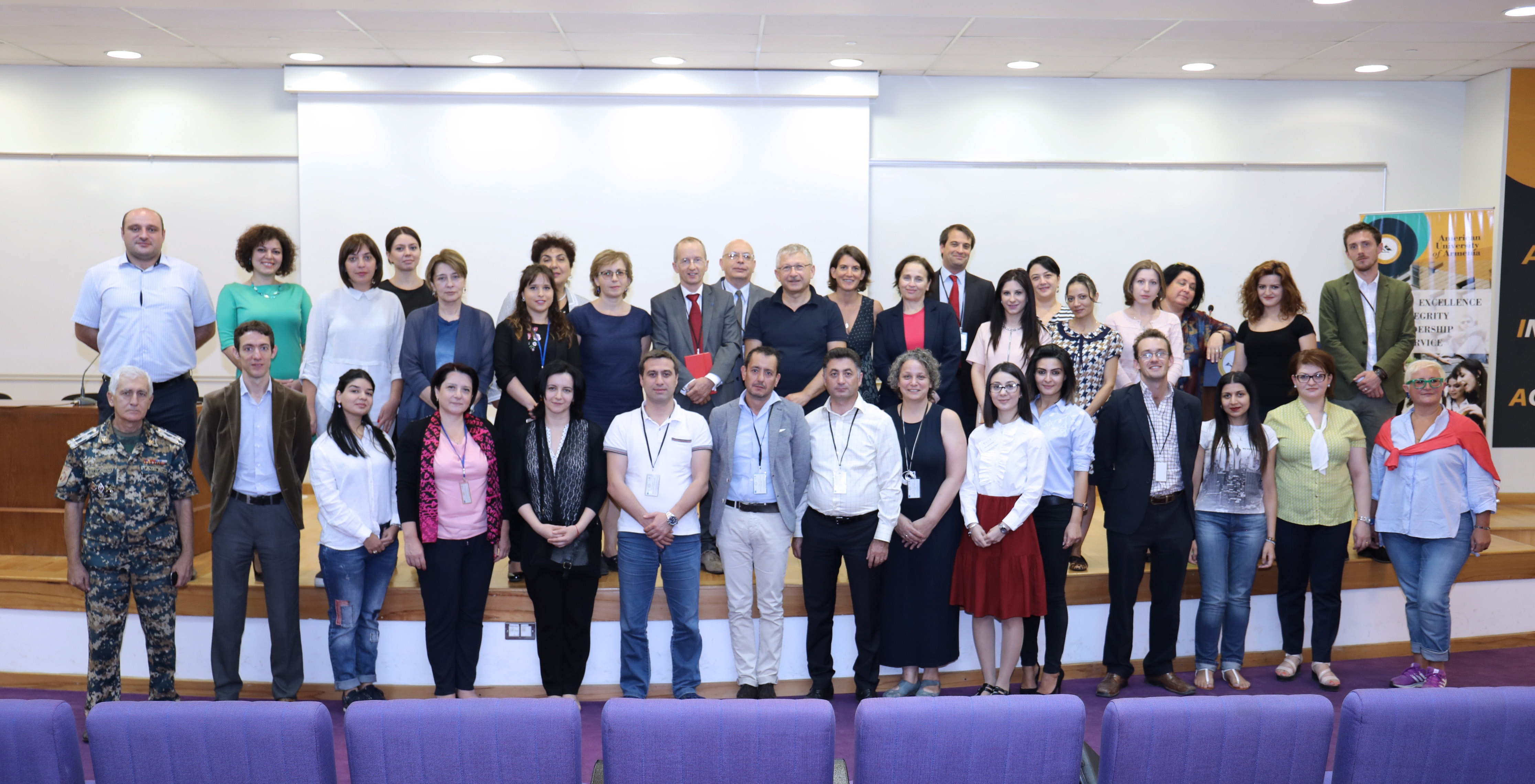 Tempus Transnational Education Project Holds Final Conference
YEREVAN, Armenia – From September 26-27, the American University of Armenia (AUA) held the National Dissemination Conference of the Tempus Promoting Quality and Recognition of Transnational Education in Armenia and Georgia (TNE_QA) project, bringing the three year program to a close.
Tempus TNE_QA, co-funded by the European Union's Tempus program, was coordinated by the French University of Armenia (UFR) and brought together 18 partners from six countries to build capacities within Armenia and Georgia.
Transnational education (TNE) enriches a student's experience, as well as enriches the institutions and societies in which it exists. TNE no longer applies to only dual and joint degrees, but includes experiences such as studying abroad, hosting international students, welcoming transfer students, and engaging in exchange programs.
The TNE_QA project aimed to enhance the quality and promote the regulation and recognition of transnational higher education provisions in Armenia and Georgia and to establish quality assurance mechanisms in line with OECD/UNESCO guidelines. Toward its end, the project developed its 'Guidelines for Developing Policies, Criteria and Procedures for Quality Assurance of Transnational Higher Education in Armenia and Georgia,' which were introduced at the conference by Ani Mkrtchyan of the National Center for Professional Education Quality Assurance Foundation (ANQA).
In his welcoming remarks, AUA President Dr. Armen Der Kiureghian remarked, "None of our institutions exist in a vacuum. Only with meaningful collaboration and learning across borders will our students and graduates be in a position to engage and lead their home countries and the global world in the 21st century. Quality assurance in transnational education ensures that student experiences are meaningful, as well as acknowledged and honored in both the host and home institution."
All participating HEIs presented their experiences, challenges and outcomes. On behalf of AUA, Maria Martirosyan, compliance and assessment coordinator, spoke about the University's participation in capacity building workshops, site visits to partner institutions, drafting of the above-mentioned guidelines, and hosting a panel of expert peers, as well as performing a gap analysis of the accreditation standards of the WASC Senior College and University Commission (WSCUC), ANQA, and the UNESCO guidelines.
To read more about the TNE_QA project, click here.
Founded in 1991, the American University of Armenia (AUA) is a private, independent university located in Yerevan, Armenia and affiliated with the University of California. AUA provides a global education in Armenia and the region, offering high-quality, graduate and undergraduate studies, encouraging civic engagement, and promoting public service and democratic values.