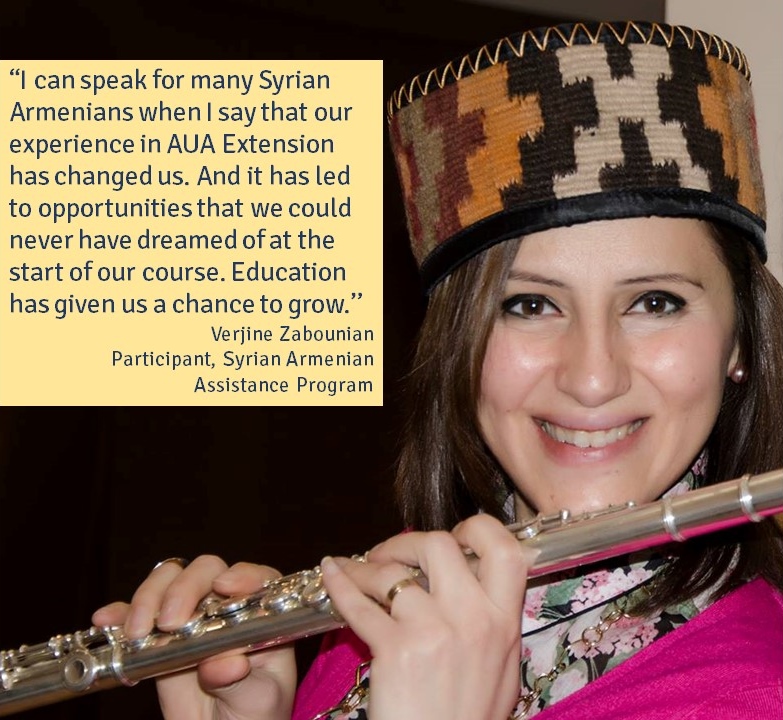 AUA for Syrian Armenians: Verjine Zabounian's Story
4
min read
YEREVAN, Armenia – In this series of interviews, we sit down with Syrian Armenians who have benefited from the American University of Armenia (AUA) Extension program's assistance program, which allows Syrian Armenians to take up to two AUA Extension courses free of charge. Verjine Zabounian is one of many who have benefited from this program. Read on to learn more about how her experience in AUA Extension has helped her.
Tell us a bit about yourself.
I was an English language teacher for 17 years in one of the oldest colleges in Aleppo, the Karen Jeppe Armenian College. I taught there until 2012 and I had many students, many generations. My second profession was music. I taught flute in the Aleppo Conservatory. I first came to Armenia in 2009 with my students. Then I came again in 2011, and finally in 2012 it was my last visit. I came for only 15 days to get Armenian citizenship, and I was going to go back to Aleppo. But I decided to stay. I am one of the luckiest Syrian Armenians here because I was able to find a job teaching at the Eurasia College to 10th, 11th, and 12th grade students.
How did you find out about AUA Extension's assistance program?
Before I found a job here in Armenia, I was searching on the internet, wondering what I could do. I heard about AUA's assistance program to Syrian Armenians because I had students who were taking English lessons at AUA and they were very happy. When I asked what they were doing, they were so excited, saying "Oh we are going to AUA Extension for English lessons!" and I thought that was so great, because I always encourage learning. They were all very happy to be receiving an education at an institution like AUA.
I went to the AUA Extension office and said that I wanted to teach there. They said I needed to have an MA TEFL degree. So I wondered, what is this MA TEFL degree? I learned more about AUA's MA TEFL program, but for financial reasons I have to work, so I can't be a full-time student. I had heard about HR when I was in Aleppo, and I thought maybe it would be better to pursue a career in HR rather than in education. So when the opportunity came for me to take AUA Extension's HR Management course for free, I took advantage of it. And that's how I ended up as a part of the assistance program.
What was the classroom experience like?
At the beginning it was really very difficult. The field of HR was totally new to me, because I was used to being a teacher. At one point I wanted to drop the course, but thanks to the encouragement of our instructor, Dr. Arpie Balian [Director of AUA Extension], I decided to stick with it. Her innovative ways of teaching really encouraged me to continue. The experience was really valuable and I'm glad that I decided to continue.
Being a teacher and knowing how to conduct the classroom, I was very happy with the resources and techniques they were using. Not only in the classroom, but also in the way that Dr. Arpie interacts with the students. It was really a very good experience for me. A lot of my students and friends have also taken classes in AUA Extension and they all loved it. My close friend took two English language courses. She was very happy about the interactive method that they were using in the classroom, and that they were teaching with games. There were books, of course, but it wasn't just learning about grammar. There was teamwork during the class, and group presentations, which made the class more interesting.
In your opinion, why should we support the AUA for Syrian Armenians campaign?
These courses are valuable resources to Syrian Armenians, as they provide essential, important, and crucial skills for professional development and English language training. Lots of my students are on the waiting list, and they are waiting anxiously to hear when they can come to AUA Extension to take classes. That's why I wanted to share my story and support the campaign.
Also, the impact of these trainings goes beyond the students in the classroom. For example, I was giving private lessons to a young Syrian Armenian girl, and she told me she had a job interview and asked for my help. And because of what I had learned in my HR Management course at AUA Extension, I had the resources I needed to help her prepare for the interview. Being able to help her, being able to share that knowledge, was an important experience for me.
How has your experience in AUA Extension helped you?
First, I was surrounded by inspiring people, in an inspiring environment, and I met local people who were warm and friendly. As my friend Vartan said, still today members of our HR Management course gather to spend time together, and I enjoy meeting with my local peers. My classmates supported me and helped me stay focused and motivated when I had trouble learning about a new field. It also gave me important professional skills. In addition to my teaching career, I would like to widen my professional spectrum and have the expertise to tackle unexpected challenges, so I am thinking about changing my profession to HR. So the HR Management course has been a milestone for me. I think it will help me find another job.
What is the most valuable thing you have gotten out of the experience?
I can speak for many Syrian Armenians when I say that our experience in AUA Extension has changed us. And it has led to opportunities that we could never have dreamed of at the start of our course. Education has given us a chance to grow.
I want Syrian Armenians to take full advantage of the services of AUA because it's for knowledge. And I want to give special thanks to Dr. Balian and to the president of AUA and all the supporters who have encouraged Syrian Armenians during these difficult times, especially those who have made contributions to the campaign to help us continue our education in Armenia.
To learn more about the campaign, please click here.
Founded in 1991, the American University of Armenia (AUA) is a private, independent university located in Yerevan, Armenia and affiliated with the University of California. AUA provides a global education in Armenia and the region, offering high-quality, graduate and undergraduate studies, encouraging civic engagement, and promoting public service and democratic values.