AUA for Syrian Armenians: Vartan Ekmekjian's Story
3
min read
YEREVAN, Armenia – On June 30, 2014, the American University of Armenia (AUA) launched the AUA for Syrian Armenians campaign to raise money to provide valuable educational resources to the displaced Syrian-Armenian population. Vartan Ekmekjian is one of over 500 Syrian-Armenian refugees who have benefited from AUA's Syrian-Armenian assistance program. In this interview, Ekmekjian shares why he decided to participate in the assistance program, how it has helped him, and why he plans to continue taking courses in AUA Extension.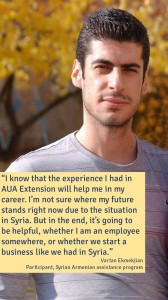 How did you decide to participate in AUA Extension's Syrian-Armenian assistance program?
I heard about the program through friends of mine. The first year that I lived in Armenia, I had nothing to do. So I was glad to hear that I could come to AUA to learn something. It gave me something to do. I enjoyed the first course that I took, so I came back to take a second course. Afterwards I told my friends about this program, and told them I had had a good experience. They were happy to learn about the opportunity, and they enrolled in courses.
Even though the assistance program only covers two AUA Extension courses, I keep checking back to see what new courses they are offering. Next I plan on taking the PMP course [Project Management Professional Certification Exam Prep Course]. The certificate is valuable, and I know it will help me.
What was your experience like in the classroom?
I had a really good experience. The information and the knowledge that I received has been beneficial. The professors that I've interacted with, they have this engaging way of interacting with the students, and I think that's the main reason that I received the information quickly and positively. They give you the core ideas—nothing more, nothing less. That plays a big role in the classroom experience.
You can find different types of people in each course. It's interesting. I really enjoyed the teamwork that we did in our classes. The professor would give us a task to work on with a few people in the class and we would work together to do it. It was a good way to interact with my classmates. There were some people from Syria that I already knew in the classes, but I met lots of new people. A couple of weeks ago we all went out to dinner with Professor Arpie, and we plan to do that again. I like that we have been able to continue our relationships after the course finished.

In your opinion, why is this assistance program valuable to the Syrian-Armenian population living in Armenia?
Actually, the courses are valuable not only to Syrian Armenians, but to anyone who enrolls. It's about receiving a good education, and that education is valuable because it will stay with you. As a Syrian Armenian, it means a lot to me to see that AUA is doing something good for refugees who have left their country, their homes, and are trying to survive in a new country on their own. The gesture is invaluable. It feels good to see AUA doing something so good, and I am lucky to have been able to be a part of that.
What would you say is the most valuable thing that you've gotten out of these trainings?
The knowledge itself, and the certificate. I know that the experience I had in AUA Extension will help me in my career. I'm not sure where my future stands right now due to the situation in Syria. But in the end, it's going to be helpful, whether I am an employee somewhere, or whether we start a business like we had in Syria. One of my Extension courses was HR Management, and that is an important thing, especially in the nature of job that we were doing back in Syria. So I'm positive that it's going to help, even more than it already has.
Taking these courses also helped me because it gave me something to do during the day. It doesn't make you feel like you're sitting and doing nothing. It makes you feel like you're doing something productive, which, at the end of the day, makes you feel good. So I encourage other Syrian Armenians that aren't working, that don't have anything to do, to come study at AUA Extension, to do something that will help secure their future.
To learn more about the campaign, please click here.
Founded in 1991, the American University of Armenia (AUA) is a private, independent university located in Yerevan, Armenia and affiliated with the University of California. AUA provides a global education in Armenia and the region, offering high-quality, graduate and undergraduate studies, encouraging civic engagement, and promoting public service and democratic values.