Developing and Adapting Complex Health and Social Interventions: Guidance and Examples From Practice
November 4, 2021 @ 12:30 pm

-

1:30 pm

+04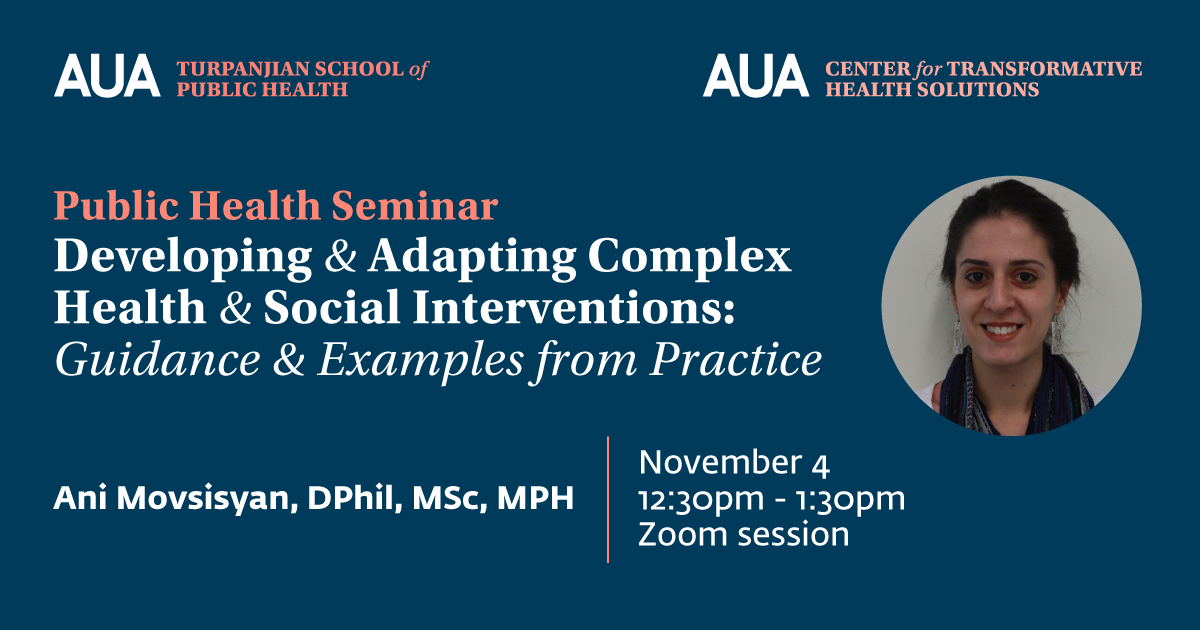 About the Event:
In this seminar, Ani Movsisyan will conduct a presentation about the complex interventions in (public) health and social care services and practice delivered and evaluated at different levels, from individual to societal levels. The evolving perspectives on the conceptualization of interventions will be described, including more recent thinking of interventions as 'events in complex systems'.
Drawing on the decades of methodological work commissioned by the National Institute of Health Research (NIHR) and the UK Medical Research Council (MRC), recent guidance on how to develop new or adapt existing evidence-informed interventions to new contexts will be outlined, including the core elements of the process, such as consideration of context, as well as phases. Case studies will be presented throughout the seminar illustrating key aspects.
About the Speaker:
Ani Movsisyan is a Postdoctoral Research Fellow at the Chair for Public Health and Health Services at LMU Munich and a Visiting Assistant Professor at the American University of Armenia.
Her interests include intervention and implementation research, synthesis of evidence for public health and social policy, as well as methods development to enhance the use of evidence in decision-making.
Language:
Prior registration is required. Please register and join the meeting here.
Related Events