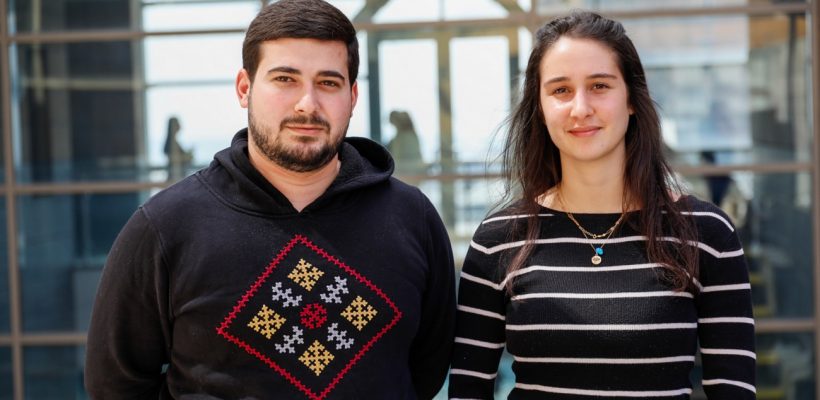 ResponDrone: Launching Pad for AUA Undergraduate Students
4
min read
Since 2019, the AUA Acopian Center for the Environment (ACE) has been leading the ResponDrone project, which integrates its expertise in environmental disaster, geographic information system (GIS), and remote sensing with the expertise of the AUA Akian College of Science and Engineering (CSE) in system design.
A group of undergraduate students from the Engineering Sciences (BSES), Computer Science (BSCS), and English and Communication (BAEC) programs have been actively involved in the ResponDrone project. Together with their counterparts from Armenia's Crisis Management State Academy, AUA students are researching various components of drone application and sharing the results.
AUA students Shantal Adajian (BSES '22) and Harutyun Grigoryan (BSCS '22) have been involved in the project since December 2021. A student who is genuinely passionate about research, Shantal will be pursuing Ph.D. studies in mechanical engineering at the University of California, Santa Barbara, starting in September 2022. The ResponDrone project proved the perfect platform for her to engage in engineering and disaster management before taking the next big step in her academic career. "What interested me in the first place was how drones would be used in lieu of police cars and ambulances to move people to safer places," she notes.
Shantal's involvement in the project mainly revolves around research. "ResponDrone has strengthened me as a researcher. I think it made me more efficient in research," she affirms. She enjoyed conducting a literature review on the public response after the introduction of drones. "The public understanding and acceptance of the use of drones is complex. One influencing factor is the terminology used: what's the difference between drones and UAVs? One has to use the right term not to get people confused."
For Harutyun, his favorite aspect of the project is its people-centered attitude. "Before introducing any type of new technology, it's important to take into account the community at large," he notes, asserting that ResponDrone follows this approach.
Harutyun and Shantal highlight the constructive role of the whole team involved in the project. "I think it really is a collaborative effort. Everything is carefully organized such that we don't have any issues. Even if we do, we ask our team leaders for assistance, and they are always helpful," affirms Shantal.
Harutyun works at Instigate Robotics, an Armenian IT company engaged in drone development and programming. Given his professional interest in the sphere, he was drawn to ResponDrone because he viewed it as a promising initiative for Armenia. "I hope that this project will be integrated into the response of our Ministry of Emergency Situations (MES)," says Harutyun. "It will be a great development for our country."

Harutyun notes that every year since 2019, within the scope of the ResponDrone project, Armenia hosts a UAV competition in collaboration with the RA MES and Karen Vardanyan Educational Foundation. Professionals as well as novices participate in this event. The drones that successfully complete the assigned tasks are then entered into consideration by the MES for use in real-life situations.
Recently, the ResponDrone team held a workshop with MES to discuss the possibility of integrating the technology in disaster management. "We presented our research findings to familiarize MES with what other countries are using in their own disaster response systems, including Macedonia, Netherlands, Bulgaria, France, and Greece that are among the countries involved in the ResponDrone project. Then we introduced the drone and explained how it works and in what situations it would be used. We also interviewed MES representatives to learn more about the disaster management technologies currently used in Armenia, to also include that information in our report," expounds Shantal.
Currently, within the scope of the ResponDrone project, the team also is running UAV modeling and piloting training courses with students in high school drone clubs. "As a trainer, I provide students with both theoretical material and hands-on practical knowledge. I teach them how to run UAVs. After practicing the drills over time, the students take a test and then start designing their own UAVs. After successful completion of the training program, the best students have the opportunity to take part in UAV competitions, such as Hawk," remarks Harutyun.
Harutyun is enthusiastic about the opportunity to work with students. "I believe that a large part of the success of the training depends on the trainer, myself in this case; how I manage to build the students' interest in UAVs and build a relationship with them." So far, Harutyun has trained around 100 students. Although not all of them reached the final stage of passing the test, those who did have demonstrated great diligence and determination.
Harutyun and Shantal believe that the project will set a strong foundation for producing different types of drones in Armenia. "Drones are being used worldwide for multiple functions. They are amazing. They can reach places humans or other equipment can't. I'm hoping we can utilize drones not only in disaster management, but also in other settings, such as agriculture," concludes Shantal.
ResponDrone is an international project funded by the European Union's H2020 Research and Innovation Programme and the Korean Government, under Grant Agreement No. 833717. The project is dedicated to developing and applying a situational awareness system in emergency situations, providing critical information and communication services to first responders. For further information: https://respondroneproject.com/.
The AUA Acopian Center for the Environment, a research center of the American University of Armenia (AUA), promotes the protection and restoration of the natural environment through research, education, and community outreach. The AUA Acopian Center's focus areas include sustainable natural resource management, biodiversity and conservation, greening the built environment, clean energy, and energy efficiency, as well as information technology and the environment. Visit http://ace.aua.am.