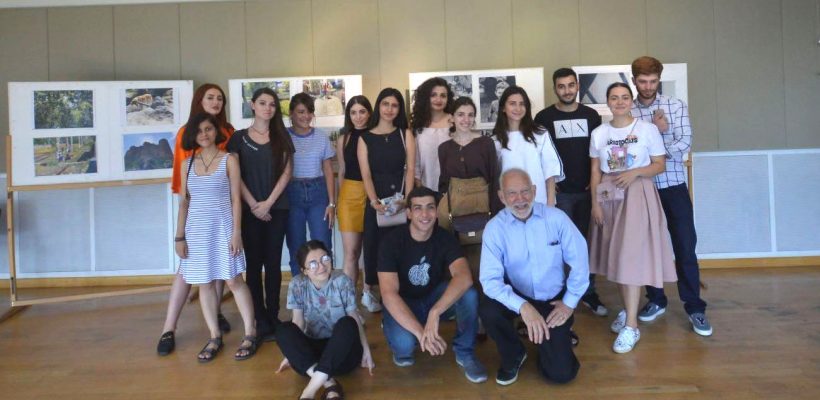 Summing up Photojournalism Course of AUA's Summer Program 2019
2
min read
YEREVAN, Armenia – "Lens on Armenia: Photojournalism in Yerevan" an American University of Armenia (AUA) summer course taught by Professor Kenneth Martin recently concluded with an exhibition of the 50 best works at the Akian Art Gallery on August 8, 2019.  As part of AUA's 2019 Summer Program, the course had attracted a full class of 25 students who learned and practiced photography that relates to the journalistic process and fine art. Professor Martin is originally from Worcester, Massachusetts, and a graduate of the College of the Holy Cross and the New England School of Photography. He is a senior lecturer of photography and Photojournalism at Suffolk University in Boston, advisor to the Armenian Student Association, and former master lecturer at the New England School of Art & Design. 
Unique neighborhoods of the city become zones of concentration for Professor Martin's classes both in Boston and in Yerevan. As such, student photographers visited Kond, one of the oldest neighborhoods in the city in close proximity to the AUA campus. Through their lens, the students had the opportunity to tell the stories of local residents many of whom are decendants of the Armenian Genocide survivors who had found refuge in Kond after 1915. For their final class project, the participants also took photographs in other parts of Yerevan, Byurakan, and other parts of Armenia.
"The best class trip, I believe, was our visit to the Kond neighborhood, because we had the opportunity to see a city within a city. We learned how to take not only aesthetic but also meaningful photographs of anything we found eye catching. We also stepped out of our comfort zone and started speaking to strangers and got to know them while taking photographs. Overall, it was a very engaging and memorable course and I am really glad that I took part in it," shares Natalie Darchinyan (BA EC '21) in her testimonial.
Founded in 1991, the American University of Armenia (AUA) is a private, independent university located in Yerevan, Armenia, affiliated with the University of California, and accredited by the WASC Senior College and University Commission in the United States. AUA provides local and international students with Western-style education through top-quality undergraduate, graduate, and certificate programs, promotes research and innovation, encourages civic engagement and community service, and fosters democratic values. 
Media Coverage:
[Armenian Mirror-Spectator] Armenia As It Is, Photoseries: Lens on Armenia 2019, I
[Armenian Mirror-Spectator] Armenia's Environmental State: Lens on Armenia 2019, II
[Armenian Mirror-Spectator] The Process of Making Ice Cream in Armenia: Lens on Armenia 2019, III