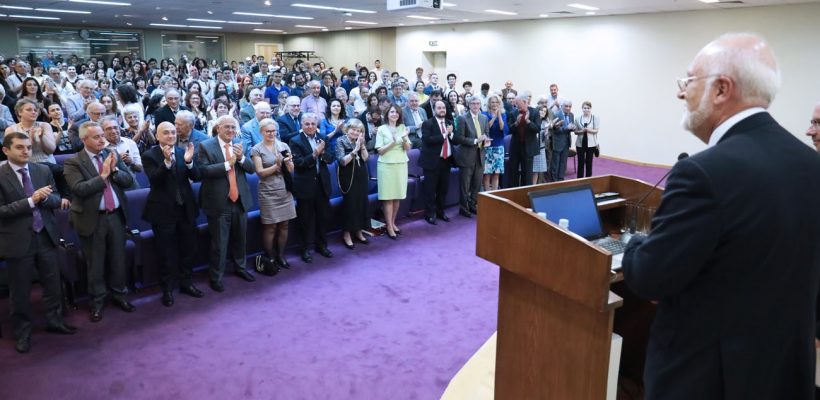 AUA Bids Farewell to its Fourth President, Dr. Armen Der Kiureghian
5
min read
YEREVAN, Armenia ‒ On June 5, 2019, the American University of Armenia (AUA) community gathered for a farewell event in Manoogian Hall to honor AUA President Dr. Armen Der Kiureghian who is retiring at the end of June. The evening was a true celebration of his pivotal role in the founding of the University and his distinguished and dedicated thirty-year service to it, the last five years as president. Trustees, colleagues and friends reflected on some of the key milestones Dr. Der Kiureghian has crossed taking the University from an idea to its founding, growth, and role in building the future of Armenia. Dr. Der Kiureghian together with Dr. Mihran Agbabian, Louise Manoogian Simone, and Dr. Stepan Karamardian, his fellow visionaries, co-founded AUA in 1991. He has since been a member of the AUA Board of Trustees and also served as the founding dean of Engineering, the founding director of the Engineering Research Center, and later as interim provost, all concurrently with his position at the University of California (UC), Berkeley.
AUA Provost Randall Rhodes emceed the event. Speaking first was Dr. Lawrence H. Pitts, chair of the AUA Board of Trustees and former provost and executive vice president of academic affairs at UC, who highlighted the academic, financial, and campus growth the University has achieved under Dr. Der Kiureghian's leadership. In his words, "AUA has had very impressive growth and development over time and each of the presidents has taken AUA to a new place. Armen has certainly brought AUA through a very substantial period of excellent growth that adds to the quality of the University." Noting the great strides over the recent years, he concluded: "With some sadness and enormous appreciation we thank Armen for his dedication and hard work over the past five years."
During Dr. Der Kiureghian's presidency, the AUA campus has expanded significantly with grants from the United States Agency for International Development's (USAID) Office of American Schools and Hospitals Abroad (ASHA) allowed for the construction of the state-of-the-art computer labs, the Student Union, the Faculty Center, the outdoor Amphitheater, the Student Residence, and the Najarian Center for Social Entrepreneurship. The last two buildings are currently under construction and have been made possible through the generous donation by the Najarian family.
"We consider AUA a wonderful, if not the best example of USAID's legacy in Armenia," noted USAID Armenia Mission Director Deborah Grieser. She concluded her speech with a presentation to Dr. Der Kiureghian of the USAID/ ASHA Visionary Award for "his commitment, vision, and tenacity in making the American University of Armenia a beacon of hope and opportunity for the Caucasus region and being an ambassador of mutual understanding between the people of the United States and the people of Armenia."
At the podium next was Dr. Yuri Sargsyan, former rector of the State Engineering University of Armenia. He recalled special moments of their 30-year-old friendship and how the idea of founding the University was born. He acknowledged Dr. Der Kiureghian's role in making AUA "stronger in its resources, management structures, public service, international recognition and authority, as well as for creating the prerequisites for the sustained growth of the University for making an even bigger impact on the transformation of Armenia."
It was during Dr. Der Kiureghian's presidency that AUA's accreditation by the WASC Senior College and University Commission was renewed for nine years, attesting to the quality of AUA's academic programs. Three new degree programs were launched, more than doubling the student body and the number of full-time faculty. Speaking on behalf of AUA faculty was Dr. Aram Hajian, dean of the AUA Akian College of Science and Engineering (CSE). He recounted meeting Dr. Der Kiureghian in his student years in California and then again after moving to Armenia in 2000. Seven years later, Dr. Der Kiureghian offered him the position of assistant dean of Engineering at AUA. "Personally for me and, I am happy to say, for many others, Armen has been a mentor, a true intellectual, an academic, who has genuinely and consistently reminded us all of the priorities in the classroom."
Following Dr. Hajian's speech, a farewell video was screened where several AUA community members recounted memorable moments from Dr. Der Kiureghian's years at AUA and the impact he has had in their lives.
AUA Assistant Vice President Anahit Ordyan (MBA '93) spoke next sharing most cherished memories from her student years at AUA. "Armen has a very strong weakness ‒ that's his unconditional love for his compatriots and for their wellbeing be it in Armenia, in the U.S. or anywhere else, be he/she a PhD student, a scientist, an artist, a singer or somebody else. No matter how busy he might be, Armen would always find time to address concerns, to help and to respond positively," she remarked.
Among other speakers who reflected on Dr. Der Kiureghian's presidency were AUA junior student Margarita Dadyan (BA EC '20), who spoke on behalf of the AUA student body, thanking him for establishing the University; the President of the Armenian General Benevolent Union (AGBU) Berge Setrakian, Esq., who told about the memorable experience he had working with Dr. Der Kiureghian, and Minister of Education, Science, Culture and Sport of the Republic of Armenia (RA) Dr. Arayik Harutyunyan, who looked back on his short but productive time working with the AUA President. At the end of his speech, the minister surprised Dr. Der Kiureghian with a Gold Medal of the RA Ministry of Education and Science, and also Armenian citizenship by decree of RA President Armen Sarkissian.
Speaking last was Dr. Der Kiureghian with an emotional farewell speech glancing back at the past thirty years and expressing deep gratitude to all his supporters, family, friends, and colleagues: "It has been a tremendous privilege for me to be the President of AUA for the past five years. I thank the Board of Trustees for entrusting me with this responsibility, and I thank my AUA colleagues for their support, commitment and friendship. It has been an honor to lead such a dedicated, reliable, and capable group of faculty and staff. What has given me the most joy, however, has been the daily interactions with our energetic, bright, and courteous students and the frequent interactions with our alumni. It is for them that the University exists and it is their success that strengthens our purpose." In his final remarks, Dr. Der Kiureghian expressed special thanks to his children Naira and Sebuh, and wife Nelly present at today's event for their continued support.
At the conclusion of the event, AUA Vice President of Operations Ashot Ghazaryan presented a symbolic gift to Dr. Der Kiureghian on behalf of the AUA community, a gold lapel pin with the University seal.
An outdoor reception followed with musical performances by AUA students. Later, AUA benefactors joined Dr. Der Kiureghian and his family for a farewell dinner at the Cafesjian Center for the Arts.
Dr. Der Kiureghian will continue to serve the University as a member of its Board of Trustees. Among his planned projects are two engineering books, which were put on hold during his tenure as AUA president. He also looks forward to spending more time with his family.
The recording of the event at the Manoogian Hall can be viewed here.
Founded in 1991, the American University of Armenia (AUA) is a private, independent university located in Yerevan, Armenia, and affiliated with the University of California. AUA provides a global education in Armenia and the region, offering high-quality graduate and undergraduate studies, encouraging civic engagement, and promoting public service and democratic values.