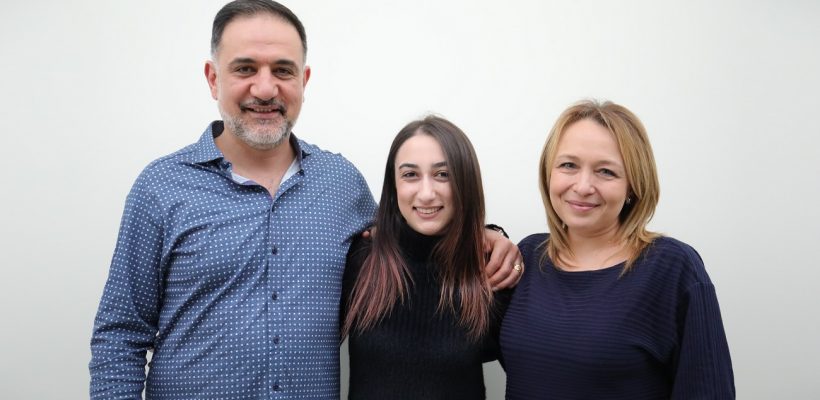 Alumni Couple Hayk Martirosyan and Sona Petrosyan Meet the AUA Student they Supported
2
min read
YEREVAN, Armenia – On February 27, 2019, American University of Armenia (AUA) alumni Hayk Martirosyan (MS EE '97), General Director of IKO Machinery, and Sona Petrosyan (MBA '97), Co-Founder and Board Member of My Way Socio-Rehabilitation Day Care Center and Board Member of Autism National Foundation, visited AUA to meet Anahit Bagiryan (E&C '22), the 2018-19 recipient of the scholarship they had provided last year.
Martirosyan and Petrosyan shared memories of their student years at the University and listened to Bagiryan recounting her years as a FLEX student, a volunteer at World Vision Armenia, and admission to AUA. Bagiryan was happy to have the opportunity to thank the donors personally for supporting her, "I am very grateful to Hayk and Sona for their generosity. It is a big pleasure to get the scholarship especially from the AUA alumni. They both are role models for me and others to look up to. This act is an inspiration for me to find a way of helping others once I get the opportunity."
Looking back at the decision they had made to support a student at AUA, the couple noted: "Time passed, but we never forgot the role AUA played in our lives. Just like others who supported AUA in the mid 1990's and enabled us to study here and build our careers, we decided to give back to AUA to express our gratitude and enable another student to have this valuable and life-changing experience. It is such a good feeling to give back, to be a part of something so vitally important, once as a student beneficiary and now as a supporter of another student."
Martirosyan is full of hope that their act of generosity will set a good example for other AUA alumni so as to make giving back to their alma mater a tradition passed from one generation to the next. He takes pride that most of his peers have achieved significant success in their careers due to the knowledge and skills acquired at AUA. He elaborates that "Covering one year's tuition fee of an AUA student would cost them as much as just a week-long family vacation abroad."
Throughout his career Martirosyan has held several leadership positions. To our question on what was the hardest decision he had ever made, he answered, "The hardest part of the work is always related to your decisions that directly affect the future development and advancement possibilities of other people, your subordinates."
"The most rewarding experience is witnessing the progress throughout the years: the professional growth of specialists and the achievements of our beneficiaries. You can see the starting point and the advancement you have reached," Petrosyan reflected on her experience as the Co-Founder and Board Member of My Way Socio-Rehabilitation Day Care Center.
Later AUA Assistant Vice President Anahit Ordyan (MBA '93) joined the conversation and, on behalf of the University, thanked Martirosyan and Petrosyan for giving back to AUA and supporting the generation of future leaders today.
"Our greatest achievement is our family. Humanity has not created a more stable institution other than family," the couple confessed.
Founded in 1991, the American University of Armenia (AUA) is a private, independent university located in Yerevan, Armenia, and affiliated with the University of California. AUA provides a global education in Armenia and the region, offering high-quality graduate and undergraduate studies, encouraging civic engagement, and promoting public service and democratic values.