Memorializing the Legacy of Sona Hamalian at AUA
2
min read
YEREVAN, Armenia — In 1991, when the American University of Armenia (AUA) opened its doors, Sona Hamalian served as an administrator and the right-hand assistant to Dr. Mihran Agbabian, AUA's co-founder and first president. She later became the director of AUA's Extension program, now called Open Education. Recently, following her untimely death, Sona's twin sister Sossy and her husband, Dr. Vicken Aharonian, AUA Pillars, memorialized her legacy by naming a conference room in the AUA Main Building after her: 413M – Sona Hamalian Conference Room.
Dr. and Mrs. Vicken and Sossy Aharonian's parents are descendants of Armenian Genocide survivors: his parents from Zeitun and Marash (Cilicia), her parents from Aintab and Aleppo. Both Vicken and Sossy grew up in Beirut, Lebanon and attended the American University of Beirut. Valuing education and the pursuit of professional excellence, Sossy studied nursing and became a head nurse in Pediatrics at the American University Medical Center, while Vicken studied medicine, pursuing specialty training in cardiology in the United States and subsequently becoming head cardiologist of a large interventional cardiology department in a Los Angeles hospital.
The Aharonians have been closely following the events in Armenia since the country's independence in 1991, while also keeping up with AUA since its founding in the same year and growth throughout the years. "The mission of AUA and the importance of maintaining high academic standards motivated us to support the university," said Vicken. They are proud of Sona's service to AUA and the significant impact she has made in the most crucial years of its founding, recalling how "Sona worked tirelessly during those early and difficult times for both AUA and Armenia."
After Sona's untimely death, Sossy and Vicken felt strongly that they wanted to commemorate her legacy with a lasting dedication in her honor, hence the naming of a conference room. The Sona Hamalian Conference Room is located on the fourth floor of AUA's Main Building and equipped with modern technology and furnishings that accommodate up to 12 participants in focus group discussions, conferences, and seminars.
With this memorialization, the Aharonians hope to encourage the next generations of young Armenian scholars to reach new heights and lead the country to a safer and more sustainable future. "Our vision is for a peaceful and prosperous homeland, free of corruption and led by the highest ideals — one of the ways to achieve this is to have a well-educated, open-minded young generation able to secure the future prosperity and self-sufficiency of Armenia. Supporting AUA and its efforts, in general, would be an important step in achieving those goals," they posit.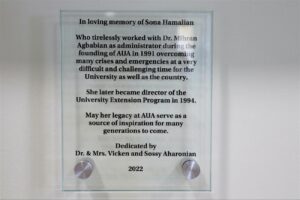 In June of 2022, AUA hosted a ribbon-cutting ceremony which was attended by both the Hamalian and Aharonian families, as well as AUA community members who had known and worked with Sona Hamalian in the past.
The AUA community is grateful for the years Sona Hamalian has spent in service of the University, as well as for the generosity of Dr. and Mrs. Vicken and Sossy Aharonian in support of the University through the naming that memorializes Sona's legacy at AUA forever.