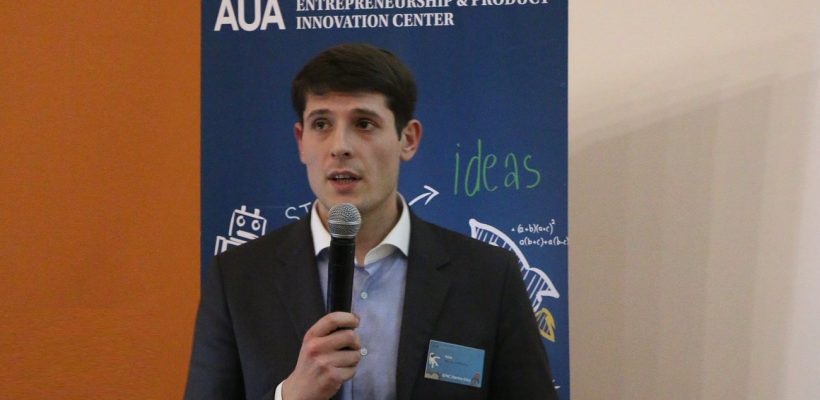 EPIC StartUps Pitch their Ventures at Demo Day
3
min read
YEREVAN, Armenia – On February 12, 2019, the Entrepreneurship and Product Innovation Center (EPIC) of the American University of Armenia (AUA) organized the first Demo Day of the EPIC incubator program. The event enabled eight EPIC startups from the Fall 2018 batch to present their ventures to the entrepreneur community, investors, accelerator representatives, as well as AUA faculty, students, alumni, and supporters. The event was live-streamed around the world.
The Fall 2018 batch of 32 entrepreneurs started in the EPIC incubator program in October, 2018. They participated in intensive workshops, had one-on-one meetings with their mentors and advisors, and listened to inspiring presentations by local and international entrepreneurs. Each team was also assigned a legal advisor from the Technology and Innovation Legal Clinic (TIL Clinic) of the AUA Master of Laws (LL.M.) program to assist them in legal matters. After four months in the Program, the teams validated their ideas and began building business models.
Davit Mikayelyan, Founder of FinAssist, shared, "EPIC is not a 'place' or 'facility', it is the 'people' we were privileged to work with in the last three months and the fantastic atmosphere. The culmination of it was the Demo Day – eight startups pitching their great ideas on stage before an audience of over a hundred-people. Everything was superb and exciting."
The pitching was followed by a reception where the teams had a chance to network and answer questions from interested investors and entrepreneurs.
Sona Sharoyan, Co-Founder of BeautyBook, said, "It was an exciting experience to present our startup in front of the entire auditorium. After the event, two girls approached us and literally begged us to accelerate the launch of the app. I want to give big thanks to the whole team of EPIC for providing this opportunity and for continually supporting us. Samson Avetian, previously my micro- & macro-economic lecturer, approached us and told us that he was a member of the Angel Investor Club of Armenia (AICA), and that we could apply for an investment in March. This was very valuable information." BeautyBook is a mobile booking platform that helps clients to easily make beauty service appointments and acts as a versatile CRM business tool for beauty service providers.
Samson Avetian, AUA lecturer and private angel investor, remarked, "The rapid progress that EPIC has made is impressive. EPIC teams were passionate, their ideas were forward looking, and the atmosphere during the Demo Day was indeed exciting. The outlook for working with some of the teams is quite promising."    
"The Demo Day was great for our team. Many people liked our startup idea and the model overall. Two investors approached us afterwards. One of them is waiting for our financial model and the other one invited us to pitch to them without going through an application process. We are very excited to launch our startup idea. We just need some funding to cover initial startup costs and we really hope that we will start operating very soon," told Naira Paronikyan, Head of Marketing at Evi, which helps food businesses to sell their surplus food at the end of the day at discounted prices to earn extra revenue and reduce food waste.
"I'm proud of all the teams. They made tremendous progress over the last four months. With further development of their venture models, a number of them could be positioned for investment and further growth," added Dr. Michael Kouchakdjian, Director of EPIC.
You can watch a replay of the EPIC Demo Day presentations here.
The Entrepreneurship and Product Innovation Center (EPIC) is a platform for promoting entrepreneurial education, cross-disciplinary collaboration, and startup venture incubation. EPIC provides an ecosystem for the American University of Armenia's (AUA) emerging entrepreneurs consisting of first-class facilities and collaborative workspace, programs and events, and a network of mentors, advisors and investors. EPIC fosters the understanding and application of entrepreneurship with students and faculty at AUA to craft high-impact multidisciplinary ventures.