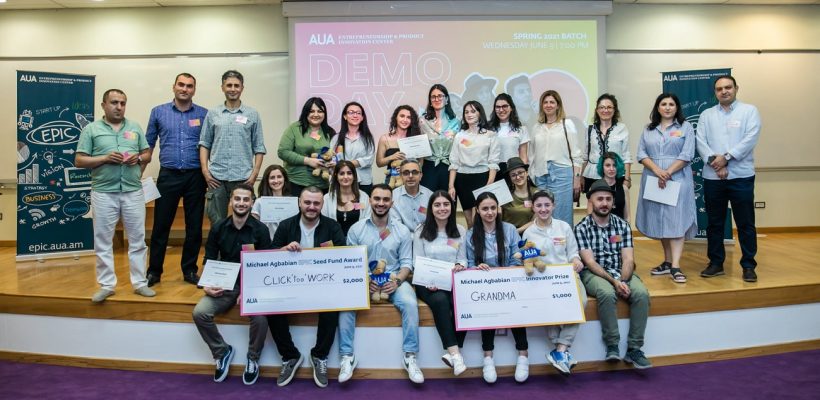 EPIC Spring 2021 Startups Pitch at Demo Day
2
min read
YEREVAN, Armenia — On June 9, 2021, the Entrepreneurship and Product Innovation Center (EPIC) of the American University of Armenia (AUA) held the first post-COVID-19 face-to-face Demo Day for the startups in the Spring 2021 batch. This first comeback event in Manoogian Hall generated a truly celebratory ambiance for all the attendees. As planned, the Demo Day provided the right platform for EPIC startup teams to present their ventures to investors, mentors, accelerators, as well as AUA faculty, students, and alumni. The startups were competing for the Michael Agbabian Innovator Prize and Michael Agbabian Seed Fund Award which are presented annually to outstanding EPIC teams.
"Our EPIC program is about creativity. It is so exciting to watch young people, faculty, and mentors working together, coming up with ideas. It makes me want to be a young entrepreneur myself," said AUA Provost Dr. Brian Ellison in his welcoming remarks.
Seven teams presented their new ventures on Demo Day. The startup Grandma won the Michael Agbabian Innovator Prize, and Click'too'Work won the Michael Agbabian Seed Fund Award. Grandma is an AI-based platform that detects and eliminates harmful content on the Internet. Click'too'Work is an online recruitment platform that addresses the challenges of employee recruitment faced by the HoReCa sector (Hotels, Restaurants, Catering), Hospitality, and Accommodation industries.
Arpine Manukyan, EPIC Operations Manager, shared her impressions of the startups, noting: "It was very exciting to work with the EPIC Spring 2021 batch. We had a hard time deciding the winners of the awards, because all the participating startup teams were bright, hardworking, extremely talented, and had attained remarkable results."
The presentations were followed by a reception where the teams had the opportunity to network and answer questions from interested investors and entrepreneurs.
A replay of the EPIC Demo Day presentations is available online.
The Entrepreneurship and Product Innovation Center (EPIC) is a platform of the American University of Armenia (AUA) for promoting entrepreneurial education, cross-disciplinary collaboration, and startup venture incubation. EPIC provides an ecosystem for emerging entrepreneurs consisting of first-class facilities and collaborative workspace, programs and events, and a network of mentors, advisors, and investors. EPIC fosters the understanding and application of entrepreneurship in students and faculty at AUA to craft high-impact multidisciplinary ventures.