Meet Three EPIC Startup Teams: Rido, FinAssist, and BeautyBook
2
min read
Connecting Consumers & Vendors in Car Rental, Financial Services, and Beauty Industries
Earlier this month, the Entrepreneurship and Product Innovation Center (EPIC) of the American University of Armenia (AUA) welcomed its 3rd batch of venture startup teams to the EPIC business incubator. During the course of the program, the teams will participate in a 12-week ideas-stage incubation training to shape their ventures, validate their business concepts, and build the business model. Having full access to the AUA ecosystem, the teams will participate in workshops, receive advising, and be mentored by seasoned entrepreneurs.
EPIC proudly introduces three of the nine startups that were accepted into the program this fall: Rido, FinAssist, and BeautyBook. These platforms are designed to connect consumers and vendors in the car rental, financial services, and beauty industries, respectively.
Reaching Out to AUA's Network of Supporters and Friends
EPIC is reaching out to the AUA network of contacts seeking support for these ventures. If you have experience in any of these industries, or have contacts in similar platforms that connect customers and vendors, you may be the right person to help us out. If you know of any potential partners or collaborators EPIC would welcome hearing from you. EPIC strives to support, connect, and advance its startup ventures. Please contact EPIC at [email protected].
To learn more about each startup, please read the brief profiles presented below:
Rido aims to be the first platform in Armenia that will connect private car owners with people who want to rent cars. Car owners will be able to list their services and potential customers will be able to compare, book, and rate those services. Rido aims to provide 30% cost savings compared to prevalent options in the market.The three co-founders have over five years of experience in finance, business development, and IT, including time at Microsoft Innovation Center and with Hewlett Packard Enterprise. They have recently started the software development for their startup.
FinAssist is a centralized portal where people will be able to apply for financial products, such as auto-loans, simultaneously from multiple financial institutions. The institutions will either accept or deny the applications received, and the customer will have a dashboard of all accepted offers to filter through and ultimately make a decision on the best choice for them. The three co-founders have over ten years of experience in finance, project management, and public relations.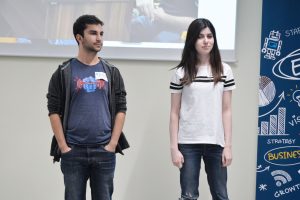 BeautyBook is a mobile booking system that helps clients schedule an appointment at a salon or beauty parlor. It aims to make the search for salons easier and wider and the booking process more effective for users. At the same time, the mobile booking system provides salons with a comprehensive CRM toolkit that is bound to expand their menu and improve the quality of their services. Salons will be the test market for BeautyBook. Upon success, the team aims to expand into other markets and retail (B2C) segments.
For more information about these teams or EPIC, please visit epic.aua.am or write to [email protected].
The Entrepreneurship and Product Innovation Center (EPIC) is a platform for promoting entrepreneurial education, cross-disciplinary collaboration, and startup venture incubation. EPIC provides an ecosystem for the American University of Armenia's (AUA) emerging entrepreneurs consisting of first-class facilities and collaborative workspace, programs and events, and a network of mentors, advisors and investors. EPIC fosters the understanding and application of entrepreneurship with students and faculty at AUA to craft high-impact multidisciplinary ventures.