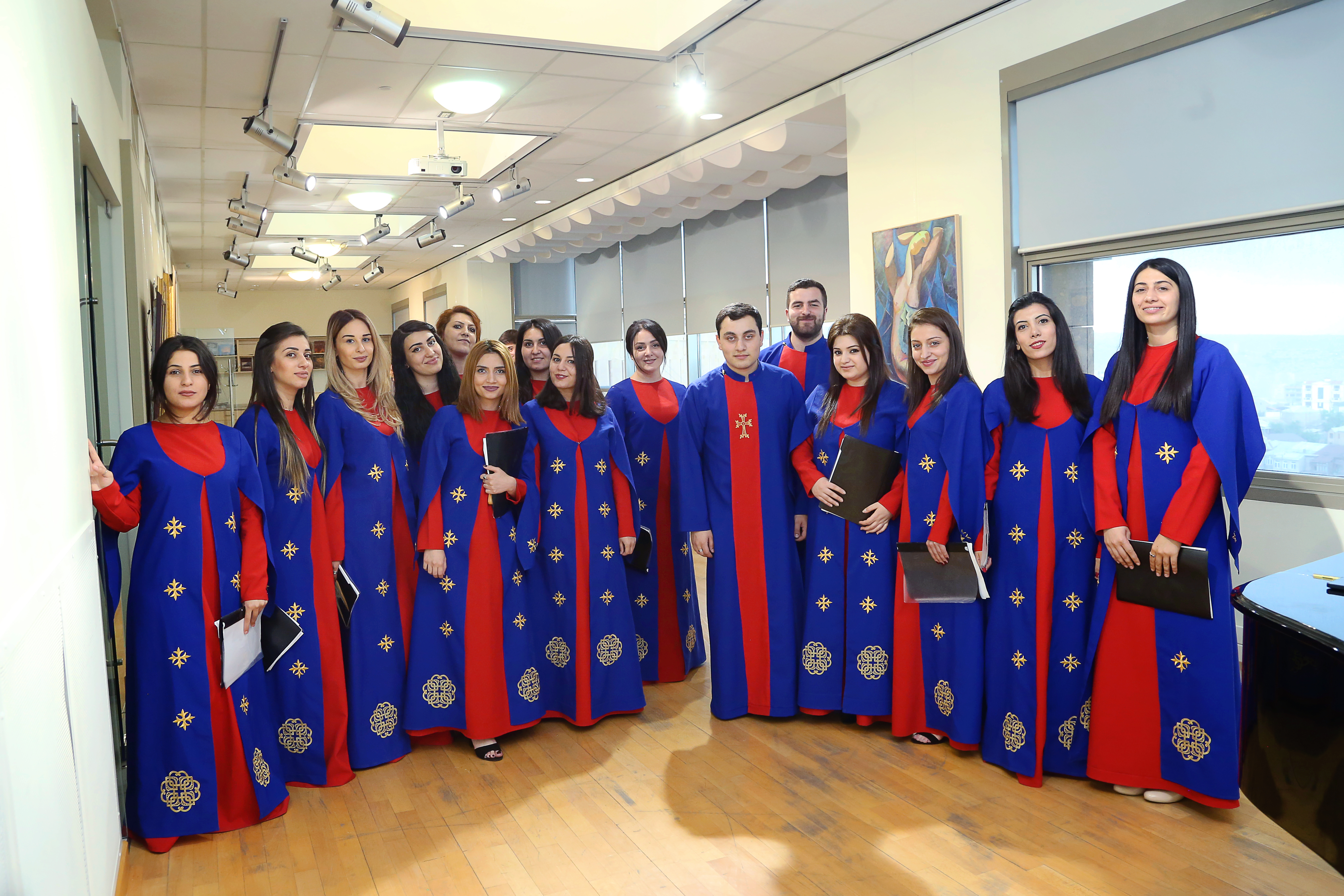 St. Vartan and St. John Congregations of California Visit AUA
YEREVAN, Armenia – On June 7, the American University of Armenia (AUA) was pleased to host members of St. Vartan Armenian Church of Oakland and St. John Armenian Apostolic Church of San Francisco. The group embarked on a pilgrimage to Armenia and Artsakh, led by Rev. Fr. Hovel Ohanyan and Fr. Mesrop Ash, in honor of the 60th anniversary of the consecrations of both parishes.
Met by members of the university's executive team and administration, the 54 guests were received in the Mihran and Elizabeth Agbabian Hall in AUA's Main Building.
Once greeted, the guests viewed AUA's founding documents as they were given a brief history of the university. AUA was founded on September 21, 1991, the same day that Armenia declared its independence, through a partnership with the University of California, AGBU and the Armenian government. Guests were interested to learn that the Main Building itself was the former Communist Party Convention Center, gifted to AUA by the Armenian government to house the university. Since its establishment, AUA has grown to offer both graduate and undergraduate programs with a need-blind admissions policy, ensuring no academically qualified student is ever denied the opportunity to study because of financial need.
Highlights of the tour included the Honor Wall, which pays tribute to AUA's most generous benefactors, donors, and supporters; the AGBU Papazian Library, which is the largest English language library in the Caucasus; the Large Auditorium, which features 1,300 seats and tri-lingual translation services; and the Entrepreneurship and Product Innovation Center (EPIC), which house state-of-the-art tools including 3D printers and a 3D scanner. Since its 2016 inception, EPIC has promoted product innovation and collaboration between students, faculty and educational institutions worldwide, including Harvard Medical School. The EPIC laboratories and the AGBU Papazian Library also serve the greater community outside of AUA, providing the tools and resources necessary for entrepreneurs and innovators throughout Yerevan.
The tour concluded in the Akian Gallery, where guests were treated to refreshments as President Armen Der Kiureghian thanked them for visiting the university. Led by Deacon Valodia Nadjarian, the Gandzer Choir then honored the guests with a private concert to express their gratitude for the support they have received from both St. Vartan and St. John over the years. Outfitted in their new robes purchased through donations by both parishes, the group sang a selection of songs before Deacon Nadjarian presented Fr. Ash and Fr. Hovel with a special blessing to thank them for the support he, his parish and the choir have received from both churches.
The American University of Armenia (AUA) is a private, independent university located in Yerevan, Armenia. Founded in 1991, AUA is affiliated with the University of California. Through teaching, research, and public service, AUA serves Armenia and the region by supplying high-quality, graduate and undergraduate education, encouraging civic engagement, and promoting democratic values.