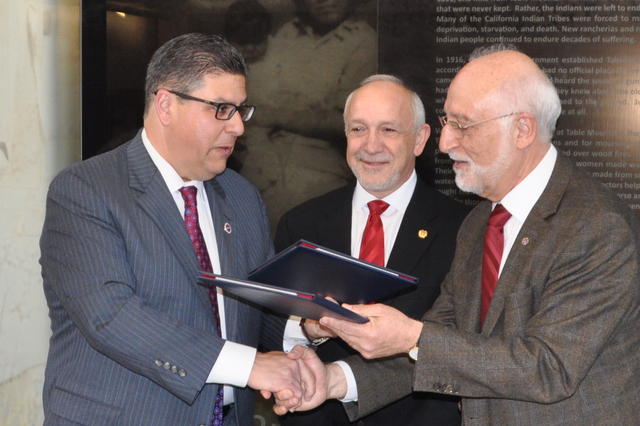 AUA and California State University, Fresno Announce a New Partnership for Joint Educational Initiatives
2
min read
FRESNO, California, USA – The American University of Armenia (AUA) and California State University, Fresno (CSUF) announced a new partnership for joint educational initiatives, including a faculty and student exchange program, and joint research and study abroad opportunities.  The agreement was signed on January 8 by the presidents of both institutions in the presence of several Armenian community dignitaries, including Berj Apkarian, honorary consul of the Republic of Armenia, who is based in Fresno.
"Today, with this affiliation between California State University, Fresno, and American University of Armenia, we open new opportunities for exchange of knowledge, technologies, and educational resources in strengthening the relationship between the Republic of Armenia and the diaspora, in particular with the Central Valley, home of the oldest Armenian community in the United States," Apkarian said.
CSUF President Joseph I. Castro and Dr. Armen Der Kiureghian, president of AUA, signed the agreement in CSUF's Henry Madden Library Table Mountain Rancheria Reading Room. According to Castro, the agreement is the first step toward increasing faculty and student mobility between Fresno State and American University of Armenia and, more broadly, the United States and Armenia.
"Our event today will help pave the way for subsequent agreements to create exchanges that will provide educational and research opportunities for members of both learning communities," Castro said. "The history of the Armenian community in Fresno is intimately intertwined with the region's rich agricultural tradition, as well as local business and government roles."
Der Kiureghian praised Castro and CSUF for its support of the Central Valley's Armenian community and the partnership.
"These kinds of relationships enrich the experiences of our students and faculty," said Der Kiureghian, who also noted that AUA observes its 25th anniversary this year. "A partnership with CSUF is an important one because of its historic relationship with the Armenian community."
CSUF dedicated its Armenian Genocide Monument this past April in commemoration of the 100th anniversary of the genocide, drawing more than 4,000 people to the event. It is the only such monument on a college campus in the United States and gained international attention.
California State University, Fresno offers an Armenian Studies Program with such courses as Armenian history, language and literature, art and architecture, film, William Saroyan, the genocide and contemporary issues.
Founded in 1991, the American University of Armenia (AUA) is a private, independent university located in Yerevan, Armenia and affiliated with the University of California. AUA provides a global education in Armenia and the region, offering high-quality, graduate and undergraduate studies, encouraging civic engagement, and promoting public service and democratic values.