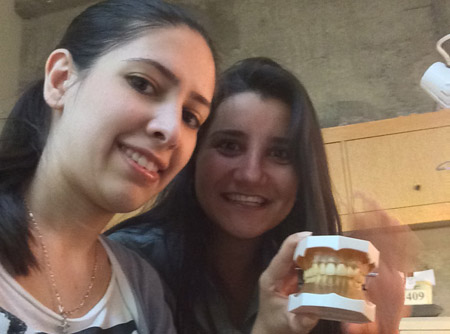 CSE IESM Alumni Begin Work for Rainbow Dental Laboratory
< 1
min read
YEREVAN, Armenia – The American University of Armenia (AUA) is pleased to share that two alumni from the College of Science & Engineering (CSE)'s Industrial Engineering and Systems Management (IESM) program, Narine Khachatryan and Mane Shahinyan, have recently begun work at Rainbow Dental Laboratory, an American company with a well-known dental lab in San Francisco that has been operating for over 25 years.
During their studies at AUA, the girls enrolled in a course on Computer Aided Design (CAD) under the supervision of Professor Sargis Zeytunyan. The course inspired their interest in CAD and influenced their decision to continue in that field and develop their skills.
Rainbow Dental Laboratory provides different types of dental restorations and preparations of crowns, partials, and implants. After receiving job offers as CAD designers, the girls spent a month training in San Francisco, where they gained sufficient knowledge to start working for the company from Armenia. The company is planning on expanding their business to Armenia and launching a branch in Yerevan, which will greatly contribute to the development of the country's economy.
Founded in 1991, the American University of Armenia (AUA) is a private, independent university located in Yerevan, Armenia and affiliated with the University of California. AUA provides a global education in Armenia and the region, offering high-quality, graduate and undergraduate studies, encouraging civic engagement, and promoting public service and democratic values.