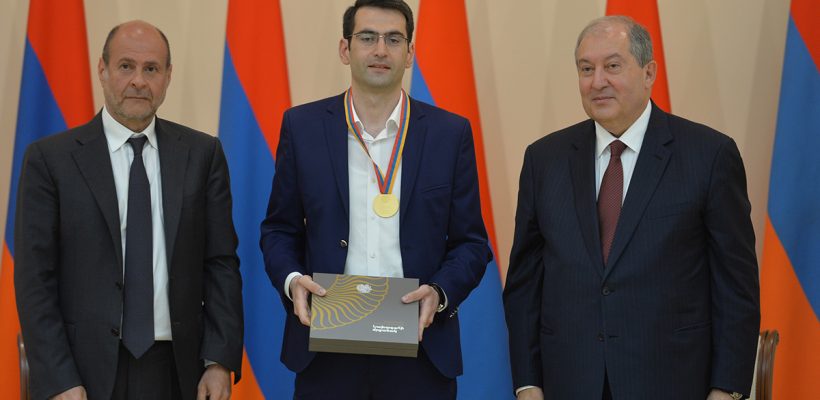 Dr. Karen Keryan: When Education is in Talented Hands
< 1
min read
The American University of Armenia (AUA)'s Akian College of Science and Engineering (CSE) congratulates CSE adjunct lecturer Dr. Karen Keryan on his recent academic achievements.
On April 4, 2018, Dr. Keryan defended his habilitation (post-doctoral dissertation) and was conferred the degree of doctor of mathematical and physical sciences. His research, titled "Convergence, uniqueness and basis problems for orthonormal spline systems," is in the field of orthogonal series, a branch of real analysis.
Moreover, on May 5 Dr. Keryan and Dr. Gegham Gevorkyan, academician, vice-rector on Scientific Policy and International Cooperation at Yerevan State University (YSU), and his supervisor, were awarded the Presidential Award for 2017 in the field of Natural Sciences for a series of scientific articles titled "Questions of Convergence and Uniqueness of Some Orthogonal Series," which were published from 2015 to 2017.
"Doing research brings joy; getting an award doubles it," noted Dr. Keryan.
The award was given by the President of the Republic of Armenia, Armen Sarkissian, and the representative of the Robert Boghossian & Sons Foundation, philanthropist Albert Boghossian. Since the establishment of this annual award in 2001 by the decree of the President of Armenia and with the support of the Robert Boghossian & Sons Foundation, 378 individuals and organizations have been awarded.
Dr. Keryan has been teaching at AUA since 2013 and at YSU since 2008. He plans to continue research on the current topic and expand the research area in pure mathematics and machine learning.
Founded in 1991, the American University of Armenia (AUA) is a private, independent university located in Yerevan, Armenia, and affiliated with the University of California. AUA provides a global education in Armenia and the region, offering high-quality graduate and undergraduate studies, encouraging civic engagement, and promoting public service and democratic values.