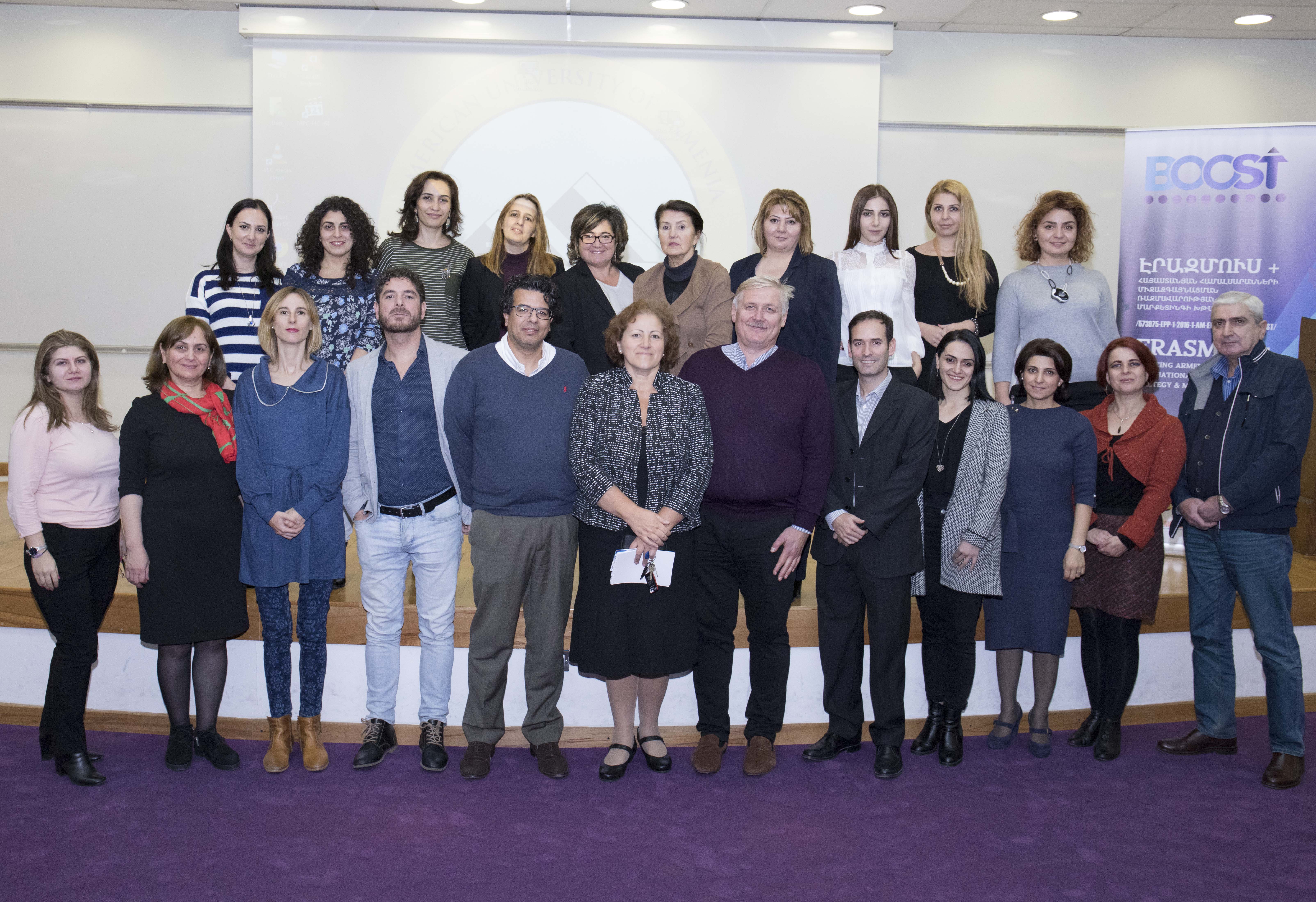 Erasmus+ BOOST Conference Strategizes Internationalization of Armenian Universities
2
min read
YEREVAN, Armenia – On November 21, the American University of Armenia (AUA) hosted a conference on higher educational institutions' internationalization strategy at the national level within the Erasmus+ "Boosting Strategy and Marketing for Internationalization of Armenian Universities"/BOOST/ project. The conference aimed to introduce a draft national strategy of internationalization and elaborate on its priorities based on the perspectives of European best-practice and know-how approaches.
Consortium members and guests of the event were welcomed with opening speeches from Deputy Minister of Education and Science (MoES) of the Republic of Armenia (RA) Mr. Vahram Mkrtchyan, AUA Provost Dr. Randall Rhodes, Vice-Rector for International Cooperation of the Armenian State Pedagogical University after Kh. Abovyan (ASPU) Mr. Ara Yeremyan, and Coordinator of the National Erasmus+ Office (NEO) Ms. Lana Karlova. In her speech, Karlova stated that there are currently 22 universities in Armenia involved in Erasmus+ International Credit Mobility, as well as 16 ongoing projects being implemented within capacity building in the field of higher education programs. She emphasized the importance of the BOOST project for focusing on creation of a national level strategy of internationalization for Armenian higher education institutions (HEIs).
Representatives from European partner institutions of Tallinn University of Technology (Estonia), Superior Technical Institute of University of Lisbon (Portugal), Polytechnic University of Catalonia (Spain), University of Rovira and Virgili (Spain), and Royal Institute of Technology (Sweden) shared their perspectives on internationalization strategies at the national level, as well as the aims, objectives, and involvement of stakeholders in their respective countries.
With guests and representatives from various Armenian HEIs, together with project consortium partners from ASPU, AUA, Shirak State University after Nalbandyan, Vanadzor State University after H. Tumanyan, Komitas State Conservatory, MoES, National Information Centre on Academic Recognition and Mobility, as well as representatives of EU partner universities "World Café" sessions were organized to discuss issues related to joint postgraduate initiatives, knowledge of foreign languages, creating cooperation edges with international research organizations, fostering inbound and outbound mobility programs, and possibility for having RA higher educational institutions included in the international rankings of top universities, etc.
The sessions were concluded with facilitators' brief feedback on the topics discussed, including recommendations to support the process of drafting RA higher education system internationalization framework and tools relevant to national and institutional policies. The consortium working groups were further formed to analyze the recommendations for broader discussion with representatives of other RA higher educational institutions.
Erasmus+ BOOST (www.boost.aspu.am) is a three-year project which aims to foster and promote international dimension of the Armenian Higher Education (HE) through the development of national and institutional policy framework and tools.