Berj and Sonia Kalaidjian Empowering the Future Leaders of Armenia
Last year, philanthropists Berj and Sonia Kalaidjian made the future of Armenia a priority. Through the establishment of a named endowed scholarship at the American University of Armenia (AUA), they are ensuring deserving students the opportunity to study at AUA, regardless of their financial standing. This gift of education empowers future generations of Armenian leaders to make long-term contributions to the country's political, social and economic development.
Educating Educators
Nazeli Gevorgyan (MA TEFL, '17) cares deeply for her family. Her brother, who serves with the military forces of Nagorno-Karabagh, participated in the four-day war in April 2016. "Those days were very emotional for our entire family, but I had to stay focused on my studies at AUA," says Nazeli. "As a proud sister of a soldier, I decided to create something from which my community would benefit. For my graduation Capstone Project at AUA, I designed an English language course aimed to teach social responsibility to youth in Armenia and prepare them to become global thinkers." The course is intended to teach tolerance, peacebuilding skills and steps to prevent discrimination of all types. "I wanted to provide a small, but valuable, contribution to create a better future for my country. With the guidance of my wonderful professors at AUA, I produced the best I could and am now teaching the youth using my own course book."
Nazeli submitted her course book to TESOL Arabia International Conference Committee to participate in the conference to be held in Dubai in March of 2017. The mission of TESOL Arabia, a not-for-profit teachers' membership organization, is to establish a network of communication among professionals who teach in English to promote excellence in teaching and learning. Nazeli is one of the 20 participants awarded a grant to present their work at the conference in front of teachers from around the world. "Without my education at AUA, made possible by Mr. & Mrs. Kalaidjian, I wouldn't have this unique opportunity," says Nazeli. "The participation at this conference will open new doors for me. I will expand my knowledge on international teaching practices and will apply them in my country. My goal is to educate my students the best possible way, and be a contributor in creating a more responsible and caring society in Armenia."
When applying for AUA, Nazeli never imagined the path her education would lead her through. "When I received a congratulatory letter from the University stating that I was offered admissions at AUA, I was both excited and concerned," says Nazeli. "I was enthused for the great opportunity, but I didn't know whether my family and I would be able to pay for my education. A few days later I received another letter stating that my education would be supported through a scholarship. I cannot find words to explain the feeling I had at that moment. Thanks to Mr. and Mrs. Kalaidjian, I am going through such a wonderful journey today!"
After completing her degree program at AUA, Nazeli plans to establish a language center where topics of citizenship will be taught and promoted. The center's mission will be to instill strong values in the next generation so they can care deeply for their homeland and be empowered to make positive changes in their communities.
From Sergeant to Student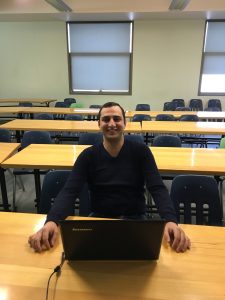 Garik Gevorgian, (MBA, '18) was raised in Alaverdi in the Lori region of rural Armenia. He was seventeen when he was admitted to the Armenian State University of Economics (ASUE) to pursue a degree in management. After a year of study, Garik left school to serve as a private soldier in the army. "The army was the platform where I could practically use all my knowledge to help others and to be useful," says Garik. "From the age of six, I practiced combat arts in my hometown and later was involved in freestyle wrestling until I was sixteen. Sports shaped me not only physically but also mentally. They helped me to stay focused, develop self-confidence, exercise patience and be thoughtful. Sports were a complementary and supportive part of my education."
Garik's higher commanders recognized his many valuable qualities within a short period of time. In Garik they saw a leader, soon awarding him rank of junior sergeant and the role of the Commander of Communication Detachment in the combat borders. Within the first two months of his service, the enthused sergeant created a strong team by promoting good interpersonal relations and productivity.
"I was in the sixth month of my service when our platoon commander retired and, as a first deputy, I was offered the position, moving from a junior sergeant to sergeant role," says Garik, who proudly took his new role and responsibilities very seriously. He soon found out that his family had received a letter of gratitude from a highly-ranked commander thanking his parents for instilling great values in their son while raising him. "I was very touched and honored".
Once Garik completed his two years of service in the army, he came back to Yerevan to continue his undergraduate education at ASUE. After earning his diploma with honors, Garik set his sights on AUA. "AUA is a continuation of my self-creation process," says Garik. "It is a school of success. It offers solutions to problems; it defines the meaning of democracy; it provides students the opportunity to learn from the best professors. At AUA, we have an environment where healthy competition and cooperation is taking place among students."
Among the many things he loves about AUA, Garik most appreciates the opportunity to get in touch with the western culture and create a network of professionals with whom he could collaborate in the future. After graduation, Garik plans to return to his hometown, Alaverdi. "There are many unutilized resources in my town—the people, the geographically favorable position, the unique culture—I would like to connect all those resources," says Garik. "The scholarship support at AUA has given me an opportunity to learn and the responsibility to use my knowledge in the best possible manner. I am forever grateful to Mr. & Mrs. Kalaidjian for their support."
…
When establishing the Berj and Sonia Kalaidjian Scholarship Fund, Mr. Kalaidjian shared a few words of advice for his scholarship recipients:
They should take in everything they can at AUA; use their greatest potential in the process of learning and, when they have the right tools, they should build their own success. And, most importantly, do all this in their motherland. Armenia needs them. The only place they can keep their true identity is in their own land. In Armenia.
Nazeli and Garik are two of the many students who have been set along the path to build success in their motherland, thanks to the generosity of Mr. & Mrs. Kalaidjian.