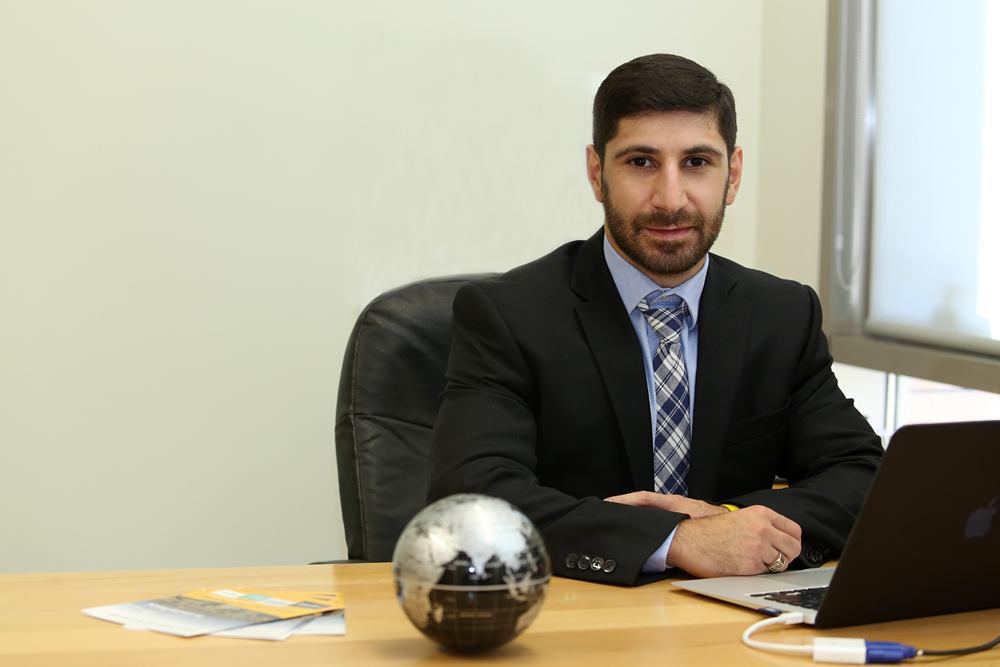 Armen Mkrtchyan Appointed Director of New Innovation & Technology Incubation Center
2
min read
YEREVAN, Armenia – The American University of Armenia (AUA) is pleased to announce that Armen Mkrtchyan, a Luys scholar at the Massachusetts Institute of Technology (MIT), has been appointed as the Director of AUA's new Innovation & Technology Incubation Center (ITIC). He will also be serving as Assistant Professor in the College of Science and Engineering (CSE).
Dr. Mkrtchyan holds a Ph.D. and M.S. in Aeronautics & Astronautics from MIT. He is a Luys scholar, an AGBU Fellow, and a Legatum Fellow. He graduated summa cum laude from the University of North Dakota with a B.S. in Electrical Engineering. He is currently working on developing an airborne drone that can analyze the quality of vegetation in rural communities in Armenia.
In a statement about his appointment, Dr. Mkrtchyan stated, "It is with great pleasure that I have joined AUA as Director of the newly created Innovation & Technology Incubation Center and Assistant Professor at CSE. I am convinced that ITIC will usher in a new era for entrepreneurship and innovation at AUA. In collaboration with internal AUA entities, as well as external institutions, laboratories, and other interested parties, ITIC will nurture leaders to craft high impact multidisciplinary ventures. ITIC intends to become a nexus of Armenia's entrepreneurial ecosystem and will provide services to AUA faculty and students, as well as to the public at large. Physical space for ITIC is currently under construction and with its completion AUA will have a state of the art facility for aspiring entrepreneurs to work, conduct experiments, and network with internal and external collaborators."
Aram Hajian, Dean of the CSE, stated "I very much look forward to the addition of Armen to our family.  He brings with him a wealth of experience, know-how, and exuberance, and I cannot think of a better candidate to launch AUA's incubator than Armen."
The ITIC will coalesce existing activity in entrepreneurship and innovation at AUA in a synergistic locale where student team work, creativity, and innovative technologies come together to foster new ventures and partnerships. It uses the American-style entrepreneurial spirit of openness and sharing of information to create potential for new enterprises that will contribute to both the local and global economy and employ the young business leaders of the future.
Although physical construction is still ongoing, the ITIC is scheduled to be completed by September 30, 2018. The facilities will include rooms dedicated for technology incubation, computers, and other infrastructural equipment to support business development activities. There will also be showrooms and shared-space meeting rooms to encourage interaction, multidisciplinary collaboration, and the exchange of ideas with internal as well as external stakeholders. The goal is to foster closer linkages between academia and industry.
Funding to create, furnish, and equip the ITIC has been generously granted by the American Schools and Hospitals Abroad (ASHA) program of the U.S. Agency for International Development (USAID). AUA has been receiving support from ASHA for many years, with past projects including the renovation and expansion of the university library and cafeteria, as well as active projects such as the creation of integrated technology classrooms, the replacement of university elevators, and the creation of a Student Services/Student Excellence Center.
Founded in 1991, the American University of Armenia (AUA) is a private, independent university located in Yerevan, Armenia and affiliated with the University of California. AUA provides a global education in Armenia and the region, offering high-quality, graduate and undergraduate studies, encouraging civic engagement, and promoting public service and democratic values.