AUA Concludes Year-Long Exploration of Events, Memories, and Stories of the Armenian Genocide
2
min read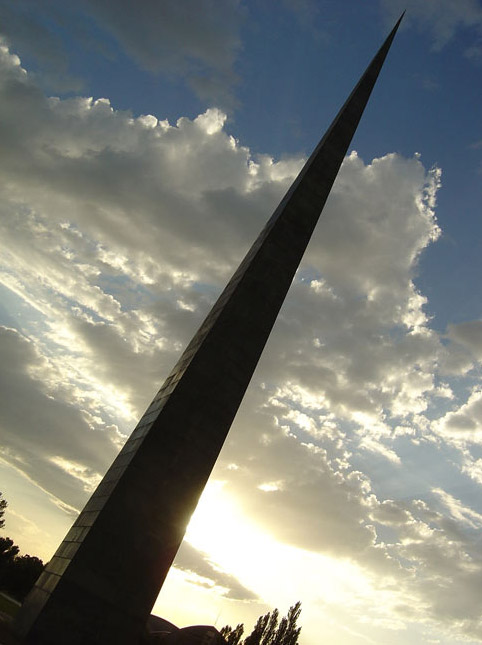 Starting in fall 2014, the university organized more than 40 events to raise awareness of the Armenian Genocide and mark the hundred years' passing of April 24, 1915. Through this year-long program of lectures, exhibits, film screenings, and seminars, AUA contributed to the nation-wide effort to raise awareness about the Armenian Genocide and promote the prevention and timely response to genocide worldwide. 
From poetry readings, to discussions on Armenian identity, to exhibitions of books and artwork inspired by genocide, to laying wreaths as a community at Tsitsernakaberd, the series covered a wide range of disciplines that involved students, faculty, staff, and the wider community both in and out of class and both on and off campus.
By shining a light on the Armenian Genocide and all genocides that have occurred around the world, the community at large is alerted that, despite how far we've come, there is still work to be done in the fight for human rights, in the prevention of future genocides, and in the recognition of those genocides that have already occurred.
The Centennial Series kicked off in September 2014 with a lecture by Dr. Gregory Areshian of the University of California, Los Angeles on "Ani in the Past, Present, and Future of Armenia and Armenians," and concluded with a visit from Genealogy, Armenia's Eurovision entry, in May 2015, with a teeming schedule of exciting and informational events in between. As a culmination and lasting tribute to the 1915 Centennial, AUA was proud to launch the Digital Library's new 'E-brary of Works by Authors who Perished in the Armenian Genocide,' an electronic collection meant to celebrate, disseminate, and preserve the historic words of those who are no longer here to tell their story.
Throughout the year, AUA welcomed international scholars and world-renowned speakers from around the globe, including Levon Avdoyan, Peter Balakian, Krikor Beledian, Sarkis Shahinian, Harutyun Marutyan, Mehmet Polatel, Ruben Safrastyan, Stepan Astourian, Raymond Kevorkian, Hrair Hawk Khatcherian, Shahen Khachatryan, Armen Marsoobian, Dana Walrath, and others. One of the most exciting visits was from System of a Down frontman Serj Tankian, who spoke to the AUA community about life, music, and what it means to be Armenian, just one day before his band played a free concert in Republic Square.
The Centennial Series included several student-organized events, course-related activities, as well as a number of special film screenings, including Watchers of the Sky and Orphans of Genocide.
The Centennial Series also featured several speakers from within AUA, including Dean of the College of Humanities and Social Sciences Tom Samuelian, Professor Nareg Seferian, Vahram Ter-Matevosyan, Institutional Research Manager Anush Bezhanyan, and Visiting Professor and celebrated Israeli historian Yair Auron, who also taught two graduate courses in genocide studies at AUA during the spring term.
The 1915 Centennial Series was initiated by AUA President Armen Der Kiureghian and overseen by a university-wide committee chaired by Dean Tom Samuelian. For a complete list of centennial events, please visit our AUA Newsroom.
Founded in 1991, the American University of Armenia (AUA) is a private, independent university located in Yerevan, Armenia and affiliated with the University of California. AUA provides a global education in Armenia and the region, offering high-quality, graduate and undergraduate studies, encouraging civic engagement, and promoting public service and democratic values.