AUA Hosts Jim Scrivener for Training on 'Uncertainty' in Teaching and Education
YEREVAN, Armenia – On February 13, 2015, the American University of Armenia (AUA) hosted Jim Scrivener, renowned English Language Training (ELT) consultant, teacher trainer, and course leader, for a training session on 'Uncertainty.' The event was hosted by the MA TEFL Program and the Center for Research in Applied Linguistics, the College of Humanities and Social Sciences and organized by British Council Armenia.
Scrivener's training addressed the reasoning behind common uncertainties that teachers have about their work, namely the relevance of their lessons and course materials and whether learners' needs have actually been met.
Scrivener recommended that teachers should move from learner-centered education to learning-centered education. The teacher's role should not be one of interfering with learning, but one of intervening. By comparing teachers to interventionists, Scrivener was able to highlight the virtues of uncertainty, a quality he described as inherent in education and a feeling experienced by most teachers.
The event attracted more than 250 people and was the first in a series of trainings for Scrivener from February 13-15 in Yerevan, organized by the British Council Armenian Branch.
Scrivener is a freelance writer, consultant, trainer, and course leader. He also works as Teacher Training Ambassador for Bell and as Academic Director of the Bell Teacher Campus. He's best known for his ELT methodology books, such as Learning Teaching, Teaching English Grammar, and Classroom Management Techniques. His books have twice won Duke of Edinburgh English Speaking Union Prizes.
Founded in 1991, the American University of Armenia (AUA) is a private, independent university located in Yerevan, Armenia and affiliated with the University of California. AUA provides a global education in Armenia and the region, offering high-quality, graduate and undergraduate studies, encouraging civic engagement, and promoting public service and democratic values.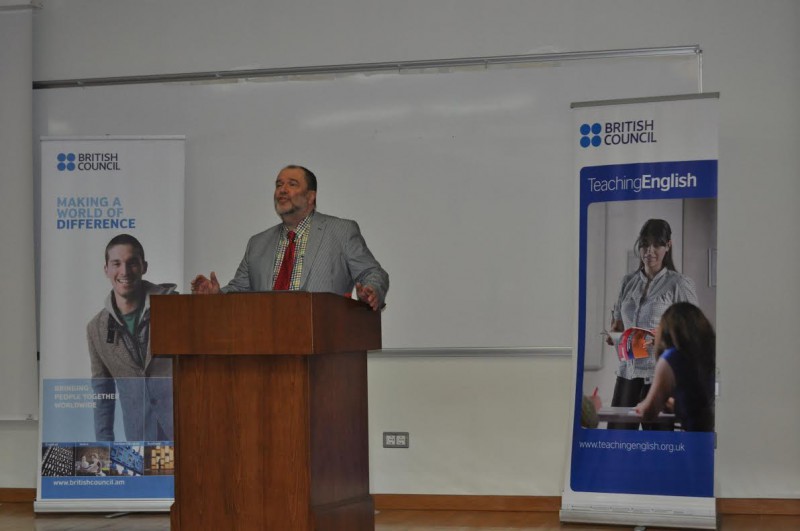 Jim Scrivener, renowned English Language Training (ELT) consultant, teacher trainer, and course leader, gave a training session on 'Uncertainty'
The event attracted more than 250 people