Commercial Determinants of Health: a Global Challenge
June 2 @ 5:00 pm

-

6:00 pm

+04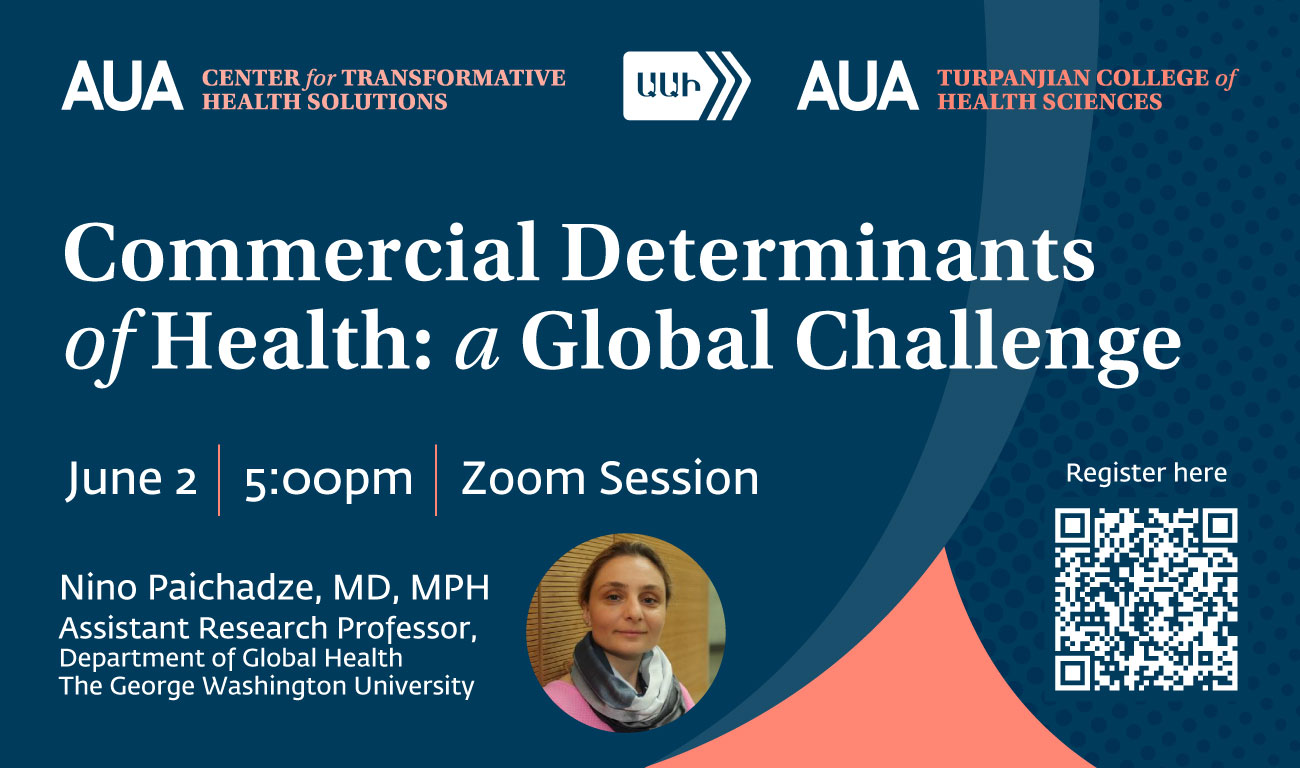 About the Event:
The Open Center for Transformative Health Solutions and Turpanjian College of Health Sciences, in collaboration with the National Institute of Health after Academician Avdalbekian, are hosting an Initiative Webinar on Commercial Determinants of Health.
The growing burden of non-communicable diseases and injuries (NCDIs) is a key global health challenge. The complex and multifactorial etiology of NCDIs is influenced by a wide range of individual, social, environmental, political, cultural, economic, and commercial determinants. While public health analysis has always looked at the power of big corporations, it is now — seven years post agreement of the Sustainable Development Goals (SDGs) — critically important for the global public health community to acknowledge threats to health from the corporate sector, discuss them in more systematic ways, and prepare to confront challenges through multi-sectoral action.
This webinar will introduce the concept of commercial determinants of health (CDoH) — their drivers and frameworks — and discuss some approaches for addressing them.
Prior registration is required. Please register here.
About the Speaker:
Dr. Nino Paichadze is assistant research professor in the Department of Global Health and associate director of the Center on Commercial Determinants of Health at the Milken Institute School of Public Health at George Washington University. Her research focuses on non-communicable diseases (NCDs), injury prevention, digital health, and research capacity development in low- and middle-income countries. Her research interests include utilizing mobile technologies for optimizing data systems on NCDs and associated risk factors and understanding the impact of commercial determinants on health outcomes. Dr. Paichadze holds an MPH degree from the Johns Hopkins Bloomberg School of Public Health, where she also completed her postdoctoral fellowship, and a medical degree from Tbilisi State University in Georgia.
Related Events