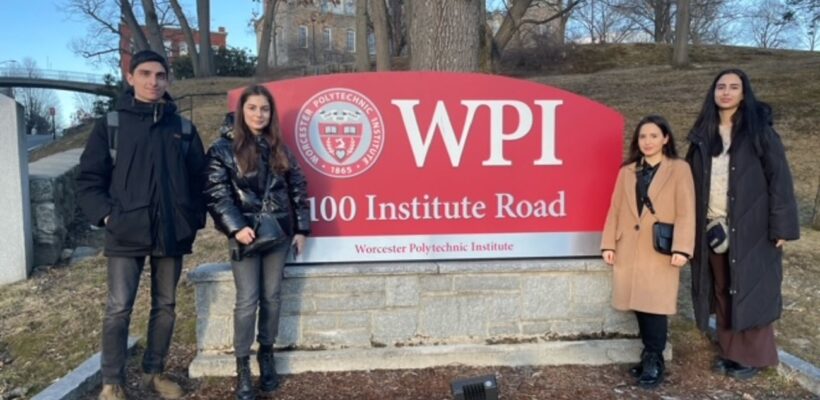 AUA Students to Spend a Semester at WPI
2
min read
YEREVAN, Armenia — On January 10, four American University of Armenia (AUA) students arrived at Worcester Polytechnic Institute (WPI), Massachusetts, to engage in a unique study abroad experience marking the fourth year of the partnership between AUA and WPI.
AUA students Ashot Tarumyan (BSCS '23), Diana Sargsyan (BSCS '23), Meri Sargsyan (BAEC '23), and Arpi Manusajyan (BAEC '24) will spend seven weeks at WPI to prepare for an Interactive Qualifying Project (IQP), the cornerstone of WPI's undergraduate degree program. Working with WPI students throughout the semester, these AUA students will return to Armenia and engage in multidisciplinary teamwork to solve a problem or community need at the intersection of science and society. During this semester, students will also take two WPI courses of their choice.
"The growing partnership between AUA and WPI is a model for collaboration, forging an opportunity for students to engage in hands-on learning in a multidisciplinary setting," remarks AUA Dean of General Education Dr. Sharistan Melkonian, adding, "At the same time, faculty from AUA and WPI work together, and students and faculty work on real issues here in Armenia."
In the process of working on their projects, the students gain strong insights and leverage their diverse backgrounds and skills-sets to brainstorm and propose innovative solutions to real community issues. AUA Dean of Akian College of Science and Engineering Dr. Aram Hajian notes, "Of all the inter-institutional partnerships at AUA, the AUA-WPI cooperation stands out for its genuine and harmonious multi-level collaboration at all levels: student-student, faculty-faculty, and administration-administration."
The students have expressed enthusiasm and full integration into the overall WPI environment since their arrival. According to Arpi Manusajyan, one of the students, the availability of multiple WPI service centers makes them feel very welcome. In her turn, Meri Sargsyan affirms that this collaboration is a life-changing opportunity to develop personally, professionally, and culturally, and contribute to building a better society. For Diana Sargsyan, participation in the AUA-WPI program also serves as a bridge for expanding her network, meanwhile connecting with experts of the field.
"I absolutely love my time here. There is so much to do and so many opportunities to get involved, including numerous clubs and frequent student activities. I'm having a grand time learning and exploring the campus, and I'm very excited to see what's to come for the rest of the semester," remarks exchange student Ashot Tarumyan.
AUA adjunct lecturer and faculty supervisor Norayr Benohanian, who will arrive at WPI next month to work with WPI faculty to prepare students for their projects, notes, "Students from AUA and WPI wouldn't just be working together on these projects, but would also be learning from each other through collaborative group work.
The students are currently halfway through their studies at WPI which will add new experiences to their academic journey.
Founded in 1991, the American University of Armenia (AUA) is a private, independent university located in Yerevan, Armenia, affiliated with the University of California, and accredited by the WASC Senior College and University Commission in the United States. AUA provides local and international students with Western-style education through top-quality undergraduate, graduate, and certificate programs, promotes research and innovation, encourages civic engagement and community service, and fosters democratic values.