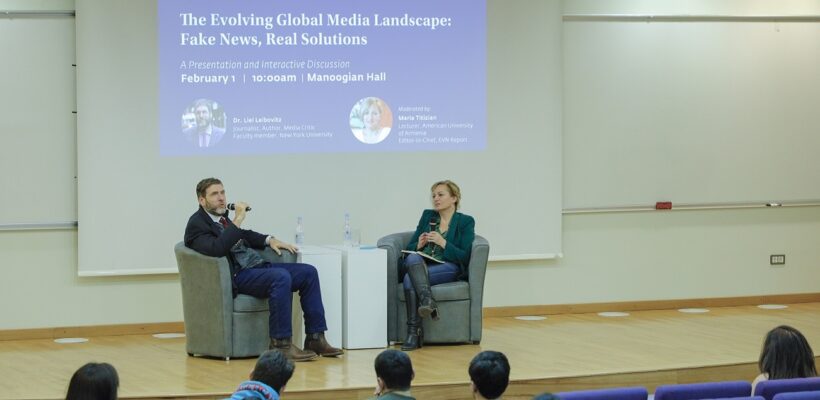 AUA Hosts Journalist and Media Critic Liel Leibovitz
3
min read
YEREVAN, Armenia — On February 1, the American University of Armenia (AUA) hosted an engaging keynote presentation by New York City-based Israeli-American journalist, author, media critic, video game scholar, and New York University faculty member, Dr. Liel Leibovitz. Drawing on his decades of professional, academic and personal experiences, Dr. Leibovitz shared his views on how the journalism industry is continually changing throughout the globe and impacting coverage of places like Armenia. He also spoke about the importance of "good journalism" and what that really means. Afterward, the attendees had the unique opportunity to ask questions and gain more insight in a candid fireside chat with the speaker moderated by AUA Lecturer and Editor-in-Chief of EVN Report, Maria Titizian.
Prior to the presentation, AUA Chief Communications Officer Narek Ghazaryan and Titizian guided Dr. Leibovitz through a tour of the University, making a special stop at the USAID/ASHA-funded Media Lab, which will have the critical infrastructure for AUA students and other stakeholders to apply the best practices in media and journalism.
Titizian opened the presentation by introducing Dr. Leibovitz, editor at large at Tablet Magazine and the co-host of "Unorthodox," which, according to iTunes, is the world's most popular Jewish podcast. The author of nine books, he is also a columnist for First Things, America's premier Catholic publication, and a frequent contributor to news outlets such as the Wall Street Journal, The New York Times, and The Washington Post. He has a Ph.D. in video games and has taught at Columbia University and New York University.
After taking the stage, Dr. Leibovitz commented on his lifelong desire to visit Armenia, having learned about the biblical stories of Ararat as a child, the similar historical experiences of Armenians and Jews, and the unique diaspora-motherland relationship both peoples nurture. He then explained the transformation that has taken place in the American media landscape throughout the last 30 years by first recounting how journalism was practiced prior to the 1990s. During the last decade of the 20th century, the media ecosystem experienced a revolutionary transition from print to tech platforms, which subsequently dramatically altered their advertisement revenue sources and changed the way media companies covered the news. Likewise, the profession of journalism evolved in response to the transformed and increasingly consumerist approach to the news.
Dr. Leibovitz then detailed the lasting effects of these radical changes, which have further accelerated over the last decade leading to a pervasive distrust in journalism and longstanding civic and academic institutions. However, he noted the rise of an "uplifting backlash" in response to these troubling trends, citing the growing popularity of podcasts and small media companies, in general, which have democratized the media landscape by enabling people from all backgrounds to share their stories with massive audiences, shed the "addiction to credentials and privilege," and build communities that are compelled to real-world action. "We can no longer be consumers," he said. "We have to be citizens."
He particularly noted how podcasts often serve to combat the social isolation many people feel in an increasingly polarized online world: "Social media is here to atomize us. It thrives on dopamine hits and is designed to keep us hooked on these dopamine machines. Podcasts, on the other hand, are designed to pull us into community, to be a voice in our ears. You're listening at the most intimate, vulnerable moments." Dr. Leibovitz also pointed to the unique parasocial relationships listeners cultivate with hosts — relationships which are starkly different from those book or movie fans build with authors or actors.
During the subsequent fireside chat, he expanded on his journey to and from academia. When Titizian pointed out that the polarization and distrust in media he described appears to have become a worldwide phenomenon, Dr. Leibovitz used the success of his podcast as an example of how to combat this trend: against a backdrop in which civil discourse has been obliterated, simply leading with love and good faith while conversing with people of diverse opinions is a revolutionary and uncommon act, which will quickly draw people in. "It's just as easy to tell the truth in a compelling way, as it is to lie," he said. "It's easier to spread love than hate."
Throughout the Q&A segment, Dr. Leibovitz fielded various questions about his opinions on recent developments in the broader media landscape, such as Chat GPT, the rise of AI art, and the use of subscription fees by news platforms. Finally, he noted the best practices in media and journalism, which people in the media can continue to apply in order to promote trust among readers, namely by doubling down on the commitment to ask questions, even if the surrounding environment discourages this. He also highlighted humility, curiosity, open-mindedness, and listening skills, further emphasizing the importance of not being judgmental or feeling the need to produce a certain "take" on a given topic.
Founded in 1991, the American University of Armenia (AUA) is a private, independent university located in Yerevan, Armenia, affiliated with the University of California, and accredited by the WASC Senior College and University Commission in the United States. AUA provides local and international students with Western-style education through top-quality undergraduate, graduate, and certificate programs, promotes research and innovation, encourages civic engagement and community service, and fosters democratic values.