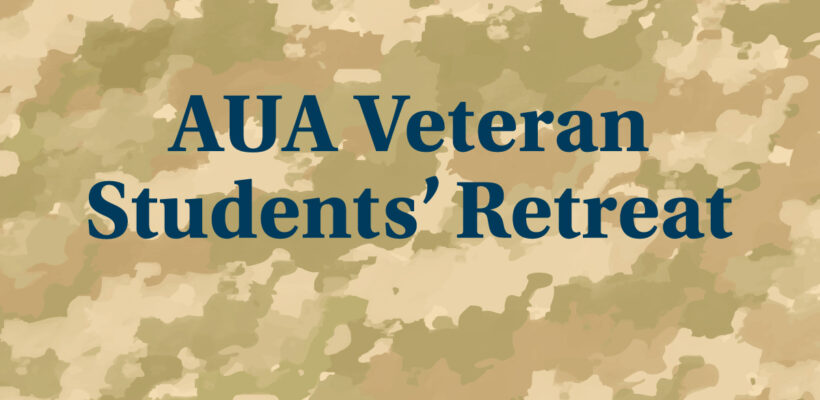 AUA Continues Tradition of Hosting Events for Veteran Students
3
min read
YEREVAN, Armenia — On June 20, the American University of Armenia (AUA) Counseling Services organized a summer retreat for its veteran students in the Aghveran Ararat Resort Hotel, generously sponsored by long-standing AUA supporter Joanne Peterson. This activity aimed to bring together the students who passed through the challenging experiences of the 44-day war in Artsakh.
Students from various programs and years of study enjoyed the opportunity to participate in different team-building activities, games, and discussions. This helped them socialize and share their experiences in a friendly and informal atmosphere.
Director of the Office of Student Affairs Mariam Mikhaylova noted, "It is important for us to help veterans connect with one another to create community as well as encourage them to become directly involved in the development of sustainable programs and opportunities that will support them."
In turn, Yelena Sardaryan, the Manager of the Counseling Services and Disability Support Services, shared her thoughts. "This event once again proves that if we want to stand by our students and support them, all it takes is commitment and a shared value of unity," she said. "I cannot stress enough how such day-long events mark the start of something that connects all of us deeply at both a practical and spiritual level."
All the participants highlighted that the most interesting part of the trip for them was meeting other students and interacting with them in an informal off-campus environment. "It was a pleasure to attend this event and get acquainted with many people. Everything was so great," remarked one of the veteran students. The students also mentioned that they would be eager to participate in this kind of event in the future as well.
"The whole trip was a unique experience for me. As a new graduate, I had exciting conversations with the younger students who still have a long road ahead of them at AUA. I tried to motivate them by answering their questions regarding their academic future. The organization of the trip was excellent," recounted another student. He also suggested that it would be beneficial to organize such trips at the start of the semester, so the newly returning veterans could establish connections with one another as soon as possible.
This was the second retreat organized for AUA veteran students and sponsored by Peterson. Commenting on why she felt inspired to give to AUA, she cited all the different ways the University provides for its students, Peterson said, "All of this is a tremendous effort on the part of AUA to continue to help those who are in need. The need is so great that I encourage every Armenian to support AUA on the basis of what it means to the entire nation and Armenian society."
Both students and organizers were eager to continue hosting similar events on a regular basis. The event series focuses on the individual veteran student as an indispensable part of the community, reinforcing his ability to succeed professionally and personally. "In any country, anyone who serves in the military deserves to be honored for the remainder of their lives for their meaningful gesture and service to their country. If there were not such people as those who continue to give in this way, then our country would not exist," adds Peterson commenting on the sacrifice veterans make and the importance of providing them with the necessary resources to succeed.
AUA is grateful for Joanne Peterson's contributions and the support for our student veterans by many others in the University donor community. For further information on how to lend support to the veteran student population at AUA, visit: http://veterans.aua.am.

Founded in 1991, the American University of Armenia (AUA) is a private, independent university located in Yerevan, Armenia, affiliated with the University of California, and accredited by the WASC Senior College and University Commission in the United States. AUA provides local and international students with Western-style education through top-quality undergraduate, graduate, and certificate programs, promotes research and innovation, encourages civic engagement and community service, and fosters democratic values.