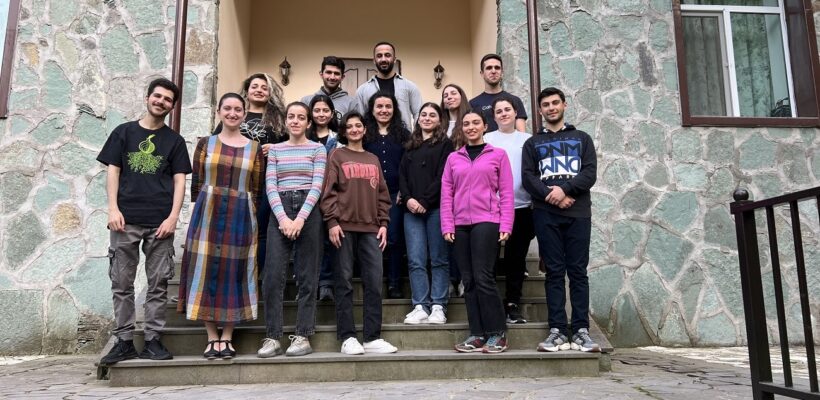 CSE Summer Research Workshop Leads Students Towards Academia
3
min read
YEREVAN, Armenia — From May 28 to June 4, the American University of Armenia (AUA) Akian College of Science and Engineering (CSE) held a Summer Research Workshop in Dilijan. Leading the workshop were former CSE M.S. in Computer and Information Science (CIS) Program Chair Dr. Louisa Harutyunyan, Assistant Professor Dr. Varduhi Yeghiazaryan, as well as Adjunct Lecturer Irina Tirosyan. Participants in this unique initiative included students from the B.S. in Computer Science (BSCS), B.S. in Data Science (BSDS), and M.S. in Computer and Information Science (MSCIS) programs, as follows: Lilit Karapetyan (BSCS '22), Maro Zohrabyan (BSCS '22), Lusine Davtyan (BSCS '22), Sona Bezirganyan (BCSC '22), Meri Abgaryan (BSCS '23), Hovhannes Manushyan (BSDS '23), Arpi Hunanyan (BSDS '22), Hrach Yeghiazaryan (BSDS '24), Abik Aramian (MSCIS '23), Gagik Khalafyan (MSCIS '23), Yeva Gabrielyan (MSCIS '22), and Aram Sargsyan (MSCIS '23). The workshop was an immense success with its immeasurable impact on developing students' academic research skills, as well as creating a collaborative research community.
The foremost goal of the Research Workshop was to encourage CSE students to immerse themselves in the world of research, discover its culture, and master the skill. Along with building a research community, the Workshop also intended to broaden CSE research activities with the participation of students and to nurture a passion among them for research as a viable career path. "We wanted to give graduating students a chance to continue working on their research problems as well as introduce and give a taste of research to rising seniors," said Harutyunyan. This workshop marks the initial step of fostering a research community among our students and soon-to-be alumni, which we hope will spark a sustainable tradition."
During the workshop, students had the opportunity to work in groups, discuss their research progress in wrap-up sessions, and attend instructive lectures. "The wrap-up sessions were probably the best part of this workshop, as everyone here comes from a different background, so you get to hear different perspectives on the same topic," remarked Tirosyan. The students were divided into groups according to their research interests and experience. Each, composed of students from diverse programs, covered a wide range of subjects, such as multi-organ segmentation, sampling of huge networks, community identification, and effective communication in highly dynamic networks. The students' devotion to research and synergy across computer science, data science, and CIS backgrounds signaled a promising start, as they integrated their various specialties into their work throughout the process. "This brought a very good multiplicative effect, especially from the brainstorming and experimenting aspects of their work," noted Dr. Varduhi Yeghiazaryan.
All of the students expressed satisfaction with the profound impact the workshop had on them, citing numerous benefits. They regarded the workshop as the first step toward establishing a career in academia. Working closely with instructors enabled students to broaden their knowledge and perspective of their research projects while also establishing a more defined path to follow. Some groups are continuing to work on the research project with their team members. Because their topics are interconnected, the students envision future collaborative work among the groups. Aside from research, students enjoyed the team-building activities, specifically the hike to Matosavanq. They cited the recreational activities as helping them connect with one another and strengthen team spirit.
The workshop created a source of inspiration, commitment, and strong bond among participants while generating enthusiasm and strengthened determination to advance academic research and to be part of the workshop again next year.
Founded in 1991, the American University of Armenia (AUA) is a private, independent university located in Yerevan, Armenia, affiliated with the University of California, and accredited by the WASC Senior College and University Commission in the United States. AUA provides local and international students with Western-style education through top-quality undergraduate, graduate, and certificate programs, promotes research and innovation, encourages civic engagement and community service, and fosters democratic values.