Remembering Our Fallen Heroes
9
min read
The 2020 Artsakh War forever changed the mosaic of Armenian society. This effect was no less pronounced at the American University of Armenia (AUA) with the loss of seven heroic students in the course of the 44-day Artsakh War. Like all the others who fell, each student soldier left behind a loving family and dear friends, but also unrealized dreams and personal aspirations. In honor of their heroic deeds and selfless sacrifice, AUA installed a memorial plaque with a commemorative photo display in the Student Center — a place most fitting to honor their sacrifice and keep their memories alive.
Aziz Aghajanyan, Areg Gevorgyan, Erik Hajikyan, Hakob Hakobyan, Shavarsh Muradyan, Davit Uzunyan, Davit Virabyan: these are the names of the AUA students whose memory will live forever within the walls of the University and beyond. The memorial plaque is just one way of expressing our deepest reverence for their heroism and fearless spirit, but also a source of inspiration for all of us and a lasting tribute to our fallen.
Our soldiers will always be remembered as brave patriots, deserving students, and devoted friends. They are with us, along with the stories they have left behind and our recollections of them that warm our hearts and remind us to commit ourselves to be worthy of their sacrifice.
Aziz Aghajanyan
2001.05.20 – 2020.10.19
Aziz hailed from the city of Armavir. While a student in 11th grade, he excelled in all subjects and made a firm resolution to gain admission to AUA. Despite the very short time preparing for the entrance exams, his sister recounts, he scored high and was accepted to AUA. In his high school years, Aziz also attended programming classes at the TUMO Center for Creative Technologies and became an exceptional programmer even prior to university studies.
For his undergraduate studies, Aziz chose to pursue a BS in Computer Science, but was conscripted in 2019 even before having the opportunity to start classes at AUA. Regardless, he had a strong sense of belonging to the AUA and kept in touch whenever he had a chance. Aziz would have been an excellent student and a brilliant addition to the University community, but military service was also a priority for him. As he would always say, "I belong to my homeland as much as I belong to my family."
Aziz stood out with his exemplary demeanor, caring and compassionate behavior, and brilliant mind. His favorite book was Robin Sharma's The Monk Who Sold His Ferrari. He would say that the book could help people improve their lives, find the key to their personal happiness, and recognize their inner selves and desires.
Aziz is remembered as a great friend, constantly helpful and kind, and ready to sacrifice himself for the sake of protecting others. He had saved dozens of lives during the war and ultimately sacrificed his life for his homeland. He was enthusiastic about studying at AUA and was planning to become a programmer to ensure financial stability and burgeoning life for his family. Aziz wanted to make his family proud. Though his life was tragically cut short, he is now a hero who makes not only his family, but all of us, proud. In recognition of his valor, the Republic of Armenia (RA) Ministry of Defense (MD) posthumously honored Aziz with the Medal for Military Service.
Areg Gevorgyan
2001.10.05 – 2020.10.18
Areg was admitted to the BA in English and Communications program starting in the 2020-21 academic year, but did not have the chance to attend AUA before being conscripted. He was a curious student interested in public relations, advertising, and various other aspects of communication. On his deferment document, he wrote, "I am currently serving in Martuni, Artsakh."
Areg's name perfectly fitted his personality (meaning sun in Armenian). His classmates remember him to always have a smile on his face. He was loved by everyone, absolutely everyone, they recount, his teachers recalling that Areg was different and that they loved him somehow differently. He had a fine taste in music and could often be heard humming Nina Simone during class.
Many of his school classmates are now AUA students. They were so glad that Areg was also admitted and were looking forward to studying together, so he would fill the whole campus with his cheerful presence just as he had done during their school years. Areg Gevorgyan heroically fell on the battlefield protecting our homeland on October 18, 2020. He had just turned 19.
Erik Hajikyan
2001.01.03 – 2020.10.16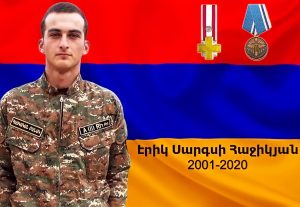 Erik was born and raised in Vanadzor, then moved to Yerevan to continue his education. He was in the first cohort of the BS in Engineering Sciences program, successfully completing two academic years at AUA before conscription into the army in the summer of 2019. He had completed one year and two months of the two-year mandatory military service before falling in defense of our homeland. For his unwavering heroism and brave deeds, he had earned the nickname "Erik, the Terror of Tanks."
Gentle and soft-spoken, he was an exceptionally smart, kind, responsible, and courageous young man. Besides being a remarkable student, he was an accomplished karate practitioner. He loved life and believed in harmonizing mind and body.
Erik was highly attentive to his studies and also mindful of other University undertakings. He was proud to be an AUA student. He would say "the fact that we are AUA students is a value in itself," his friends recall. In his view, getting an education was a must for a promising future, a necessary condition for a dignified life. Erik would always describe his dream future office as a room with windows from floor to ceiling, full of light.
Erik Hajikyan was posthumously awarded the Medal for Military Service and the second-class RA Order of the Combat Cross. The Akian College of Science and Engineering, together with the "Hay Santa" ("Hye Dzmer Pap") Charitable Foundation, established the "Golden Seeds" educational award in Erik's name, awarded on the basis of the established frequency to an AUA student in the BS in Engineering Sciences program.
Hakob Hakobyan
2020.08.15 – 2020.10.26
With master's degrees from the Armenian State University of Economics (ASUE) and University of Tartu in Estonia through the ErasmusPlus program, Hakob joined the MS in Economics program at AUA after completing compulsory military service in the Armed Forces of Armenia, specializing in artillery.
Hakob was a young man with a bright intellect and a poised, reserved personality. He had a curious and thoughtful mind, and a penetrating insight. He is remembered as someone with a demonstrated dedication and eagerness in every endeavor he undertook. When he received a notice of recall to military duty at the outbreak of the 2020 Artsakh War, he went without hesitation and with unquestionable dedication. He believed his life and dreams could be placed on hold when the war was raging.
One of his career ambitions was to become a data scientist. Had the war not stopped him, we would have surely been hearing all about his achievements as one of the top professionals in his generation. His instructors remember him as one of their brightest and most promising students. A man of his words and actions, he was respected and trusted by everyone. Hakob also had other positive characteristics: he was energetic, audacious, and an avid music lover. For his sister, she proudly admits, he was her greatest adviser and best friend. During his service in the Artsakh War, he didn't want his family to worry about him, and would constantly reassure them that he was safe and well.
Outside of his studies, Hakob was an analyst and board member of Enlight NGO, where he coordinated the division of economists. He wrote, translated, and edited a number of articles on different topics in economics. Beginning in 2017, he was working as an analyst in the Analytics Division of the Financial Monitoring Center of the RA Central Bank.
In Hakob's memory, the Enlight Center for Public Research initiated the project titled #EconoMix — a visual database that provides explanations of economic concepts using popular texts and videos. Hakob's analytical articles and essays have also been published by Enlight.
Hakob was posthumously awarded the Graduate Certificate in Data Analytics, presented to his family by AUA Provost Dr. Brain Ellison at a memorial event honoring fallen AUA students hosted by AUA on January 24, 2022. For his heroic deeds on the battlefield, the RA MD awarded him the Medal for Military Service.
On June 9, 2022, the AUA MSE program is organizing a joint workshop with the Central Bank of Armenia in honor of Hakob Hakobyan.
1996.11.18- 2020.09.29
A beloved member of the AUA community, Shavarsh came from the city of Kapan, Syunik, about which he would always speak fondly and ecstatically. A committed and talented student, Shavarsh was enrolled in the BA in English and Communications program. His friends describe him as a kind, considerate, tactful, and insightful person. Modest and respectful of others, he was able to easily forge friendships with everyone. As his friends describe, he had a bright smile that lit up the hallways of AUA. That also was the description by his professors as a top student who was the "sunshine" of AUA.
His dad, Martun Muradyan, who has also fought for Artsakh, describes his son as a true patriot from early childhood years. Having a burning passion for Armenia, Shavarsh had also fought in the 2016 April War. Subsequently, he was awarded three medals: "Marshal Baghramyan," "Aghbyur Serob," and a medal from the Armenian National Army military unit.
Aside from his scholastic activities, Shavarsh was actively involved in military organizations. He was a leader in the "Artsiv 30-Ararat" military-patriotic NGO. When the 2020 conflict escalated into a full-blown war, he was among the first volunteers to go to the battlefront with his unit and fight for our homeland. Shavarsh fell in Martakert, protecting the same position he had defended in the 2016 April War. He was posthumously awarded several medals and awards, including the RA Medal for Military Service and a medal from the Republic of Artsakh.
Davit Uzunyan
2001.01.01 – 2020.10.01
Davit was born on January 1, 2001, the first Armenian baby born in the 21st century. In 2018, Davit started his AUA journey in the BA in Business (BAB) program. After completing two semesters, he was conscripted into the army in the summer of 2019. Those who have had the privilege of knowing Davit describe him as a "treasure in and out of the classroom." He was an avid footballer who played in various tournaments. Incredibly smart and mature for his age, Davit had many hobbies and interests: he loved to read and create video-games, and he had a special love for cars.
Davit always had a smile on his face. He loved telling jokes and was an easy-going young man. He was an ideal sibling for his brother and sister, caring and attentive toward his family members, as well as a loyal and unselfish friend. One of his favorite pastimes was hanging out with friends on the balcony of their house overlooking the Hrazdan Gorge. Many cherished memories were created on this balcony, his friends recall.
Davit Uzunyan was posthumously awarded the RA Order of the Combat Cross and the Medal for Military Service for his bravery and heroism.
Davit Virabyan
2001.12.01 – 2020.10.03
After graduating with honors from high school in 2019, Davit was admitted to AUA's BAB program. One successfully completed semester later, he was conscripted into the army. Completing military service was critically important for him, as he considered it to be his duty to the homeland.
"We should appreciate every moment and trifle in our life." This was the opening sentence of an essay he wrote for his freshman seminar class. He was a vibrant, gracious, and determined young man, supportive of his friends, considerate of his instructors, and serious about his studies.
Davit was "someone who cherished his friends and was always there for them." He loved to engage in exchanges with friends and "always jumped into any discussion on any topic." His peers were amazed at how he would always laugh and joke in class, yet being able to quickly respond to a question from the instructor.
He was a gifted young man, and no one doubted his potential for success: whatever he tried his hand at, he did so with passion and completed it perfectly well. Davit had big dreams. He made a concerted effort to always please his parents and brother and aimed at providing them with everything.

Davit Virabyan was posthumously awarded the RA Medal for Military Service for his bravery and service to our homeland.
Founded in 1991, the American University of Armenia (AUA) is a private, independent university located in Yerevan, Armenia, affiliated with the University of California, and accredited by the WASC Senior College and University Commission in the United States. AUA provides local and international students with Western-style education through top-quality undergraduate, graduate, and certificate programs, promotes research and innovation, encourages civic engagement and community service, and fosters democratic values.
Media Coverage:
[Shant TV] Առավոտը Շանթում. Ամերիկյան համալսարանի հերոսները
Aziz Aghajanyan
[Yerkir Media] Ձեզ բացակա չենք դնի․ Ազիզ Աղաջանյան
[Armenian Second TV Channel] Կյանքդ կյանքիս համար․ Ազիզ Աղաջանյան
[Armradio.am] Ազիզն ասում էր՝ ինչքան ձերն եմ, էնքան էլ հայրենիքինը
[shamshyan.com] Արցախյան 44-օրյա պատերազմում նահատակված, լեգենդ դարձած հերոս, արմավիրցի Ազիզ Աղաջանյան
[Husher] ԱԶԻԶ ՍԱՄՎԵԼԻ ԱՂԱՋԱՆՅԱՆ
Areg Gevorgyan
[Aravot] Նրանք զոհվեցին հանուն Հայրենիքի. 2020 թվականի արցախյան պատերազմի նահատակները (թարմացվում է) | Առավոտ – Լուրեր Հայաստանից
[Gagrule.net] News from AUA American University of Armenian, our heroic students, Aziz Aghajanyan (left) and Areg Gevorgyan (right), fell in battle defending #Artsakh #AzerbaijanAggression – Gagrule.net
Erik Hajikyan
[Yerkir Media] Ձեզ բացակա չենք դնի․ Էրիկ Սարգիսի Հաջիկյան

[Shant TV] Առավոտը Շանթում – Հերոս Էրիկ Հաջիկյան
[Insurance Foundation for Servicemen] Erik Hajikyan: Insurance foundation for servicemen
Hakob Hakobyan
[enlightngo.org] Հուշ-երեկո՝ նվիրված ՀԱՀ ուսանողներ Հակոբ Հակոբյանի և Էրիկ Հաջիկյանի հիշատակին
Հակոբ Հակոբյան | Վերլուծություններ և հոդվածներ

Shavarsh Muradyan
[Yerkir Media] Ձեզ բացակա չենք դնի․ Շավարշ Մարտունի Մուրադյան
[News.am TV] ԱՊՐԵԼ ԵՎ ԱՊՐԵՑՆԵԼ
[Armnews] Շավարշ Մուրադյանի հերոսական ուղին
[Tert.am] Հայրենիքն ամեն ինչից վեր է դասել, հիմա էլ գնաց ու հերոսացավ. ընկերը Շավարշ Մուրադյանի մասին
[Areg TV] Կիսատ մնացին նրա բոլոր ծրագրերը. Շավարշ Մուրադյանը չէր ասել, որ առաջնագիծ է մեկնում
[Հայ Զինվոր, ՀՀ Պաշտպանության նախարարության հանդես] Հաղթանակած, արժանապատիվ հայրենիք ենք պարտք մեր զավակներին
[Զինուժ Media] Զինուժ 15.10.22 (27:54)
Davit Uzunyan
[Yerkir Media] Ձեզ բացակա չենք դնի․ Դավիթ Բագրատի Ուզունյան
[1tv.am] Մեր հերոսները. Դավիթ Բագրատի Ուզունյան
[Armenia TV News] Դավիթ Ուզունյանի կյանքն անմնացորդ նվիրումի օրինակ է` ոչ ոք չի մոռացվի, ոչինչ չի մոռացվի
[New Armenia] 21-րդ դարի առաջին հայ Դավիթ Ուզունյանը մահացավ Արցախի պատերազմում
[168.am] 21-րդ դարում Հայաստանում ծնված առաջին հայը՝ Դավիթ Ուզունյան
[Junior Football TV] Դավիթ Ուզունյանի հիշատակին նվիրված հուշամրցաշար
[Արաբկիր վարչական շրջան] Ուզունյան Դավիթ. Ֆիլմ վավերագիր նվիրված 44 օրյա պատերազմում արաբկիրցի անմահացածներին
[Armradio.am] Մարզադաշտից՝ «Եղնիկներ»․ ֆուտբոլային մրցաշար՝ Դավիթ Ուզունյանի հիշատակին
[Նոր Հայաստան TV] Մեկ տարի առանց Դավիթի. չնահանջել ու պայքարել մինչև վերջ
[Erablur.am] Հերոս․ Ուզունյան Դավիթ Բագրատի
[Azatutyun TV] 44-օրյայում զոհվածի հայրը պետության տված գումարով ծառեր է տնկել, անվանակոչել զոհվածների անուններով
Davit Virabyan
[Yerkir Media] Ձեզ բացակա չենք դնի․ Դավիթ Գարիկի Վիրաբյան
[Shoghakat TV] Անանուն բարձունք․ 44-օրյա պատերազմի մեկ դրվագ
[Hetq.am] «Իմ առաջնագիծը, որին այդպես էլ չհասա». Ջրականում զոհված Դավիթի հոր՝ Գարիկ Վիրաբյանի նոթերը
[Hetq.am] Որդուն հասնելու ճանապարհին
[oices] On the way to the son