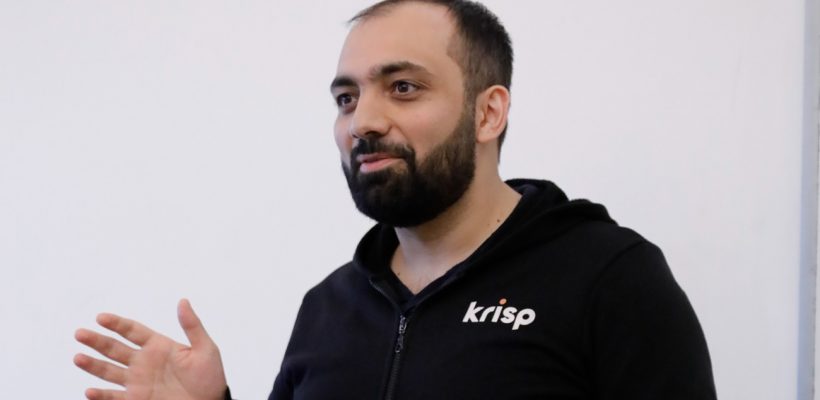 Krisp Co-Founder Artavazd Minasyan Advises STRIVE Participants at EPIC
2
min read
YEREVAN, Armenia — On May 12, the Entrepreneurship and Product Innovation Center (EPIC) of the American University of Armenia (AUA) hosted AUA 2021 Distinguished Alumnus award winner Artavazd Minasyan (MBA '12), co-founder of Krisp and 10Web, as part of the STRIVE pre-incubation program.
EPIC's STRIVE program is the first of its kind in Armenia's startup ecosystem. It is designed to engage participants in the fundamental concepts of the entrepreneurial mindset. Developed from the principles of the Ice House Entrepreneurship program of the Entrepreneurial Learning Initiative, STRIVE is a 10-week program designed to inspire participants' imagination, explode ambition, and upgrade their habits enabling them to succeed regardless of their chosen path or starting point.
During the session, Minasyan introduced participants to the key determinants of startup success by recounting the founding of Krisp. Among various key concepts, he highlighted the importance of timing and team composition, advising the future entrepreneurs to "hire the best talent" and "give ownership to the team" in order to succeed as a startup.
Minasyan, a principal at Big Story Venture Capital as well, also touched upon funding opportunities for startups available both locally and globally, further elaborating on where and how startups could acquire funding to scale up their businesses.
At the end of the presentation, the STRIVE participants enjoyed the opportunity to ask questions and engage in insightful discussions with Minasyan.
STRIVE participant Neva Karapetyan summed-up her impressions of the session. "Very inspirational and motivational. I was truly impressed by Arto Minasyan's introduction to his company, as well as his enthusiasm in providing us with comprehensive information," she stated. "I enjoy meeting with successful startup founders because they are living proof that a good idea, the right team members, and hard work can lead to success."
The Entrepreneurship and Product Innovation Center (EPIC) is a platform of the American University of Armenia (AUA) for promoting entrepreneurial education, cross-disciplinary collaboration, and startup venture incubation. EPIC provides an ecosystem for emerging entrepreneurs consisting of first-class facilities and collaborative workspace, programs and events, and a network of mentors, advisors, and investors. EPIC fosters the understanding and application of entrepreneurship in students and faculty at AUA to craft high-impact multidisciplinary ventures.