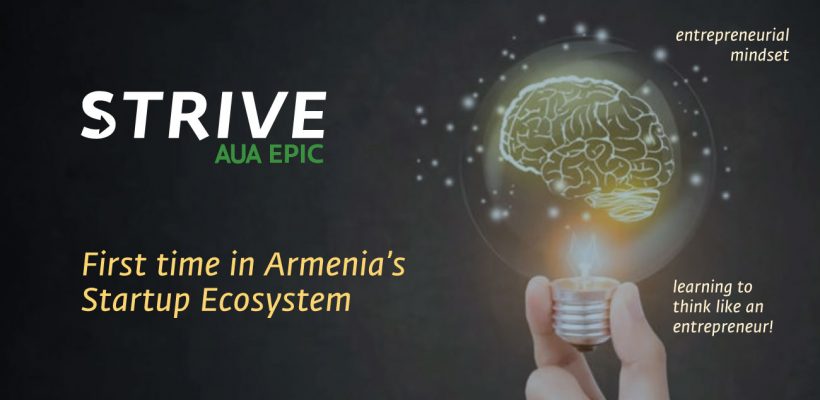 EPIC Launches STRIVE: Learning to Think Like an Entrepreneur
3
min read
YEREVAN, Armenia — By the end of April 2022, the Entrepreneurship and Product Innovation Center (EPIC) will launch a first-of-its-kind program in Armenia called STRIVE. It is designed to engage participants in the fundamental aspects of the entrepreneurial mindset, a way of thinking that allows people to adapt and thrive in a constantly evolving world by developing entrepreneurial attitudes, behaviors, and skills.
Entrepreneurial activity is the essence of creating economic development around the world. This is especially vital for Armenia's advancement. Entrepreneurial thinking spans beyond creating startups; it is about solving problems, mobilizing resources, being innovative, inventing new products and services, creating jobs, and improving the wellbeing of people and societies.
STRIVE, a 10-week program specifically crafted for Armenia, aims to engage people who have strong commitment, drive, and ambition to facilitate change by learning the fundamental aspects of entrepreneurship. Through an experiential, problem-based learning process, STRIVE seeks to inspire and engage participants in a new way of thinking, one that will excite their imagination, explode ambition, and advance the habits that drive entrepreneurial success.
STRIVE is drawn from the well-known Ice House Entrepreneurship program of the Entrepreneurial Learning Initiative (USA), a world leader in entrepreneurial mindset education, training, and professional development.
What is the Entrepreneurial Mindset?
According to the Entrepreneurial Learning Initiative, a mindset is a cognitive system consisting of interrelated beliefs, assumptions, and knowledge that one uses to process information, inform decisions, and guide one's behavior.
believe in their ability to succeed and influence their own outcomes, feeling empowered to

take ownership

of their lives;

have compelling goals that keep them future-focused and intrinsically motivated, driving them to be

self-directed, action-oriented, and highly engaged

;

have an optimistic interpretation of adverse events and see problems as potential opportunities, becoming

highly resilient, resourceful, and solution-oriented,

even within exceedingly uncertain and resource-constrained environments;

be lifelong knowledge seekers with a focus on micro-experiments as learning opportunities to test ideas, thereby cultivating

curiosity, creativity, and critical thinking

;

display a high level of reliability and the understanding that

following through

on simple solutions can lead to unforeseen opportunities;

have a humanistic outlook, being other-focused and understanding that one

creates value

by looking to solve problems for others; and

surround themselves with an intentional community of positive influence and

critical guidance.
STRIVE is designed to serve as the first stage in the startup journey of Armenian entrepreneurs. It is where talented individuals will first familiarize themselves with entrepreneurship and begin to understand what it takes to be a successful entrepreneur. "Entrepreneurs need to think a certain way. When others see a problem, entrepreneurs see an opportunity. Our new program will seek to strengthen one's leadership skills, interpersonal traits, and emotional intelligence, thus planting seeds for building creative, critical thinkers who can identify and solve problems. As we all know, when it comes to entrepreneurship, it is not about what you think, as much as it is about how you think", elaborates the Director of EPIC, Professor Dr. Michael Kouchakdjian.
The program is focused on individual talent development and will include the following components:
Power of Choice

The ability to choose is fundamental to an entrepreneurial mindset, enabling conscious choices rather than allowing circumstances to determine the course of one's life.

Recognizing Opportunity

An entrepreneurial mindset sees problems as opportunities, recognizing that solving problems for others is a viable path to individual empowerment.

Ideas into Action

An entrepreneurial mindset is action-oriented, focusing time and energy on things we can change, rather than things we cannot, thereby overcoming self-imposed limitations and putting ideas into action.

Pursuit of Knowledge

An entrepreneurial mindset is self-directed, understanding the power of knowledge combined with effort and the value of lifelong learning to achieve one's goals.

Creating Wealth

An entrepreneurial mindset is resourceful, leveraging existing resources to advance ideas and creating value for others while empowering oneself.

Building your Brand

An entrepreneurial mindset builds a brand of reliability, where actions speak louder than words and following through on simple solutions leads to unforeseen opportunities.

Creating Community

An entrepreneurial mindset understands the power of creating an intentional community of positive influence and critical guidance by surrounding oneself with others who have been where one intends to go.

The Power of Persistence

Hard work, perseverance, and determination are the hallmarks of an entrepreneurial mindset, enabling ordinary people to persist through challenges, setback, and self-doubt.
STRIVE participants will be empowered to learn and network with like-minded individuals and expose their individual entrepreneurial tendencies and talents, opening doors for further development, first through ideation and team-building, then flowing into the EPIC incubator program where actual startup teams begin the process of validating their venture ideas.
Interested individuals can apply to STRIVE at this link.
The Entrepreneurship and Product Innovation Center (EPIC) is a platform of the American University of Armenia (AUA) for promoting entrepreneurial education, cross-disciplinary collaboration, and startup venture incubation. EPIC provides an ecosystem for emerging entrepreneurs consisting of first-class facilities and collaborative workspace, programs and events, and a network of mentors, advisors, and investors. EPIC fosters the understanding and application of entrepreneurship in students and faculty at AUA to craft high-impact multidisciplinary ventures.
Media Coverage:
[iTel.am] EPIC-ը մեկնարկում է STRIVE ծրագիրը