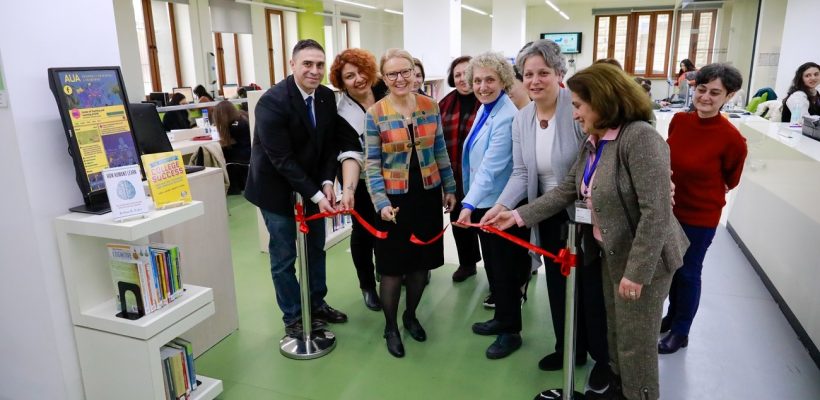 Ribbon-Cutting Ceremony Marks Opening of New Book Collection
3
min read
YEREVAN, Armenia — On March 18, AUA President Dr. Karin Markides and Provost & VP of Academic Affairs Dr. Brain Ellison, along with members of the AUA Center for Teaching and Learning (CTL) Senior Advisory Committee, participated in a ribbon-cutting ceremony to mark the opening of a special collection of over 600 books dealing specifically with teaching and learning.
Among the attendants were Dr. Sharistan Melkonian, Dean of General Education; Dr. Brent A. Anders, Director of the Office of Institutional Research and Assessment (OIRA); Anna Gevorgyan, Assessment Coordinator at OIRA and Adjunct Lecturer; as well as Satenik Avakian, Director of the AGBU Papazian Library, Hasmik Galstyan, Head of Circulation and Reference Services, and others.
"This designated space in AUA's Papazian Library is an illustration of AUA's commitment to supporting faculty in continuing to enhance and innovate teaching to support student learning," said Dr. Melkonian. "In collaboration with the University's library, AUA's CTL has substantially increased the resources available to faculty and students. This space is one of many in the University promoting synergies on campus, and where innovation in teaching and learning is showcased in the active library environment."
President Markides also delivered brief remarks underscoring the importance of making this type of information available to students, faculty, and the rest of the community. She additionally highlighted that this is an important part of research and working together with other universities and private industry.
The CTL contributed to the collection by gifting 50 new books to the library for instructors, students, and the public to peruse and enjoy.
"This collection is the culmination of hard work carried out by Dr. Melkonian, the librarians, the rest of the CTL Senior Advisory Committee, and myself, to provide a tangible physical resource for instructors and students in an effort to continually improve the art and science of teaching and learning at AUA and beyond," said Dr. Anders. "This event marks one of CTL's initial efforts to help achieve AUA's mission of leaving an impact on students and the community as a center of academic excellence, innovation, inquiry, and diversity that contributes to the further development and advancement of Armenia, the region, and the world through teaching and scholarship, fostering creativity, integrity, and community service."
A special digital display has also been set up at the library to spotlight the new collection and boost the scholarly culture at AUA, allowing students as well as instructors to grow interest in how to best convey information and create the ideal learning experience.
"As an academic library, we see our commitment to CTL as providing high-quality library resources, print and online, that would enhance teaching and learning at AUA," says Satenik Avakian, Director of the AGBU Papazian Library. In fact, the Library has special access to hundreds of thousands of additional ebooks and research publications focused on teaching and learning.
"Teaching and learning are at the heart of the university. As faculty members, it is imperative for us to constantly improve our instructional practice, reflect on how we teach, and enrich our methodological expertise," said Anna Gevorgyan. "Having this rich collection of resources at our fingertips means being able to keep pace with the latest developments in teaching and learning, and education in general, so that we grow professionally and provide quality education to our students. The resources are also a gateway to the world of education for those students of AUA and beyond who wish to develop their knowledge in this field academically, professionally and personally."
The Center for Teaching and Learning (CTL) of the American University of Armenia (AUA) supports faculty to inspire, cultivate, and continuously enhance the educational process and student experience through research-based, creative, pedagogy and instructional design.
Founded in 1991, the American University of Armenia (AUA) is a private, independent university located in Yerevan, Armenia, affiliated with the University of California, and accredited by the WASC Senior College and University Commission in the United States. AUA provides local and international students with Western-style education through top-quality undergraduate, graduate, and certificate programs, promotes research and innovation, encourages civic engagement and community service, and fosters democratic values.