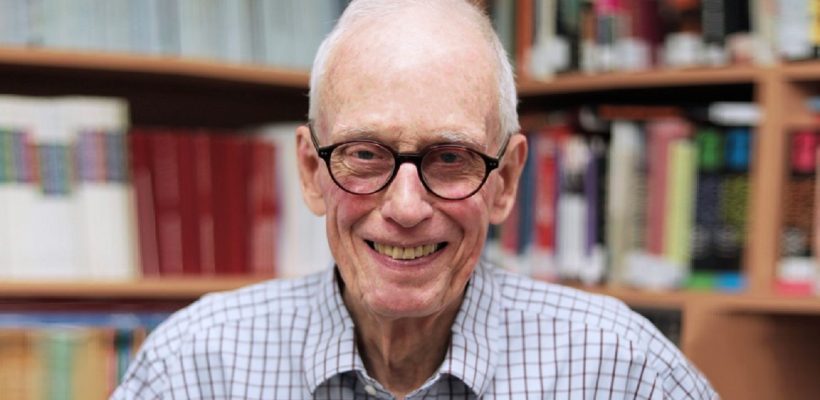 Honoring the Life of AUA Senior Professor Dr. Donald Fuller
4
min read
YEREVAN, Armenia — The American University of Armenia (AUA) is deeply saddened by the passing of AUA Senior Professor Dr. Donald Fuller on March 13, 2022. A longstanding pillar of the university community, Dr. Fuller helped forge AUA into what it is today from the early years of the founding of the University. Dedicating over 25 years of his professional life to the University, he served as professor, Vice President and Dean of Faculty in the 1990s. More recently, he held the position of senior professor in the AUA College of Humanities and Social Sciences (CHSS) teaching several courses in the Political Science and International Affairs (PSIA) program.
In 2014, when the University announced its restructuring and changes in leadership, Dr. Fuller was named Interim Provost. At that time, he noted, "For some reason, I keep coming back to Armenia. I am impressed by the academic excellence at AUA. My objective is to help shape the university as a beacon of learning for the region. Can it be done? I have no doubt." Dr. Fuller stepped down as Interim Provost after one year of dedicated service and continued teaching at AUA.
PSIA Program Chair Associate Professor Dr. Vahram Ter-Matevosyan reflects on Dr. Fuller's resourcefulness and influence on students: "It was a distinct pleasure working with Dr. Fuller. For the last ten years that I have known him, he remained a source of inspiration. His unconditional dedication to education, the university, and students was inspiring. Students enjoyed every second spent with him. Guiding the students to succeed and encouraging them to ask the right questions were his primary motivations in the classroom. His rich life experience and knowledge of global history and politics made PSIA faculty and students spend hours learning from him. He was versed in Armenian politics, too, and cared a lot about Armenia and its people. He was a firm believer in the bright future of Armenia. He was a strong man, wise and caring. We will miss him greatly."
In 2020, Dr. Fuller was selected as the winner of the AUA Faculty Research TCP Award. His project aimed to establish an agricultural partnership between AUA and the Swedish University of Agricultural Sciences in Uppsala, Sweden, in order to stimulate the economic development of the Armavir region in Armenia.
"Don Fuller was my professor when I was a student of PSIA. Once I returned to AUA as a professional, we became colleagues. One thing I can say for certain is that he always genuinely cared about students' learning and personal growth. And, of course, we all admired his tenacity. He kept going, no matter what," recalls AUA Associate Professor, Chair of the BA in Politics and Governance program, Dr. Yevgenya (Jenny) Paturyan.
Dr. Fuller began his career in academia as an assistant professor of political science at the University of Southern California, Los Angeles. He then held administrative and teaching positions in China, the Czech Republic, Hungary, Kazakhstan, and Ukraine.
"It is really too sad to learn that Don is no longer with us. So many years of working with that brightest person, so many memories… And a big loss for the entire AUA community," remarks Martin Minassian (MBA '98).

On March 22, the AUA community gathered to honor and celebrate the life of Dr. Fuller, sharing personal recollections and memories, as well as writing down personal testimonials in a memory book created as a tribute to Dr. Fuller. Opening remarks were delivered by the host of the memorial service, Dr. Sharistan Melkonian, Dean of General Education. Several speeches by community members who knew Dr. Fuller followed.
AUA President Dr. Karin Markides, Presidents Emeriti and members of the AUAC Board of Trustees Dr. Haroutune K. Armenian and Dr. Armen Der Kiureghian, Provost Dr. Brian Ellison, PSIA Program Chair Dr. Vahram Ter-Matevosyan, Assistant Vice President Anahit Ordyan, Director of EPIC Dr. Michael Kouchakdjian, AUA alumna Anahit Yeghiazaryan (MPSIA '17), and student Armen Godjamanian (BAEC '24) reflected on Dr. Fuller's life sharing personal experiences and memorable moments spent with him. "For me, one of the highlights of being president of AUA for 14 years was to have Don Fuller working with me at all levels. We were more than colleagues. Over a short period of time, we developed a friendship that lasted for decades. He was the best American academic that AUA could have been blessed with at a time of development under very difficult circumstances. Don Fuller was a missionary with an academic development mission and vision," stated AUA President Emeritus and a member of the AUAC Board of Trustees, Dr. Haroutune K. Armenian.
"Don Fuller was a beloved faculty member at AUA who gave everything he had to generations of students. He had a transformative presence that encouraged the entire AUA community to work harder and think bigger. He was a true gentleman, a great friend, and will be sorely missed," remarked AUA Provost Dr. Brian Ellison.
His family reflected on his legacy: "Dad's love for AUA, his colleagues, the students, and Armenia cannot be overstated. He could have retired in Colorado and been with kids and grandkids, devoting himself to his daily exercise regimen and political debates. It was never even a discussion. He loved teaching. He loved AUA, his colleagues, his students, and Armenia."
Dr. Fuller was a global citizen who contributed to academic advancement in comparative public administration, public personnel administration, and public policy. He will be remembered as a cherished member of our community, an inspiring teacher, and a dedicated academic. Dr. Fuller will be missed by all who have had the privilege of knowing him.
Founded in 1991, the American University of Armenia (AUA) is a private, independent university located in Yerevan, Armenia, affiliated with the University of California, and accredited by the WASC Senior College and University Commission in the United States. AUA provides local and international students with Western-style education through top-quality undergraduate, graduate, and certificate programs, promotes research and innovation, encourages civic engagement and community service, and fosters democratic values.