BAB Capstone Course Deemed a Great Success
5
min read
YEREVAN, Armenia — The American University of Armenia (AUA) BA in Business (BAB) program senior students successfully completed their Capstone course in Spring 2021, the culmination of their four-year undergraduate studies.
The BAB program provides students with different options for completing their Capstones: Honors Thesis, Business Simulation, or Consulting Project. Each of these options is intended to help students make an intellectual contribution to their chosen field and provide a unique self-directed opportunity for learning and growth.
As one of the thesis supervisors, AUA Assistant Professor Dr. Gurgen Aslanyan explains: "The capstone thesis is a unique opportunity for the students to try themselves in the art of persuasion. Thesis writing requires synthesizing all the knowledge acquired during the studies to analyze the topic of their choice. During this time students appreciate the knowledge they have gained in four years and recognize the gaps in their knowledge that they fill very fast. Further, it is the first step in the business of research that some students end up doing in their careers. Some of them develop that interest while writing the thesis, some know it from the beginning, some realize that they do not want to pursue that as a career in the future but take on the art of combining scientific rigor with creative thinking."
In 2021, the Capstone Business Simulation course was revamped in order to encompass the recent economic developments in Armenia and the region in the aftermath of the 2020 Artsakh War. In particular, the team of instructors, Associate Professors Dr. Aleksandr Grigoryan and Dr. Knar Khachatryan developed an original pedagogical approach to impart the knowledge and skills required for business cooperation with cross-border conflicting countries. The development of EMPORIA business simulation was carried out with the support of the Eurasia Partnership Foundation in Armenia within the scope of the EU-funded program. EMPORIA business simulation was developed by using business and economic theories and concepts to mimic real-life trading among textile manufacturing companies from Armenia, Turkey, Russia, and China. The simulation model incorporates tackling market shocks, shocks from the impact of COVID-19 on demand, the ban of imports of Turkish origin to Armenia, and other factors. The simulation also considers the production-distribution processes of these businesses, as well as the different economic conditions of the respective countries that would create opportunities for working together through negotiation and cooperation. The principal dimension of EMPORIA lies in the importance of negotiation when dealing with firms from different countries. In Spring 2021 there were 27 groups of students involved in the Business Simulation.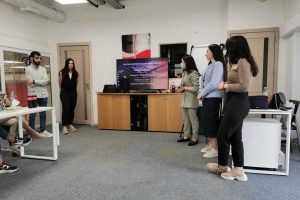 As the supervisor of the Capstone Consulting Project, Karen Sarkavagyan, AUA lecturer and industry liaison, shared his thoughts on the project implementation process: "The Capstone Consulting Projects are the hallmark of the graduation phase for senior students in the BAB program. AUA places a huge accent on experiential learning and project-based learning, and the Capstone Consulting Projects are a perfect reflection of those. Because the project scope and deliverables are carefully designed together with the respective client representatives, student teams generate a product that is actionable, and almost always highly relevant. This year's collaboration with Coca-Cola HBC Armenia was especially fruitful."
BAB Student Testimonials
Some of the BAB students who completed their Capstone course in the Spring 2021 semester shared their impressions on the impact of the course on their education and the work process itself:
Lilit Kalantar, Best thesis award winner
Thesis Supervisor: Dr. Gurgen Aslanyan

"Looking back at the past four months of working on my Capstone Thesis, I can surely say it was the most challenging and rewarding work that I have done during my studies at AUA. I am deeply grateful to my supervisor for his invaluable contribution to my research. After a long process of trial and error, I ended up with a final product that I am immensely proud of. I believe this paper not only touches upon important and relevant issues for Armenia but also is a summary of all the knowledge I gained during my bachelor's studies at AUA. If people ask me what I learned during my four years at AUA, this is what I am going to show them. Therefore, I will always remember this experience with great warmth and appreciation."

Tamara Sedrakyan, Best thesis award winner
Thesis Supervisor: Dr. Gayane Barseghyan

"I chose Thesis as my capstone project. I gained a lot of research skills and got to know the structure of academic papers. I am more prepared to write different scientific papers and have enough knowledge to do proper research and analysis of any topic. I can also use literature to choose the best methodology to deal with the research question."

Elen Gevorgyan, Best Capstone Business Simulation award winner

Business Simulation Supervisor: Dr. Knar Khachatryan

"Capstone Business Simulation was a hands-on approach to what we have learned during the previous four years. The game made you feel like an actual business owner who needs to carefully take care of negotiations, business decisions and establish a partnership with other firms. With every decision made, we were planning, forecasting, and getting worried as if we were leading our real-life business. This was another great opportunity provided by AUA to get the bigger picture of how much every little decision matters being interconnected with other players in the market."

Vladimir Yeghiazaryan, Best thesis award winner
Thesis Supervisor: Dr. Aleksandr Grigoryan

"The project gave me the opportunity to explore unfamiliar topics in-depth a

nd learn novel methodologies for answering complex economic questions. I was able to reflect on what I have learned throughout these years at the university and identify the practical applications of that knowledge. Finally, it allowed me to test my limits and see what more I can do. It is an endeavor that requires passion, resilience, and dedication, but the end result, the sense of accomplishment, is definitely worth it."

Naira Minasyan, Best thesis award winner
Thesis Supervisor: Dr. Gurgen Aslanyan

"The thesis project gave me the opportunity to pull together knowledge and skills acquired during four years of study to produce a research paper tackling and analyzing real-life applications. With the expert guidance of my supervisor, I was able to get a deeper understanding of the scientific method of research starting from properly developing a research question and ending with effective communication of findings. I can surely state that it has been a great educational journey, during which I was able to work on myself and immensely improve my research and analytical skills. The experience gained throughout the thesis writing process will serve as a solid foundation in future academic and career settings."

Viktoria Ter-Harutyunyan, Best thesis award winner
Thesis Supervisor: Dr. Theofanis Varvoglis

"The capstone thesis project was the most challenging but the most rewarding experience I have had at AUA. The project allowed me to apply the knowledge gained from all research-related courses. The availability and collection of data were challenging as my research addressed the Armenian educational system. Thanks to my supervisor and our faculty, I overcame all difficulties related to data collection and got insightful results. More than ever, Armenia needs a lot of investment in education to overcome the post-war crisis. I hope that subsequent research will help to improve the educational system of Armenia."
Founded in 1991, the American University of Armenia (AUA) is a private, independent university located in Yerevan, Armenia, affiliated with the University of California, and accredited by the WASC Senior College and University Commission in the United States. AUA provides local and international students with Western-style education through top-quality undergraduate, graduate, and certificate programs, promotes research and innovation, encourages civic engagement and community service, and fosters democratic values.