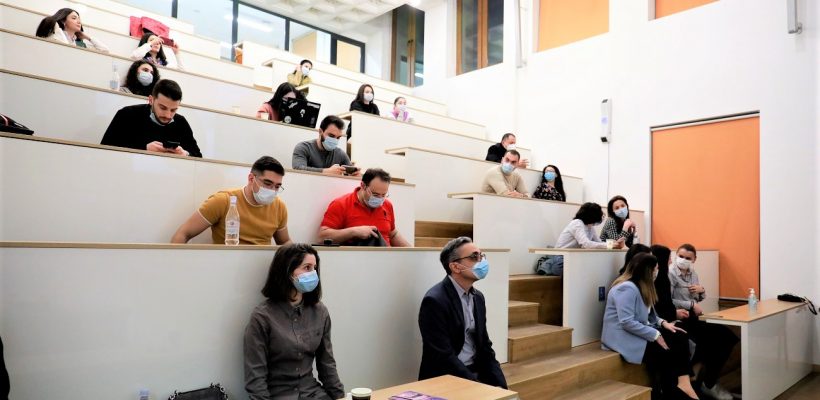 EPIC Launches Spring 2021 Incubator Program
3
min read
YEREVAN, Armenia – This spring, the Entrepreneurship and Product Innovation Center (EPIC) of the American University of Armenia (AUA) welcomed the eighth batch of venture startup teams to the EPIC business incubator, despite the challenges imposed by the pandemic.
"For the EPIC Spring 2021 batch, we received a large number of applicants with a diverse range of startup ideas, ranging from agriculture to artificial intelligence. It is exciting to work with such motivated teams," shares Arpine Manukyan, Operations Manager at EPIC.
The startups accepted into the EPIC Spring 2021 batch went through a competitive selection process that included interviews and presentations of their ideas to an independent jury. Thirty-six teams applied to the program in total. The applicants included AUA students and alumni, students from other universities, and professionals from various fields such as business, computer and data sciences, hospitality, sustainable development, law, and economics, including a team based in New York. Since its initiation, EPIC has served over 200 budding entrepreneurs representing 57 startups.
EPIC offers its resident teams a 12-week intensive idea-stage incubation training program that prepares participants to shape their ventures, validate their business concepts, and build their business models. During the program, resident teams learn the lean startup methodology and have the opportunity to participate in workshops and benefit from advisory and mentorship sessions by seasoned entrepreneurs, AUA faculty and alumni. For two years, EPIC also has successfully embraced remote mentoring by accomplished business people and entrepreneurs from the Diaspora.
"EPIC provides mentorship by professionals from various countries designating them to the teams according to their respective discipline and business expertise. For this spring batch, we have mentors from not only Armenia but from the U.S., Europe, Ukraine, and Southeast Asia. We also have several AUA faculty and alumni serving as mentors. Over the years, AUA alumni have been very enthusiastic about offering their time to mentor EPIC ventures. Our startup teams work with two or three mentors during the course, and we are proud to say that many mentor-mentee relationships continue after the end of the incubation program," adds Manukyan.
Seven Startups of the EPIC Spring 2021 Incubation Program
Click'too'Work is an online job recruitment platform that aims to provide businesses with short-term or temporary human resources. It matches potential employees with the right jobs based on their skills and experience, creating a virtual job fair for employers and job seekers in Armenia.
FarmHelp offers a unique blend of knowledge and technology-based interventions to smallholder farmers, who are heavily impacted by climate change and often lack access to technical or financial support. FarmHelp aims to help farmers to make data-driven decisions and invest in more climate-resilient crops and agricultural practices.
Grandma is a machine-learning solution that detects and blocks violent and hate speech online, creating a safe digital environment for users and facilitating crime detection by the police.
Streameal is a multi-sided platform that connects adventurous customers and foodies to talented home cooks. Through an innovative app, users can purchase home-cooked meals while the cooks stream the dish's preparation.
Worktops is an app that helps its users to organize their digital documents, notes, and emails based on their content. The categories include utilities, home, medical records, and more.
ArmeniaCares is an all-in-one volunteer management platform that bridges volunteers with social events in Armenia. Volunteers can join events that best suit their location, schedule, and interests, posted by the companies enrolled in the platform. ArmeniaCares aims to create a compassionate community for tackling social issues.
LightUp strives to replace traditional plastic packaging with a more eco-friendly and cost-effective alternative that is 100% biodegradable and compostable, made from potato starch.
The Entrepreneurship and Product Innovation Center (EPIC) is a platform of the American University of Armenia (AUA) for promoting entrepreneurial education, cross-disciplinary collaboration, and startup venture incubation. EPIC provides an ecosystem for emerging entrepreneurs consisting of first-class facilities and collaborative workspace, programs and events, and a network of mentors, advisors, and investors. EPIC fosters the understanding and application of entrepreneurship in students and faculty at AUA to craft high-impact multidisciplinary ventures.