Education is Key to Building a Stronger Armenia and Artsakh
2
min read
"The purple books! Take them," shouted Nana Hayrumyan, a 15-year-old teen from Stepanakert. On September 27, when the Artsakh War broke out, the women and children in her family took refuge in one of the bomb shelters of Stepanakert. Later that evening, when Nana's family decided to leave for Yerevan, her mother returned to their house briefly to get a few items to take with them: essential documents, some warm clothing, and Nana's purple books!
Determined to pursue higher education at the American University of Armenia (AUA), Nana has successfully passed all General English courses offered by the AUA Open Education in Stepanakert and is now enrolled in exam preparatory courses.
"I never lose hope despite all the difficulties," says Nana. "We should all go back to Artsakh and get on track with rebuilding our country. For that, education is key to attaining new achievements."
Since the devastating Artsakh War broke out, many children and youth were forced to abandon school, losing access to formal and non-formal educational opportunities. AUA Open Education responded swiftly taking steps to ensure provision of continued educational support to all those displaced from Artsakh, old and young. Using its regional infrastructure and full capacity of the Yerevan operation, AUA Open Education made all its language and professional development courses available free of charge to the children and adults from Artsakh who had found refuge in different parts of Armenia.
Currently, 95 students from Artsakh are taking language and professional development courses in Yerevan. Additionally, face-to-face classes are running at the AUA Open Education Yeghegnadzor center, as well as in the Yeghegis camp building of the Vayots Dzor Diocese which has housed many families from Artsakh. AUA Open Education will soon increase the number of current groups to accommodate more students in Yerevan, as well as in Gyumri, Vanadzor, Goris, and Dilijan.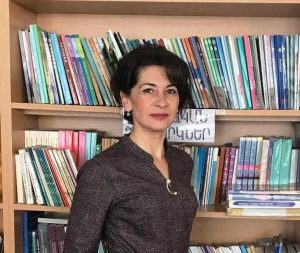 "Education and self-development are essential for building a stronger Armenia and Artsakh," believes Gayane Lalabekyan, an English language instructor from Artsakh, who went back to Stepanakert after Armenia, Azerbaijan, and Russia signed an agreement in November to end the military conflict. "I left for Stepanakert full of expectations. People were returning to their homes believing deep in their hearts that it was not the end. My children and I are resolute to continue living, working, and prospering in our homeland despite the difficulties."
Lalabekyan joined AUA as an English language instructor at AUA Open Education in Artsakh, in 2014. She took several professional development courses offered by AUA Open Education to improve her teaching skills.
"I was very glad to try myself in a completely new teaching environment as, in my opinion, in such progressive venues one can challenge one's own strengths and weaknesses and improve one's professional skills," notes Lalabekyan. "I especially liked teaching our soldiers who were very interested in the courses AUA offered to servicemen interested in continuing to learn English during military service. Sadly, that endeavor didn't continue. But I believe that there are other ways to support Artsakh through various educational initiatives."
Founded in 1991, the American University of Armenia (AUA) is a private, independent university located in Yerevan, Armenia, affiliated with the University of California, and accredited by the WASC Senior College and University Commission in the United States. AUA provides local and international students with Western-style education through top-quality undergraduate, graduate, and certificate programs, promotes research and innovation, encourages civic engagement and community service, and fosters democratic values.