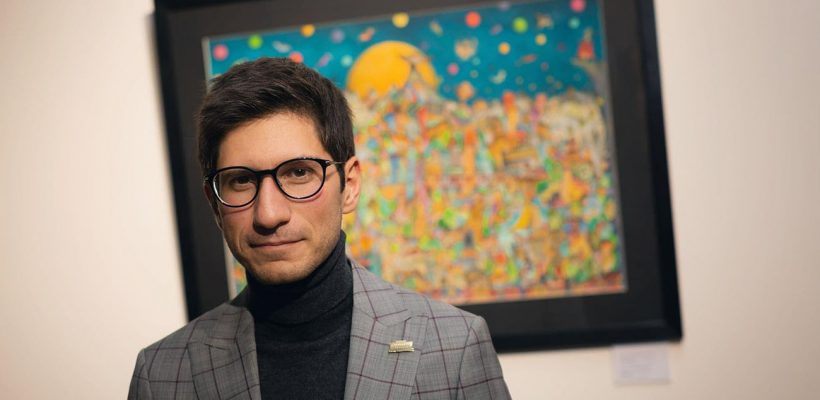 Alumni Success Story: Narek Van Ashughatoyan (LL.M. '10) Integrates Cultural Heritage with Success
2
min read
Dreaming is for everyone. Even if tacit or unspoken, all humans have the desire to reach their full potential, leave their mark on the world, and potentially make an impression that reflects their personality and aptitude in their chosen field. Every professional strives to be good at what one does and see it impact the world in a positive way. Most people are talented in one way or another, but being skilled in many spheres — art, theology, law, and movie production — is a sign of exceptional intellectual and creative ability.
Meet Narek Van Ashughatoyan, an alumnus who embodies how hard work, talent and loyalty to one's culture and heritage lead to success. Narek studied theology as his first degree and gained experience in ecclesiastical law. Eager to expand his proficiency in law, he then enrolled in the law program of the American University of Armenia (AUA). This educational background, however, only partially reflects Narek's brilliance and multifaceted expertise. Narek is a member of the Artists Union of Armenia and is renowned for his creation of Armenian artworks. He gives life and personality to each work of art he creates. It takes deep knowledge of theology, Armenian history and art, but more importantly, true talent, to give meaning and beauty to the tiny particles that Narek uses to explore multiple ideas through his paintings.
Narek also is the co-founder of LegalLab Law Boutique. Together with his partner Stepan Khzrtian (LL.M. '10), they strive to bring excellence in justice to their international clients. "One of the perks of being part of the AUA community is the lifelong connections one makes," Narek asserts. "There is a lot to underscore when speaking of the influence AUA has had on me and on my career development. But I would like to specifically mention the importance and impact of gaining 21st-century transferable skills and the name of Thomas Samuelian (former College of Humanities and Social Sciences Dean and LL.M. Program Chair) as the person that played a major role in that process."
When asked how he is able to make a difference and also use the multifaceted competencies he has acquired, Narek responds: "I simply try to keep the balance and give equal attention to everything I do. Once you adopt the basic philosophy of giving your best to your endeavors and turn it into a habit, the smooth flow of events becomes the natural way of living."
Narek's advice to the younger generations studying law (or any other discipline) is to start building work experience as soon as possible. "Enroll in internships, find a mentor, reach out to your alma mater and your professors for opportunities and practical advice. Simply get your hands in making people's lives better through the use of your knowledge and skills. This will slowly, but surely, broaden your skill set and make you more competitive than others in today's job market." Narek sums up the conversation by stressing how important it is to focus on learning rather than being concerned about passing exams.
Founded in 1991, the American University of Armenia (AUA) is a private, independent university located in Yerevan, Armenia, affiliated with the University of California, and accredited by the WASC Senior College and University Commission in the United States. AUA provides local and international students with Western-style education through top-quality undergraduate, graduate, and certificate programs, promotes research and innovation, encourages civic engagement and community service, and fosters democratic values.