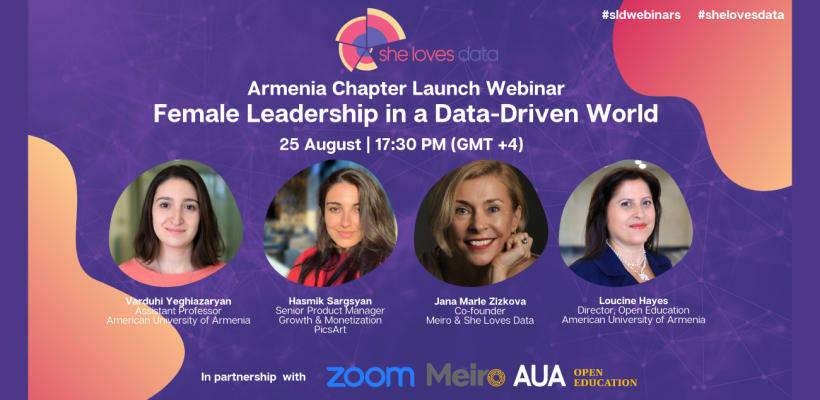 She Loves Data: Engaging Female Leaders in a Data-Driven World
4
min read
YEREVAN, Armenia — On August 25, 2020, the American University of Armenia (AUA) Open Education successfully launched She Loves Data Armenia, in collaboration with She Loves Data. Based in Singapore, She Loves Data is a social enterprise that inspires women to become active contributors to an increasingly data-driven world. Through organizing workshops and other events that help women build their skills and become data-literate, She Loves Data enables women to transition to data-related careers. Mentorship, soft skills development, and networking opportunities are provided through She Loves Data Armenia, the newest social enterprise chapter at AUA Open Education.
People from all over the world participated in the launching of the Armenian chapter. The inaugural event featured female leaders from diverse backgrounds and industries who shared their career journeys and the impact of data on their lives and professions. In the theme of "Female Leadership in a Data Driven World," webinar panelists explored the relevance of data, how it affects the economy, and the power it has to revolutionize businesses and communities. The event touched upon questions as to the role of women in a data-driven world, and whether or not data science is a concept only for data scientists.
Participation in all She Loves Data meetups was encouraged through an interactive Q&A session during the event. Those joining the conversation learned how to get involved with She Loves Data Armenia, build their skills, and embark on their own data career journey with other strong Armenian women.
The participants and their bios are listed below.
Varduhi Yeghiazaryan
Assistant Professor at American University of Armenia
Varduhi Yeghiazaryan joined AUA in 2018. She holds a BSc in applied mathematics and informatics from the Russian-Armenian (Slavonic) University, an MSc in computer science from the University of Oxford, and a PhD in computer science from the University of Oxford in 3D medical image segmentation. Her research interests include medical imaging, 3D image analysis, and general-purpose computing on graphics processing units.
At AUA, Yeghiazaryan teaches courses on the topics of artificial intelligence, data structures, and algorithms.
Hasmik Sargsyan
Senior Product Manager, Growth and Monetization at PicsArt
Hasmik Sargsyan received her undergraduate degree from Yerevan Brusov State University of Languages and Social Sciences and her graduate degree in political science from Yerevan State University. While obtaining her graduate degree, she gained professional experience as a grants manager at Counterpart International. In 2014, she joined PicsArt, the world's top creative platform and social editing app that is leading the visual storytelling revolution.
At PicsArt, Sargsyan quickly grew through dedication, passion, and data-driven results. Today, she is a senior product manager, leading monetization and growth efforts. Along with her growing team, she ensures PicsArt's global growth and revenue potential.
Jana Marle Zizkova
CEO and Co-founder at She Loves Data and Meiro
An avid data and diversity advocate, Jana Marle Zizkova is the Co-founder and CEO at Meiro, a Customer Data Platform. She has over 20 years of experience in business and digital intelligence, data warehousing and data mining, marketing, and risk and fraud management. She holds degrees in computer science and systems architecture from universities in Sweden and the U.S. She also headed country operations at Estee Lauder, Sybase, SAS, and Socialbakers.
A Czech native and Swedish citizen, Zizkova has been living in Singapore since 2011. In 2015, she started the data consultancy DataDriven Co, and thereafter, the MarTech startup Meiro. In 2016, she co-founded the non-profit movement She Loves Data. Since the founding, over 7,000 women have attended 100+ free data and tech workshops in Southeast Asia, Australia, New Zealand, South Africa, Nigeria, and the U.S. She Loves Data was awarded "Best Diversity Initiative 2019" by Women in IT Asia.
From 2003-2006, Zizkova circumnavigated the world on a 38-foot sailboat.
Loucine Hayes
Director, Open Education at American University of Armenia
Loucine Hayes is an international development executive and independent consultant with 25 years of executive experience on four continents in 27 countries. She has extensive experience in curriculum development, educational program delivery, and the management of rural initiatives. She has expertise in executive leadership and international development, education and public health, training and teaching, working with multilateral and bilateral donors, funds and foundations, strategic and operational development, budget development, inter-organizational communications, and building strong partnerships. Hayes has an MBA from the Edinburgh Business School, a Bachelor's degree in foreign languages from the Yerevan State Linguistic University, and a TEFL/TESL certificate from the University of Utah.
Hayes led the U.S. Peace Corps in Uganda during a period of rapid growth and redesigned the training and development department. She also raised funds through the Global Education Fund and Feed the Future to develop a literacy lab that provided ongoing local teacher training throughout the East Africa region. Hayes has contributed to the establishment of a women's college in Hail, Saudi Arabia, developing curricula and course materials for business English and management courses. Later, when working with World Vision Armenia, she established training and development courses in education, health, business development, and nutrition. Her other initiatives include developing short-term courses for housing microfinance, budgeting and financial management, and strategic decision-making and negotiations for Habitat for Humanity's Europe and Central Asia's regional programs.
When asked what her vision is for the Armenia Chapter, Loucine Hayes replied, "Opportunities for every woman to attain a meaningful career in a data-driven world." Her advice to young women in Armenia is, "Be unapologetically bold when pursuing your dreams. Be gentle and compassionate when dealing with others. And embrace fun and joy in your life at every moment, and in every step of the way."
Founded in 1991, the American University of Armenia (AUA) is a private, independent university located in Yerevan, Armenia, affiliated with the University of California, and accredited by the WASC Senior College and University Commission in the United States. AUA provides local and international students with Western-style education through top-quality undergraduate, graduate, and certificate programs, promotes research and innovation, encourages civic engagement and community service, and fosters democratic values.