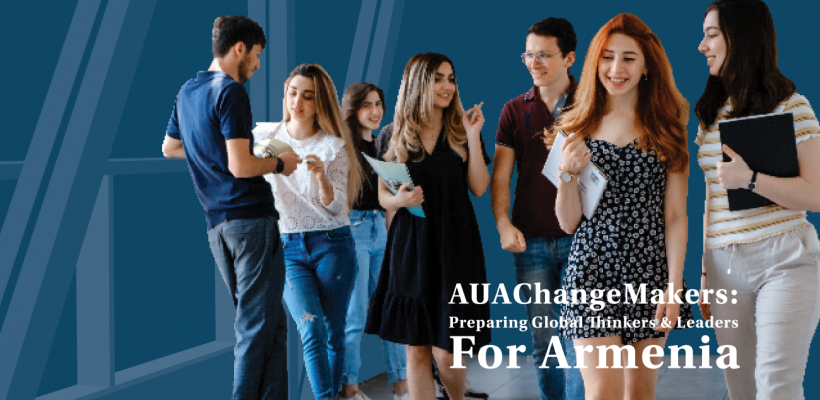 AUA Launches ChangeMakers Campaign to Prepare Future Leaders in Armenia
2
min read
The American University of Armenia (AUA) is excited to announce the launch of a new campaign titled, 200 AUA ChangeMakers. This five million dollar campaign will bring together 200 philanthropic leaders to build AUA's future Open Centers of Excellence, which aim to create opportunities for researchers, students, and collaborators to solve today's complex challenges.
"At AUA, we take great pride in our students and alumni," emphasizes President Markides. "AUA faculty and staff focus on providing our students with top quality knowledge, experiences, and networks in their respective fields. However, there is an awareness around the world that students will need more from higher education. The challenges they will encounter require skills in transformative leadership and the ability to tackle complex challenges with resilient solutions. We at AUA, are committed to teach these 21st-century skills to our students and for that we need support from our exclusive friends of AUA who will become AUA ChangeMakers and join us on this journey."
"We aim to inspire friends of AUA to join us in shaping the future by cultivating 21st-century agents of change for Armenia," President Markides continues. "Through building our Open Centers of Excellence, we create opportunities for researchers, scholars, students, and collaborators to approach and solve complex challenges. The harmful cyanobacterial blooms in Lake Sevan is an example of such a challenge, where the knowledge and inputs of various stakeholders can be used to consider broad scenarios and provide evolutionary solutions. With a focus grounded in economic, social, and ecological sustainability, we are challenging ourselves to discover new possibilities from the perspective of the latest findings in data science. We aim to gain insights into how machine learning, machine reasoning, big data and artificial intelligence will reshape our lives, as well as how emerging energy technologies will alter our planet to a sustainable future."
"By connecting education, research, and outreach at AUA in the Open Centers of Excellence, we will build the academic strength to attract strategic partners to collaborate with the University. AUA envisions enabling transformative impact through these collaborations to grow the prosperity of local Armenian communities. Now is the time, more than ever, to embrace this challenge and the possibilities that it brings."
The 200 AUA ChangeMakers are a group of benefactors who pledge to contribute $5,000 annually for five years, for a total commitment of $25,000. The names of the AUA ChangeMakers will be displayed on the wall of the bridge that connects AUA's main building with the Paramaz Avedisian Building.
"As AUA is preparing the next generation of ChangeAgents in Armenia, we are calling on 200 ChangeMakers to join us in this very exciting journey," adds Gaiane Khachatrian, Vice President of Development. "Through the power of learning and discovery, we aim to enhance our institutional capacity and optimize our impact on the development of Armenia and the world. This will directly benefit our students and the greater community, advancing AUA as a center for academic excellence, innovation, inquiry, and diversity."
To learn more about the campaign, please visit changemakers.aua.am and watch the campaign video here. To become one of the 200 AUA ChangeMakers, visit the pledge form.
Founded in 1991, the American University of Armenia (AUA) is a private, independent university located in Yerevan, Armenia, and affiliated with the University of California. AUA provides a global education in Armenia and the region, offering high-quality graduate and undergraduate studies, encouraging civic engagement, and promoting public service and democratic values. For more information about AUA and its donor opportunities, please visit philanthropy.aua.am.