Honoring the Life and Light of Dr. Gregory Areshian
5
min read
YEREVAN, Armenia — The American University of Armenia (AUA) is deeply saddened by the passing of Dr. Gregory Areshian. This is a monumental loss for AUA, as well as for greater academic and Armenian circles. The AUA community extends its sincere condolences in light of this tragic news.
Dr. Areshian, world-renowned archaeologist and historian, was beloved by his students during his time as a professor of history and archeology at AUA. Besides AUA, he also taught at 14 universities and colleges in the U.S., including the University of California at Los Angeles and the University of Chicago. As a leader in academia, Dr. Areshian's scholarly career spanned over four and a half decades across Armenia, the U.S., and the former USSR. He authored over 150 scholarly works that were published in five languages in 12 countries, predominantly within interdisciplinary studies in social sciences and the humanities.
Dr. Areshian became internationally renowned for his research on the Silk Road, history of technology, comparative mythology, archaeology, and history of the Near East and Armenia. He was famously the co-director of the international team of archeologists who discovered the 5000-year-old temple at Mokhrablur near Echmiadzin, as well as the 6,100-year-old winery in the Areni-1 cave where the world's oldest leather shoe was also found. Having served as Deputy Director of the Institute of Archaeology of the Academy of Sciences from 1987-1991 and as State Minister of Armenia from 1991 to 1992, Dr. Areshian's diverse array of experiences led to a unique approach and perspective that are profoundly valued in academia. His work has significantly contributed to the advancement of Armenian studies.
Our community mourns the loss of such an eminent figure and incredible person. His immense impact will not be forgotten. Below are some testimonials from within our community, honoring the life and light of Dr. Areshian.
"Dr. Areshian's curiosity and understanding of the intersection of humanity and cultural expressions was truly unique. The ability to mirror this insight of cultural heritage onto challenges and opportunities facing humanity today made Dr. Areshian a most valuable humanitarian guide, urging us to see beyond the present to solve the problems of tomorrow. AUA is forever grateful for the light that Dr. Areshian gave us which will light the paths of our students."
Dr. Karin Markides, AUA President
"Greg lit up the halls of AUA and his classroom with an abundance of knowledge and laughter. He brought history to life for his students and mentored and guided so many of us. His legacy is distinguished and far-reaching. And he will be missed by generations of students, scholars, and faculty alike."
Dr. Sharistan Melkonian, Dean of General Education
"I knew Dr. Areshian for more than 40 years. While doing our PhD at Saint Petersburg State University, I found him to be a brilliant, intellectual, and thoughtful researcher with a vast knowledge in various areas of humanities. He was the symbol of our generation through his relationship to his research and pedagogical activities. He left an enormous scientific legacy behind him, which will inspire future generations who are interested in archeology and humanities. I lost my best friend whom I will remember forever."
Albert Stepanyan, Adjunct Lecturer at the College of Humanities and Social Sciences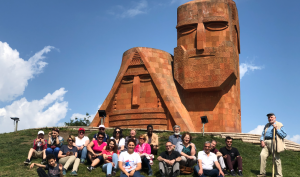 "Our family is devastated to hear about the passing of historian, archaeologist, and anthropologist Dr. Gregory Areshian. We were blessed to visit Artsakh with him last year, where we got to witness firsthand his immense knowledge, passion, and love for Armenia and her history and future. Seeing Artsakh and Armenia through his eyes was an experience of a lifetime. I loved watching David and Shahen follow him through the journey — walking sticks in tow, all of us waiting to hear the next revelation about our people and land. This is a tremendous loss for our nation, our people, and our UCLA and American University of Armenia communities. May he live in eternal light. I know his legacy will continue to carry for generations to come."
Madlene Minassian, Adjunct Lecturer at the College of Humanities and Social Sciences

"I was very sad to hear the news. Professor Areshian was always full of enormous energy and positivity, even more so than all of his young students combined. We lost our friend, our professor, our Dr. Areshian, but the world lost a renowned archeologist, historian, scholar, great thinker and a very unique mind. Until today, I remember this: 'Urartians were Armenians, but Armenians are not Urartians.' He will always live in our memories as a very bright light."
Gabriel Hovhannisyan (BAB '17)

"Professor Areshian wasn't only my professor; he was my best friend and mentor. He was always excited about every achievement I made and was so thrilled and curious about my plans. I always felt like I was talking to my grandfather rather than my professor. Every initiative that I have made since I met him was first discussed with him, and then implemented. Every visit to his office felt like a visit to another universe where things worked the way Professor Areshian wanted them to work. One of the most memorable and life-changing meetings that I had with him was in July last year. During our long conversation, he gave me a piece of advice that changed my worldview and made me look at things from a different perspective. He said, 'Margarita, you need to clear your mind to not overthink things and see them the way they are.' Then, he advised me to read Paruyr Sevak so that I understood what he meant. Later, when we discussed Sevak, he told me how Sevak taught him to play billiards, which made me jealous."
Margarita Dadyan (BAEC '20)
"I feel so lucky that I had the opportunity to travel with Dr. Areshian and listen to the stories about his archeological investigations in Armenia. He was a great and knowledgeable professor and an amazing friend for his students. I will really miss that legendary (I guess already 17-year-old) stick that he had, although he was climbing the mountains better than all of us combined. We went to different museums, climbed many mountains, and visited the Areni cave with him, where their group found the oldest shoe in the world. But this I kept in mind: When we were at the Erebuni museum, he told us that hopefully his picture will be next to those of prominent archeologists. I promise that I will take care of that, Dr. Areshian. You will always stay in our hearts."
Maria Yeritsyan (BAEC '22)
For more testimonials, please see the virtual memory book created as a tribute to Dr. Areshian's memory.
Dr. Areshian's legacy will live on through the Gregory Areshian Endowed Scholarship fund, which has been established in his memory. The scholarship will support AUA students annually, in perpetuity. Contributions at any level can be made through the Giving to AUA page or via check mailed to the Development Office at 1000 Broadway, Suite 280 in Oakland, CA 94607. The Development Office can be reached by phone or email at (510) 925-4282 or [email protected].
Founded in 1991, the American University of Armenia (AUA) is a private, independent university located in Yerevan, Armenia, affiliated with the University of California, and accredited by the WASC Senior College and University Commission in the United States. AUA provides local and international students with Western-style education through top-quality undergraduate, graduate, and certificate programs, promotes research and innovation, encourages civic engagement and community service, and fosters democratic values.
Media Coverage:
[Armenpress] Gregory Areshian, archaeologist who co-led discovery of world's oldest winery, dead at 71
[News.am] Armenia ex-state minister dies