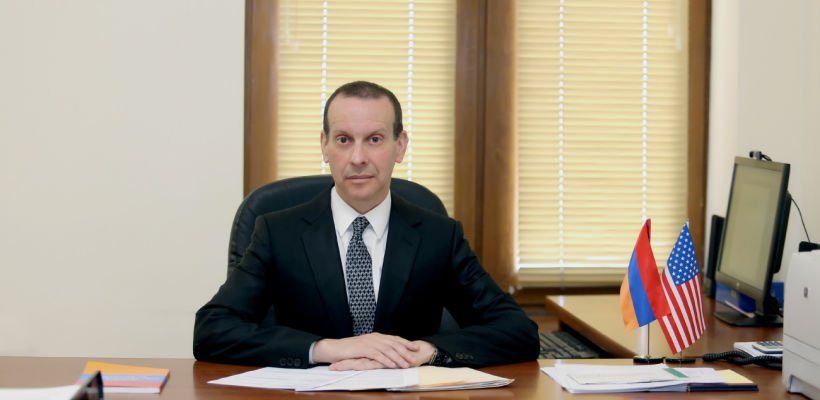 AUA Provost Leaves Behind a Legacy
4
min read
Dr. Randall Rhodes, Provost, will be leaving the American University of Armenia (AUA) in August to assume the position of President of the American University of Kurdistan, Duhok, Kurdistan-Iraq. Provost Rhodes leaves behind an outstanding legacy; the University has realized remarkable growth during the years of his leadership. His experience and hard work as a seasoned administrator have been instrumental in shaping the institutional strategies of the University and in successfully leading significant expansion in the University's degree programs and student support services.
Dr. Rhodes arrived at AUA in 2015 from his position as Assistant Provost at Frostburg State University in Maryland, USA. As the chief academic officer at AUA and a key member of the executive leadership team, colleagues, direct reports, and others have lauded his commitment to the advancement of the University and fulfillment of its strategic goals.
"Throughout his five years at AUA, I have always witnessed his diligence, highest sense of responsibility and work ethic. I have admired his ability to lead by example, build consensus and become the reference point for many faculty and staff. Randall's contributions will have a lasting impact on AUA. Many systems and processes he has helped to develop will serve as a solid backbone for the future growth of our institution," attests Gevorg Goyunyan, AUA Vice President of Finance and CFO.
His insight of the University priorities and his understanding of the local culture have facilitated new directions in research and innovation, growth in undergraduate degree programs and enrollment, student success and resource development. This has included the conceptualization and establishment of the Division of Student Affairs. Aside from his administrative function, Dr. Rhodes also taught in the General Education Program. Students in those introductory and advanced art history courses praised him for his mastery of content, classroom management, sense of humor, and ability to engage students in an active, and often noisy, classroom that pedagogically aimed at capturing their interest in learning and ensuring their success beyond the classroom.

"Years ago, when I took Dr. Rhode's Introduction to Art class as a freshman, I was slightly intimidated, since I knew he was the Provost. But that feeling went away after the first lecture. The atmosphere that Dr. Rhodes creates in the classroom keeps students engaged from the first minute to the very last. You can see how passionate he is about the topic, which infects you with that energy. The cherry on top are the jokes he spices up his lectures with. What I find fascinating though, is that Dr. Rhodes remembers all of his students. Up until recently when we were still studying on campus, he would stop for a chat every time he saw me around, and make a joke or ask how my semester is going," reflects Lilit Galoyan (BA EC '21).
"I have had the pleasure to work with Randall for the past five years. He has been a great asset to the University, always eager and enthusiastic to engage and offer his help in any effort, be it a major initiative or just a minor undertaking, regardless of whether it was in or outside of his domain. One of AUA's many achievements, thanks to Randall's dedicated support and professional contribution, is the success of the USAID/ASHA grants. These grants have made a tremendous difference by enabling the University to improve its facilities to their current state-of-the-art condition. Other than his main responsibilities, Randall also actively participated in fundraising activities of the University; he was one of the first to join The 100 Pillars of AUA. I want to thank Randall for his dedication to AUA and wish him much success in his new path and in his role as President of the American University of Kurdistan. I look forward to our future cooperation," adds Ashot Ghazaryan, AUA Vice President of Operations and COO.
"Randall has been an invaluable support for my transition to AUA during my first year as president. At the same time, Randall has also been most perceptive and instrumental in understanding and supporting the new framework for AUA's transformative priorities and strategic process. His sharp eye and true interest for ethics and quality has been valuable for AUA's students, faculty and staff, and far beyond what is visible. I would like to express my great appreciation for Randall's contribution to AUA, which significantly exceeds his extensive responsibilities as Provost and Vice President of Academic Affairs. I would also like to congratulate the American University of Kurdistan, which now will benefit from the professionalism, skills, humor and honesty that they will get in their new president," remarks Dr. Karin Markides, AUA President.
The AUA community expresses gratitude for his steadfast service and lasting impact on the institution and wishes him continued success and new accomplishments in the advancement of higher education.
—
And a note from the departing Provost,
This will not be a narrative where every sentence begins with "I". This will not be a narrative where one individual takes credit for the accomplishments of a whole university. Everything achieved during the past five years has been due to a phenomenal group of brilliant people ever-dedicated to AUA. My role was merely to organize, manage, mentor, and facilitate. So, I'm taking this opportunity to salute this team – people who are rarely acknowledged otherwise.
Over the past five years, I've had the distinct pleasure and honor to work closely with the following: Arina Zohrabian, Bella Avakian, Chaghig Arzrouni-Chahinian, Gayane Davoyan, Yelena Sardaryan, Varduhi Petrosyan, Alen Amirkhanian, Aram Hajian, Knar Khachatryan, Shari Melkonian, Gayane Tevosyan, Arina Bekchyan, Anahit Ordyan, Hasmik Hovhannisyan, Shahan Jebejian, Mnatsakan Mkrtchyan, and Berj Gatrjyan. The relative newcomers: Karin Markides, Mariam Mikhaylova, Loucine Hayes, Vache Gabrielyan, Narek Ghazaryan, and Tatevik Yerznkyan. And of course, two underappreciated guys who were my peers-colleagues-friends: Ashot Ghazaryan and Gevorg Goyunyan. Last, I wish Brian Ellison great luck as interim provost in the year ahead.
I also need to salute our students whose high achievements were only matched by the exceptionally high expectations they had for all of us, and the University. The students kept us all working hard to provide the best education and campus culture possible. I wish all of our students the best of luck in their academic careers and professional paths.
It has been five great years.
I will only be a couple of hundred miles away. Keep in touch.
Thank you AUA. A deep gratitude to you all.
Founded in 1991, the American University of Armenia (AUA) is a private, independent university located in Yerevan, Armenia, affiliated with the University of California, and accredited by the WASC Senior College and University Commission in the United States. AUA provides local and international students with Western-style education through top-quality undergraduate, graduate, and certificate programs, promotes research and innovation, encourages civic engagement and community service, and fosters democratic values.