Alumni Success Story: Noemi Akopian (BA EC '17) Finds Herself Through Theater
5
min read
A dynamic multitalented AUA alumna, Noemi Akopian, shares with us the challenges of navigating the professional world and how the skills she acquired at the University contribute to her career success as a theater director.
---
Tell us a bit about yourself and your background, as well as your experience as an English and Communications student at the American University of Armenia (AUA).
I was born into a diplomatic family and grew up in Armenia, the U.S., and Canada. In 2011, I moved back to Yerevan and have been based here since. Moving around and changing schools during my formative years have given me the ability to see the world from different perspectives, keep an open mind, appreciate differences, and approach things in multiple ways. I think this is why I've always been drawn to the theater. Pursuing a career in theater was my main goal, but I also wanted a university education. The opportunity to enroll in the Bachelor's program at AUA came at the perfect time. Though initially attending AUA was an alternative plan, that changed quickly within my first week of classes. Because AUA is a place where Armenia meets North America, I felt right at home there. I think it's fair to say that the English & Communications curriculum is akin to a liberal arts education, and I really enjoyed that because it was complementary to my main field of interest. For my Capstone, I wrote and directed a play called "Syzygy" where I explored gender dynamics in my favorite genre, "Theatre of the Absurd" (which I also first learned about in my classes at AUA).
As for the professors, being taught by competent, intelligent, and passionate people, and being held to high standards and being encouraged to meet them gives students the confidence to challenge themselves and take risks. I am really grateful for that. I am now working in theater full-time, and I know that I acquired those valuable skills at AUA.
Tell us about your experience forming the Drama Club at AUA during your freshman year. What inspired you to do that, and what challenges did you face in the process? What was the favorite play that the Club performed?
The Drama Club was as important to me as my studies were. It was the environment in which I was able to explore and apply the ideas I learned in class. Forming the Drama Club early on and running it taught me to take responsibility and think on my feet. I also had the opportunity to meet and work with many different people who are my most trusted friends to this day. The AUA Drama Club was also where I discovered my love for the entire process of theatrical production, from writing to staging and set design. It was then that I realized I wanted to become a director.
My favorite play was "7 Stories" by Morris Panych, which we put on during my junior year. Everything that could have gone wrong went wrong, but we had an absolute blast trying to solve all the problems on the spot. The play turned out quite well in the end. A close second would be "Writers on the Storm," an original short play for which we collaborated with the Creative Writing Club, another club in which I was actively involved.
The greatest challenge we faced was the lack of theater lights in the Large Auditorium where we held our performances. We had to rent the lights, which was very expensive, and this meant that we had no time for rehearsals with the proper technical setup. While my ranting about the need for permanent theater lights was a running joke in our group, I really do encourage the university to invest in them. It will drastically improve the quality of all performances, commencement ceremonies, and other events.
You worked as a Drama Teacher for one month at the International Center of Languages and Training (ICLT) Summer Camp. Would you ever consider doing that again?
I really like teaching. Apart from my summer job at ICLT, I also worked as an Armenian language teacher at Birthright Armenia for five years. There is also an element of teaching within directing, especially when working with non-professional actors. I don't have plans to get back to it now, but I wouldn't mind taking it up from time to time.
Since graduating, you have worked as a copy editor. Tell us about your experience thus far, as well as anything else that you are working on now. Have you found that AUA has prepared you to successfully navigate the Armenian job market since graduation?
I am currently an assistant director and administrator at the Mher Mkrtchyan Artistic Theatre, where I am also directing my first professional play. It is a production of Samuel Beckett's one-man play "Krapp's Last Tape" («Կրափփի վերջին ժապավենը»), starring Georgi Hovakimyan. It was translated into Armenian by my close friend, frequent collaborator, and fellow AUA alumna, Arianna Khachatrian. It was supposed to premiere earlier this year, but was unfortunately put on hiatus due to the COVID-19 pandemic, which has hit the performing arts quite heavily.
While I did not pursue a career in my chosen field of study, I still benefited from my AUA education in many ways. First, the arts are rarely lucrative even though making art worth sharing requires a lot of time, energy, and attention. Most people who choose to go into the arts realize that they will not be well-compensated for their work. So, it is important to acquire at least one other skill that is in high demand, not too time-consuming, and allows you to make a living. Freelance editing, content writing, and translation are the types of side jobs that give me the freedom to invest in creative work. Apart from improving oral and written communication skills, an AUA degree increases one's credibility in a competitive job market.
Secondly, as a director in the theater, my work consists of analyzing and interpreting text, formulating sound arguments around my interpretation, communicating it clearly to other people — actors, designers, administrators, and technical staff, while being open to considering alternative viewpoints, and finally, presenting it to different audiences in an engaging way. This practice was a considerable part of my four years at AUA. The ability to think clearly, critically, and flexibly while remaining open to learning is extremely important and will serve you well in whatever field you choose to enter.
And thirdly, I have found the AUA community to be very supportive even after graduation. I often turn to my former professors for advice because I highly value their opinions.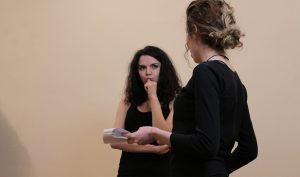 Is there anything else you would like to share, either about yourself or your work?
After graduating, I co-founded Roadhouse Theatre with my friends from AUA Arianna Khachatrian, Anna Ter-Gabrielyan, and Louise Kirakosyan. We stage plays and hold workshops and poetry readings. The first play we produced was "Rosencrantz and Guildenstern are Dead" by Tom Stoppard, in 2017. It was one of the most rewarding experiences I have ever had.
After that, I took part in a two-week summer theater project with the Greater Europe Youth Theatre in Paris with a small group of young people from across Europe, where we put on a short parody of "Romeo and Juliet." I am still involved with GEYT, but like other activities, this year's project was canceled because of the COVID-19 pandemic.
In 2018, I spent two months in London, where I took an evening course in Theatre Directing at the Royal Central School of Speech and Drama. It was incredible. The best part was that my instructor had served as the assistant director in The Old Vic Theatre's production of "Rosencrantz and Guildenstern are Dead" starring Daniel Radcliffe, and had also worked with Tom Stoppard, so we were able to have some fascinating discussions about that play.
Back at Roadhouse Theatre in Yerevan, I collaborated with another AUA alumna, Anna Grigoryan. We adapted the Armenian translation by her of Charlotte Perkins Gillman's "The Yellow Wallpaper" («Դեղին պաստառը») into a play script and workshopped it with our team.
What advice would you offer to recent AUA graduates or current English and Communications students at AUA?
I want to emphasize the importance of talking to people. I think that the most important skill you will learn — which becomes increasingly difficult to maintain — is the ability to engage in intelligent, civilized discourse with people who hold opposing opinions to yours, considering that there is a chance that they may know something you don't. You have to learn to listen and frame your debate/discussion around finding the truth, instead of winning the argument. To do this, you have to give your interlocutor the benefit of the doubt, without getting offended at what they say. University is a great place to practice this skill, because you will constantly encounter people who think differently and do the exact opposite.