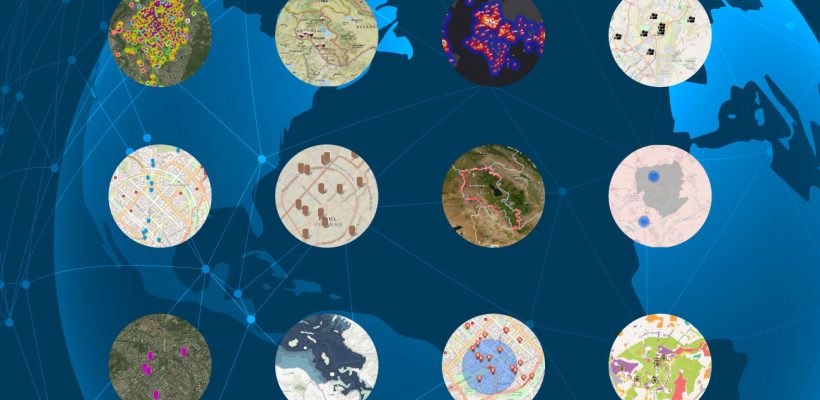 GIS Story Maps: Online Exhibition of Student-Created Maps
2
min read
YEREVAN, Armenia — The American University of Armenia (AUA) is happy to present an online exhibition of student story maps — web-based Geographic Information Systems (GIS) story maps created by AUA students in the Spring 2020 semester. The maps were designed within the scope of the CSE 145: Geographic Information Systems course.
"The course aims to introduce students to GIS and spatial analysis setting up, analyzing, visualizing, and solving problems using data and maps. The students had the opportunity to apply GIS in environmental sciences, public health, sustainable transportation planning, land use mapping, telecommunications, hydrology, meteorology, etc. In line with recent developments in the world, one of the students created a coronavirus story map of the world," remarks Aghavni Harutyunyan, course instructor and GIS specialist at the AUA Acopian Center for the Environment and AUA GIS and Remote Sensing Lab.
A story map is a dynamic storytelling platform that allows interactive map-making with an integrated narrative that illustrates spatial relationships and brings stories to life. The students used the ArcGIS StoryMaps platform to explore topics as broad as the world population density and as specific as coffee spots in Yerevan.
"I decided to create a story map of UNESCO World Heritage Sites in Armenia. With a great history and culture, there are three such centers here in Armenia, not including Ani and other Armenian sights outside the Republic of Armenia. I consider the topic quite interesting and informative as not all of us are familiar with those sites. So with this small project, I want to tell and show people how beautiful Armenia is," notes Barsegh Atanyan (BS CS '23)
With advancements in information technologies more and more industries are relying on GIS to analyze and visualize data. These student-created maps allow others to learn about GIS and its real-world applications that can make a difference in society.
Arman Sujoyan (BS CS '20) has approached the task more pragmatically and developed a map of ATMs near entertainment venues in Yerevan. He analyzed geospatial data and came up with several maps presenting ATMs within 100 meters, 200 meters, and a 10-minute walk from entertainment venues.
"Nowadays, online banking applications and single-touch payments make it possible to carelessly walk down the streets of Yerevan without cash in your pockets. It seems like technological advancements make our life easier and more comfortable. I found this right until recently when my friend and I realized that there are a lot of pubs and entertainment places in Yerevan that simply don't accept any type of payment other than cash. So I wanted to find out if all the entertainment places in Yerevan have ATMs nearby or not and if not, I want to be aware of them so that next Friday I won't have to walk all around the city to find an ATM," notes Sujoyan.
We invite you to explore and get inspired by student story maps on topics such as tourism, culture, environment, climate, vulnerable communities in Armenia, and many others.
Founded in 1991, the American University of Armenia (AUA) is a private, independent university located in Yerevan, Armenia, affiliated with the University of California, and accredited by the WASC Senior College and University Commission in the United States. AUA provides local and international students with Western-style education through top-quality undergraduate, graduate, and certificate programs, promotes research and innovation, encourages civic engagement and community service, and fosters democratic values.