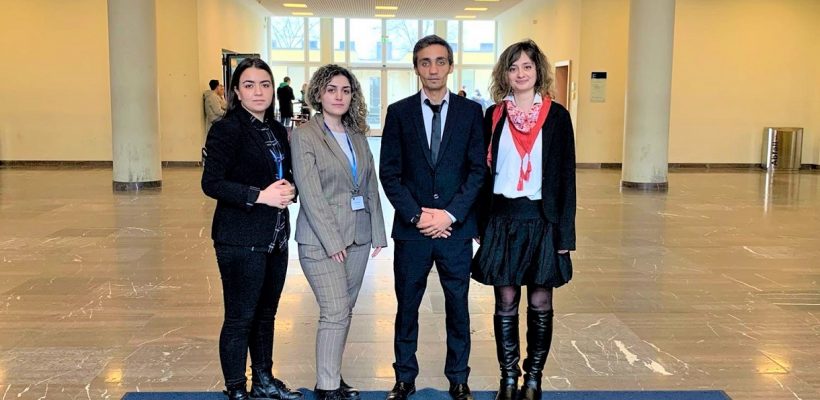 AUA LL.M. Students Participate in Berlin Pre-Moot 2020
2
min read
YEREVAN, Armenia – On March 5-8, 2020, the joint team of Armenian Law Schools with American University of Armenia (AUA) students Shaghek Manjikian (LL.M. '21), Lilit Shahinyan (LL.M. '20), and Emil Abrahamyan (LL.M. '21), and French University in Armenia student Susanna Babayan participated in the Berlin Pre-Moot 2020 competition held at the Law Faculty of Humboldt-Universität zu Berlin, Germany.
The Berlin Pre-Moot 2020 was designed to provide a practice platform for the teams preparing for the oral pleadings of the Willem C. Vis Moot International Commercial Arbitration Moot. The teams had the opportunity to improve their oral advocacy skills for presentation of their arguments in front of an actual arbitral tribunal. Within the course of the Berlin Pre-Moot 2020, the Armenian Law Schools team competed with other teams from Science PO University, Istanbul University, Freie University of Berlin, Lazarski University, University of Göttingen, University of Jena, and Jagiellonian University.
This year, the coaching and coordination of the joint Armenian team was assumed by the AUA LL.M. program Alternative Dispute Resolution (ADR) Clinic. Prior to attending the competition, the team had passed a five-month intense journey learning about international commercial arbitration processes and submitted written memorandums for the competition under the supervision of the AUA LL.M. coaching team members, Sargis Grigoryan, Lara Townzen, and Aram Aghababyan.
Although the annual Willem C. Vis International Commercial Arbitration Moot competition in Vienna has been officially canceled due to the coronavirus outbreak, the Armenian Law Schools team will still participate in the online competition along with 388 teams participating from all over the world. We wish our joint team the best of luck in this first-ever online Willem C. Vis International Commercial Arbitration Moot to be held in April.
The AUA LL.M. program and ADR Clinic would like to express deep gratitude to Grant Hanessian, a great believer in arbitration and supporter of advancing arbitration in Armenia, for extending funds to make possible the Armenian Law Schools team's participation in Berlin Pre-Moot 2020 and the Vis Moot Competition.
Founded in 1991, the American University of Armenia (AUA) is a private, independent university located in Yerevan, Armenia, affiliated with the University of California, and accredited by the WASC Senior College and University Commission in the United States. AUA provides local and international students with Western-style education through top-quality undergraduate, graduate, and certificate programs, promotes research and innovation, encourages civic engagement and community service, and fosters democratic values.