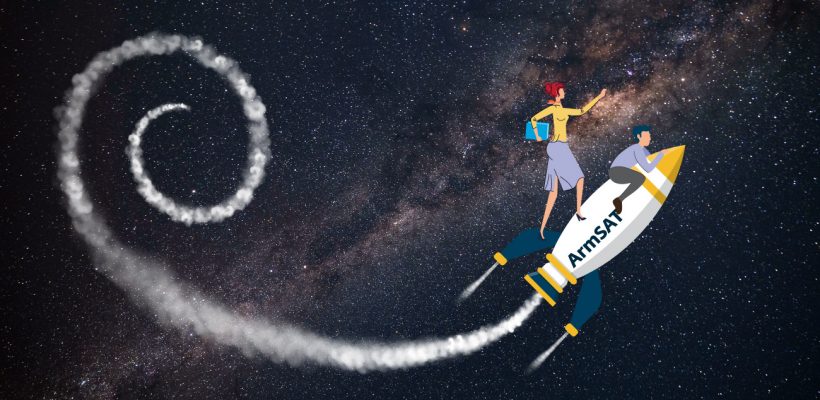 ArmSAT Student Club Launches its 'Rockets' into the 'Space' of Science
2
min read
YEREVAN, Armenia – The American University of Armenia (AUA) is happy to announce the launch of the Armenian Student Aerospace Team (ArmSAT) student club. It was initiated by a group of AUA students interested in science and aerospace with the full support of Satenik Mnatsakanyan, chair of the Bachelor of Science in Engineering Sciences (ES) program, and the AUA Akian College of Science and Engineering (CSE).
The ArmSAT student club aims to provide its members with the opportunity to advance scientific research through various projects and experiments in the field. The club will serve as a catalyst for students to cultivate their interest in the area of space and aeronautics in an informal environment. The ArmSAT student club will offer students the opportunity to serve and help their community and Armenia. AUA students will gain leadership, communication, and teamwork skills by organizing and participating in various experiments and projects with their peers.
The ArmSAT student club is working on developing both hardware and software systems for a drone, which will be used to photograph the whole area of Armenia in order to get NDVI (natural density vegetation index) and NDWI (natural density water index). This will help the Ministry of Emergency Situations of the Republic of Armenia to identify areas most at risk for wildfires throughout the country. The main work on the hardware will be developing the payload. This project is being implemented in the scope of the Horizon 2020 ResponDrone project where AUA is part of the consortium of 20 partner organizations and is leading two major Work Packages.
The club is open to students who are responsible, confident, and willing to participate in space and aeronautics projects and help, and want to contribute to research in this domain at a time when it is most critical to start.
Founded in 1991, the American University of Armenia (AUA) is a private, independent university located in Yerevan, Armenia, affiliated with the University of California, and accredited by the WASC Senior College and University Commission in the United States. AUA provides local and international students with Western-style education through top-quality undergraduate, graduate, and certificate programs, promotes research and innovation, encourages civic engagement and community service, and fosters democratic values.