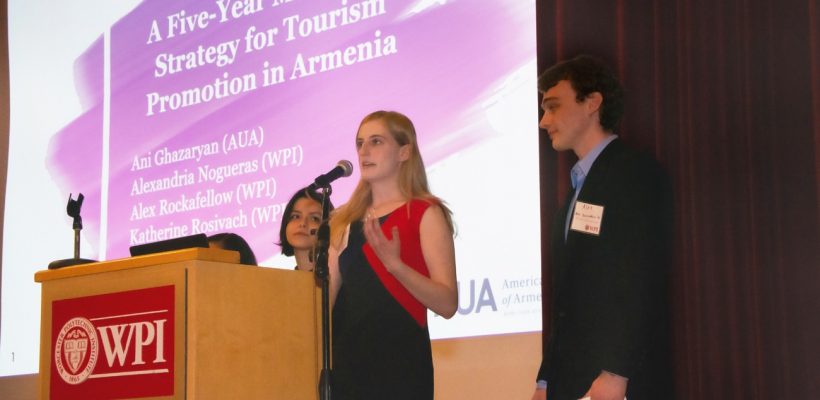 AUA and WPI Students Engage in a Win-Win Project
2
min read
WORCESTER, MA – On February 28, 2020, seven students of the American University of Armenia (AUA), who spent the last two months at Worcester Polytechnic Institute (WPI), participated in WPI's Armenian Project Center Information Session Program. The AUA students have been collaborating with 16 WPI students on the first half of a two-part exchange program between WPI and AUA, which is centered around a semester-long cornerstone of WPI educational experience, an Interactive Qualifying Project (IQP).
The Information Session doubled as a celebration of the recently initiated partnership between AUA and WPI with a formal signing of the strategic alliance by Dr. Sharistan Melkonian, AUA dean of General Education and director of accreditation, and Dr. Diran Apelian, former WPI provost, long-time professor, and former director of WPI's Metal Processing Institute.
As the initial seven weeks at WPI come to a conclusion, AUA students, together with 16 WPI students will travel to the WPI Armenia Project Center for the second half of the exchange program which focuses on implementing projects across various sectors of Armenian society. Michael Aghajanian, WPI adjunct instructor and director of the WPI Armenia Project Center, shared his vision for the future of this program and expressed hope that the integrated project teamwork of AUA and WPI students will have a positive impact in Armenia
"Research indicates that studying abroad has a direct impact on the skills necessary for career success. The AUA-WPI partnership provides students with an opportunity to gain a greater understanding of the challenges that communities face around the globe and the impact that can occur when people work together to understand and face those challenges," remarked Dr. Melkonian. "The AUA-WPI partnership is more than a study abroad program. AUA and WPI students are engaged in a unique opportunity to learn and work together in Worcester, Massachusetts, and then in Armenia complementing each other's experiences, and ultimately engaging in projects here in Armenia. Faculty from AUA led by Norayr Ben Ohanian and counterparts from WPI are working, teaching and learning together. And, the projects that the students will engage in here in Armenia will lead to greater awareness, commitment and resolve toward solving the societal challenges in Armenia and beyond."
According to AUA President Dr. Karin Markides, both AUA and WPI students will benefit from the partnership between the universities. The AUA students will hone their skills in their areas of study, gain valuable experience at WPI, and make lifelong friendships. Working in integrated project teams, the WPI students will be able to travel throughout Armenia and engage with local Armenian communities to implement their projects.
"This is a wonderful start to collaboration which has all elements in place to be a synergistic and long-term one between our two educational institutions. We are excited about the impact of STEM education on helping solve through interdisciplinary approaches the problems that our society faces, both here in Armenia and worldwide," noted Dr. Aram Hajian, dean of AUA's Akian College of Science & Engineering.
Founded in 1991, the American University of Armenia (AUA) is a private, independent university located in Yerevan, Armenia, affiliated with the University of California, and accredited by the WASC Senior College and University Commission in the United States. AUA provides local and international students with Western-style education through top-quality undergraduate, graduate, and certificate programs, promotes research and innovation, encourages civic engagement and community service, and fosters democratic values.