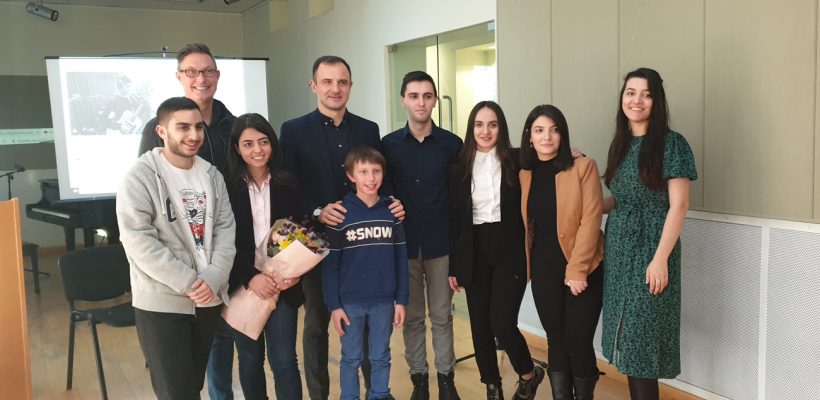 PSIA Holds the Annual Creativity Evening
2
min read
YEREVAN, Armenia – On February 14, 2019, the American University of Armenia (AUA) Political Science and International Affairs (PSIA) program held the second PSIA Students' Creativity Evening. The event showcased the talent and artistry of PSIA students beyond the classroom. During the evening, the students displayed their creations ranging from drawing to music and stand-up performances.
In his opening remarks, PSIA Program Chair Associate Professor Dr. Vahram Ter-Matevosyan noted: "During my nine years of teaching here at AUA, I have met many young people with creative skills. Once, I saw one of our students, Saten Harutyunyan drawing amazing pictures sitting in the PSIA suite. I then kept looking for other students who have talents besides studying." Eventually, this led to the inaugural talent evening in May 2019, which was a success. With this second creativity evening, the PSIA program has turned this celebration into a tradition, attracting many more participants who are eager to share their passion and talent with the audience.
Among the participants were first-year graduate students Elza Durinyan, Davit Aghabekyan, Alain Mazmanian, Inna Chukhajian and second-year graduate students Saten Harutyunyan and Alvina Saakyan who had also participated in last year's celebration of the talent evening. Moreover, this year, Dr. Brian Ellison, dean of the College of Humanities and Social Sciences (CHSS), also joined the event playing the guitar with his son Niki Ellison singing country songs to his father's music.
Harutyunyan, who also emceed the creativity evening, was the first one to take the floor. Harutyunyan and Chukhajian presented their passion for drawing, displayed several paintings they had created and shared the stories behind each of their artworks. The evening was complete with the remarkable sounds that Saakyan produced by singing and playing the piano and ukulele. Heartwarming music was introduced by the newly discovered duet of Durinyan and Aghabekyan. Whereas, Mazmanyan ensured the funny part of the evening with his stand-up performance.
In the end, Saakyan, Durinyan and Aghabekyan together with Dr. Ellison had a jam performance improvising with different genres of music in their rendition. This was followed by a love quiz in celebration of Valentine's Day. Harutyunyan led the quiz keeping the audience engaged. The event was an ideal opportunity to explore the students' creative skills and showcase what they are up to aside from their studies.
The Political Science and International Affairs (PSIA) program of the American University of Armenia (AUA) equips students with advanced analytical reasoning, critical thinking, and communication skills through the study of political science and international affairs, emphasizing local and global perspectives and practical applications of theory. The program provides world-class teaching and research, producing graduates who can best contribute to the development of the nation.