Meet Three EPIC Startups: TutWiser, AI Language Tutor and LearnY
2
min read
Innovative online platforms for facilitating the educational processes
This fall, the Entrepreneurship and Product Innovation Center (EPIC) of the American University of Armenia (AUA) welcomed the 5th batch of venture startup teams to the EPIC business incubator. The program offers its participants a 12-week intensive idea-stage incubation training to shape their ventures, validate their business concepts, and build their business models. The eleven innovative startups of the EPIC Fall 2019 Incubator program have full access to AUA's resources, and have the opportunity to participate in workshops and advisory and mentorship sessions by seasoned entrepreneurs, AUA faculty and alumni.
EPIC proudly introduces three of the nine startups that were accepted into the program this fall: TutWiser, AI language tutor, and LearnY. These ventures are designed to facilitate learning and deliver improved results for users.
Reaching out to AUA's Network of Supporters and Friends
EPIC is reaching out to the AUA network of contacts seeking support for these ventures. If you have experience in the field of education, language learning mobile apps, or educational gaming solutions, you may be the right person to help us out. If you know of any potential partners or collaborators, EPIC would welcome hearing from you. EPIC strives to support, connect, and advance its startup ventures. Please contact EPIC at [email protected].
Brief Profiles of TutWiser, AI Language Tutor and LearnY
TutWiser is a platform for connecting professional tutors and students. The platform will provide individualized guidance to people who are looking for tutors to prepare for university exams or other studies. TutWiser offers smart solutions to quality and time management issues, finding the most experienced tutors and improving quality control. With the help of targeted services, the platform will provide assistance throughout the process of learning via testing, scheduling, progress tracking and evaluation.
AI Language Tutor is a language learning mobile app with a focus on speaking skills. The main competitive advantage of the app is the use of an animated Al-driven avatar that acts as a tutor and is able to engage the language learner with human-like interactions. As such, the app will replicate the typical functions of a language teacher. The Al avatar that interacts with the learners will consider their respective language proficiency, age and needs. It will then plan and implement a flexible learning path providing support along the way.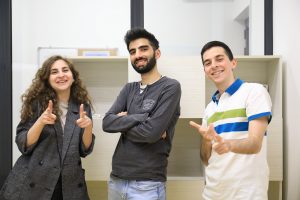 LearnY aims to enhance students' knowledge through applied gaming solutions for school and university programs. Games are implemented worldwide to support educational programs. Integrating them into the learning process in schools and universities in Armenia could improve the quality of education. The platform will meet the specific learning needs of its potential users by program.
For more information about these teams or EPIC, please visit epic.aua.am or write to [email protected].
The Entrepreneurship and Product Innovation Center (EPIC) is a platform of the American University of Armenia (AUA) for promoting entrepreneurial education, cross-disciplinary collaboration, and startup venture incubation. EPIC provides an ecosystem for emerging entrepreneurs consisting of first-class facilities and collaborative workspace, programs and events, and a network of mentors, advisors, and investors. EPIC fosters the understanding and application of entrepreneurship in students and faculty at AUA to craft high-impact multidisciplinary ventures.