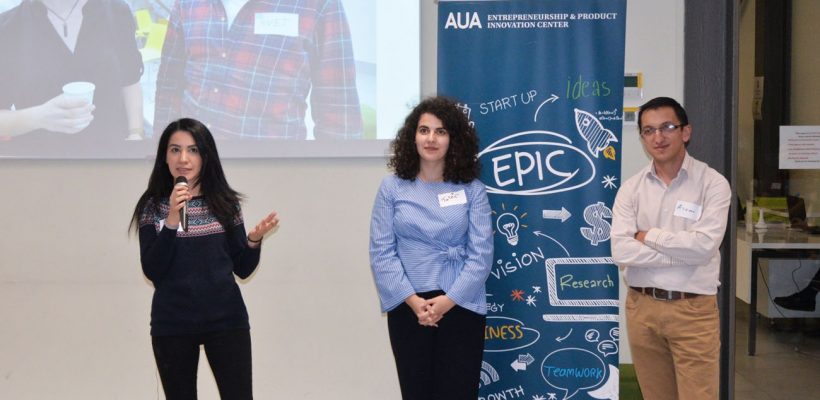 11 Innovative Startups Kick off EPIC Fall 2019 Incubator Program
3
min read
YEREVAN, Armenia – On September 30, 2019, the Entrepreneurship and Product Innovation Center (EPIC) of the American University of Armenia (AUA) organized a kick-off event of the EPIC Fall 2019 Incubator Program. Eleven newly admitted startup teams introduced their creative venture ideas to the AUA community, prominent business-people, and investors. The teams had the chance to promote their startups, expand their network, and get a preliminary assessment from the entrepreneurial community.
The admitted startups of the EPIC Fall 2019 batch went through a very tough selection process again this year. After submitting their applications and being interviewed, the short-listed teams presented their ideas to an independent jury.
"The selection of teams to admit into EPIC Incubator has been the most challenging and competitive so far. The quality of teams and ideas was very high. Every semester the teams get better and better," said EPIC Director Professor Michael Kouchakdjian.
The EPIC Incubator is a 12-week idea-stage startup incubation program that helps early-stage teams with idea validation and business model creation. During the program, resident teams learn the lean startup framework, participate in workshops, and receive expert advice and mentorship from experienced professionals and seasoned entrepreneurs.
At the kick-off event, each team presented their startup idea and goals, followed by a short, yet motivational speech delivered by Davit Mikayelyan, FinAssist founder, an EPIC resident of Fall 2018 batch. Davit described the journey of FinAssist from a year ago – how they started as an idea to their recent visit of Startup Wise Guys in Vilnius, Lithuania where they evaluated their prototype in the context of European markets.
"The kick-off event empowers you to pitch your startup idea in a friendly environment, meet professionals from different fields, and immediately receive constructive feedback from them. It motivates and inspires you to evolve your startup," reflected Anna Isahakyan, co-founder of MYdiet, one of the new startups that has come out of AUA's School of Public Health.
The mentors also inspired their teams by sharing their entrepreneurial experience. They guide the startup teams throughout the 12-week program and help them accomplish their business goals.
"I see my role as a mentor similar to that of a doorman – when the time is right, my job is to open the door of their mind," commented Dr. Theofanis Varvoglis, professor of Marketing at AUA's Manoogian Simone College of Business & Economics (CBE) and EPIC mentor.
Later on, the teams engaged in networking, shared their ideas with potential mentors, and got feedback from experienced business professionals. The CEO of LearnY startup, Aram Serobyan, noted: "During the kick-off event, we met many aspiring and successful entrepreneurs who not only inspired us but also saved months' worth of time by giving us good advice and pointing at flaws in our concepts we had not considered."
The EPIC Fall 2019 Incubator Program includes eleven startups. UniQ is a platform connecting social media influencers and small businesses with writers that provide captions for their online social media posts. uPASS is an access control technology based on the concept of electronic tattoo. SportStat is platform that assists football clubs with more efficient transfer management by using data analysis and predictive tools. Huvell, a mobile application for tourists that helps provide customer service 24/7. Salon is an online booking application for beauty services. Feedle is the first four-in-one automatic pet feeder in the world that relies on IoT technology. LearnY offers applied gaming solutions for education to enhance students' knowledge through entertainment. Custom Courier is an app-powered, on-demand parcel delivery service provider. MYdiet is an application that provides an individual, customized diet plan for users. AI Language is a language learning mobile app with animated AI-driven avatar acting as a tutor. Yndunvel.am is an app that helps students find tutors.
The Entrepreneurship and Product Innovation Center (EPIC) is a platform of the American University of Armenia (AUA) for promoting entrepreneurial education, cross-disciplinary collaboration, and startup venture incubation. EPIC provides an ecosystem for emerging entrepreneurs consisting of first-class facilities and collaborative workspace, programs and events, and a network of mentors, advisors, and investors. EPIC fosters the understanding and application of entrepreneurship in students and faculty at AUA to craft high-impact multidisciplinary ventures.